Home / Miller-Meeks administering 'ticket to freedom'
Miller-Meeks administering 'ticket to freedom'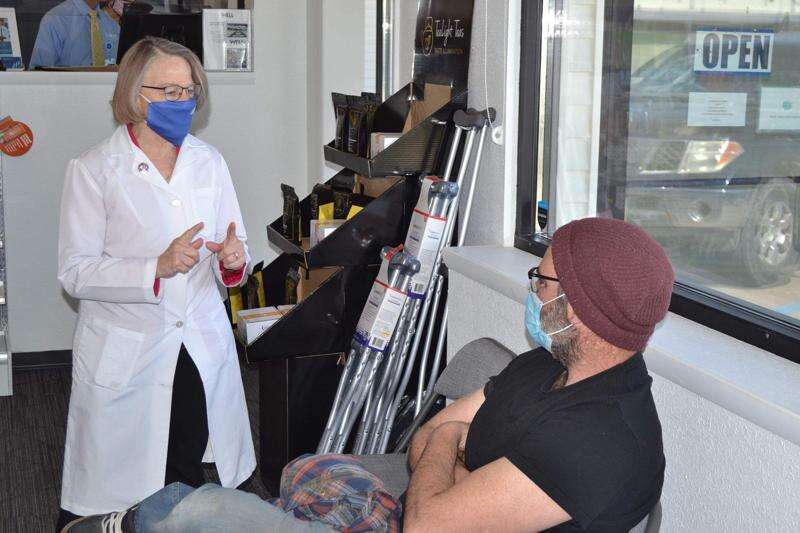 Congressional Rep. Mariannette Miller-Meeks wanted to put her profession as a doctor to good use during her swing through the area on Wednesday and Thursday.
The Republican congresswoman visited vaccination clinics in Washington on Wednesday and Fairfield on Thursday, talking with patients and administering vaccines.
'As Gov. (Kim) Reynolds opened up vaccinations beyond health care workers, beyond nursing homes and the people who are most vulnerable, what we wanted to do was spend our time to attend vaccination clinics as a doctor and former director of public health to vaccinate people if they are comfortable with me vaccinating them," Miller-Meeks said during the clinic at Washington County Public Health. 'We want to draw attention to the fact that people should be vaccinated."
She acknowledged that some people may be hesitant to get a vaccine and wanted to assure them that the vaccine is safe.
'I understand that there are side effects to any vaccine," she said. 'I have worked with people who have had concerns about vaccinations and immunizations, but the side effects if you contract COVID-19 are much worse than any side effects from the vaccine.
'By focusing my attention on vaccinations and attending vaccination clinics, it gets the word out to people that there are very few side effects."
Miller-Meeks said that she felt personally responsible to get a vaccine when she became eligible.
'I want to see people smile; I don't want to just look at peoples' eyes," she said, her voice cracking with emotion. 'I want to see families be able to get together. I don't want one other elderly person ever to die without their family. That's just tragic to me."
Miller-Meeks plans to visit all 24 counties in the Second Congressional District by the end of next week. She told patients at Summit Pharmacy in Fairfield that the vaccine was a 'ticket to freedom," because it would allow them to get together again with their friends and families. Miller-Meeks chatted with Fairfield resident Ryan Terrien, who was at Summit Pharmacy for his first dose of the vaccine. Terrien said he's looking forward to sending his kids back to school and to participating in dinner parties with friends.
'I've really missed those in the last year," Terrien said.
Miller-Meeks administered vaccines to Denny Ballew and Theresa Nixon, informing them they could get a low-grade fever, fatigue and arm soreness after the shot. Ballew told her that he doubted he would have any reaction to the vaccine because his immune system is so healthy, and that he hasn't had a cold in six years.
Miller-Meeks said she hopes the federal government's mask mandate for federal public buildings can be rescinded soon. She's asking the Centers for Disease Control and Prevention to consider adopting a 'first doses first" policy where giving first doses to everyone is prioritized over getting second doses to people who already got one vaccine. She wants the CDC to look into how such a policy has worked in the United Kingdom and other countries that have tried it, where the second dose was delayed from three weeks to 12 weeks after the first.