Taxidermist repairs bison head at museum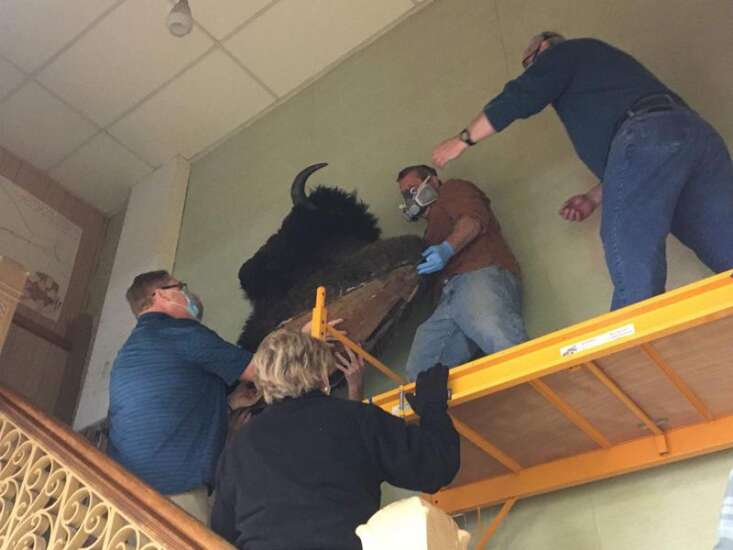 FAIRFIELD - It's not every day that Fairfield taxidermist Brian Holthus gets to work on a specimen that's more than a century old.
But that's what Holthus did in March when he repaired the bison head at the Carnegie Historical Museum. The bison head was given to the Carnegie Library during Old Settlers Day in 1914, and it has hung on its walls ever since.
Holthus is more accustomed to doing taxidermy of deer or small mammals such as foxes, otters and raccoons. He does about one to three elk per year, too.
'That bison head is probably about twice the size of what I normally do," Holthus said.
The Carnegie Historical Museum Board asked Holthus to repair the bison head because it was looking a bit worn. Holthus was careful around it since he didn't know how the hide was tanned at the time it was made.
'I assumed that since it was done in the early 1900s, a common practice of tanning back then was using arsenic, so I always wore a respirator and wore rubber gloves," Holthus said. 'Arsenic can sure make you sick."
Holthus repaired cracks to the animal's eyes and cracks on its nose. Parts of the hide were very brittle, so he had to be careful when he reinforced them with clay and later a harder epoxy clay.
'Regular clay can be softened after it turns hard, but epoxy is more like concrete," he said. 'Once it dries, you can't rehydrate it."
There was a 4-inch by 1-inch patch on the bison where the hair was missing.
'I had to figure out how to make something out of nothing," Holthus said. 'I have a couple of deer mannequins, and I played around with them one afternoon, taking hair and putting it on the bison to make it look OK."
Holthus finished repairing the head March 24. A group of volunteers and Carnegie Historical Museum board members helped him remount the head on Tuesday morning. Holthus said the board plans to get better lighting for the bison head, especially now that it has been restored.
Holthus said Mark Shafer of the museum approached him about repairing some of the museum's stuffed birds, though Holthus said repairing feathers is much more difficult than repairing hair.