Home / Special Sections / Healthy Living
Parkview Care Center residents maintain active lifestyle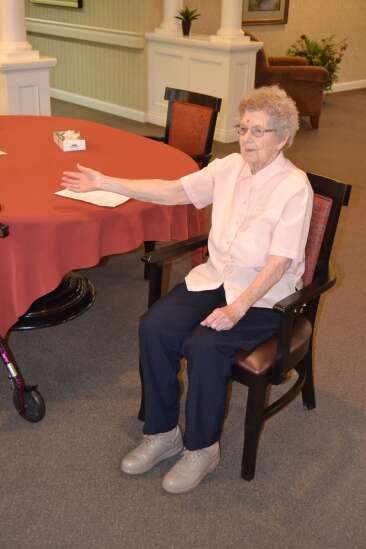 FAIRFIELD — The residents of Parkview Care Center and The Oaks Assisted Living stay active in a number of ways.
Erin Clubb, activities director at the two adjoining facilities on the east edge of Fairfield, said her company seeks to meet the needs of its residents for both physical and emotional health.
"There are a lot of components to being a healthy person, and we try to touch on all of them in our activities program," she said.
The residents are invited to attend an exercise class that meets three times per week. The exercises can be done while sitting in a chair, and involve stretching or raising parts of the body such as the arms, legs, neck and shoulders. A leader tells the group which body part they're going to focus on next, and demonstrates the exercise for the group to follow.
Most of the exercises rely on body resistance, so the residents are not holding weights. However, Clubb said some residents who are more mobile do employ exercise stretch bands, or they add weights to their exercise such as by wearing ankle weights or wrist weights for greater resistance during their workouts.
In addition to the regular exercise classes, Parkview has a restorative exercise program targeted to people who have gone through physical therapy.
"In restorative, they're trying to maintain what they've gained through therapy," Clubb said. "Everyone can participate in that, too."
Clubb estimated that probably more than half of the building's residents are in a restorative program of some kind. The purpose of the program is often to make the resident more independent, so that they can take care of their own daily needs such as getting dressed, going to the restroom or brushing their teeth.
Gardening
Another way that Parkview Care Center and The Oaks Assisted Living look after their residents' health is through nutritious meals, and that includes some food that's grown on site. Just last year, the Oaks added a raised garden bed outside its facility.
"We had a lot of interest this year in gardening," Clubb said. "Several people requested that they wanted to plant some things, and the raised bed makes it easier to access. It's kind of nice to have fresh produce and herbs right out of the garden this time of year."
The residents get the satisfaction of knowing they're contributing something to their own meals, and they get a kick out of checking on the vegetables to see their progress. Clubb said the vegetables and herbs were planted in little cups last spring, and when they sprouted, they were moved to the raised bed.
Outdoor time
Parkview Care Center and The Oaks Assisted Living encourage their residents to maintain the same active lifestyle they had before coming to live in the facility. Clubb said the residents stay active by walking around the perimeter of the building. The facility has just resumed excursions with the residents to travel to places such as Dutchman's Store in Cantril and going out to eat.
"We're kind of feeling like we're on the other side of COVID, and able to have a normal life again, to an extent," Clubb said. "We're going to take them to an outdoor concert, and for Christmas we try to get out and look at the Christmas lights."
Call Andy Hallman at 641-575-0135 or email him at andy.hallman@southeastiowaunion.com