Home
Clarahan pitches Keota to win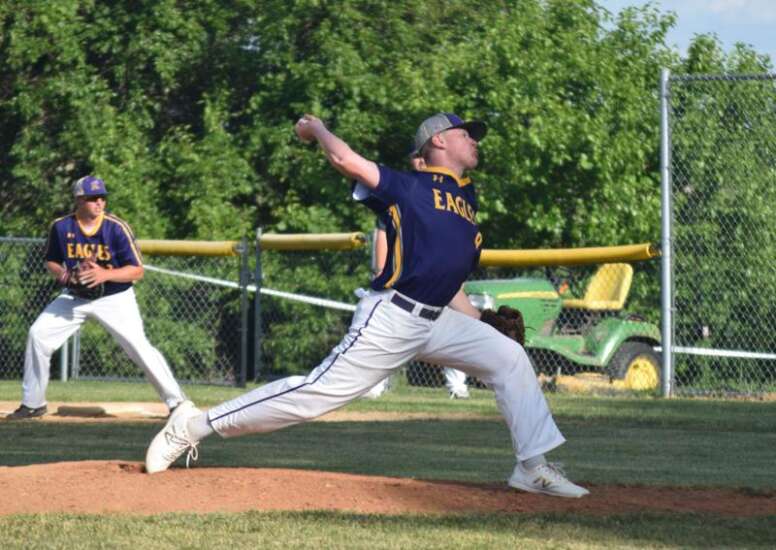 SIGOURNEY - For a team that has struggled with its hitting, the Keota Eaglescame alive at the plate.
They knew it was a good night when Caleb Waterhouse, their No. 8 batter in the lineup, went 3-for-3.
The Eagles were gifted a number of walks (nine) and had four hit batters in the game and took an early 5-0 lead before finishing off Sigourney, 11-2, in a South Iowa Cedar League game Wednesday at Sigourney.
'This game was the best we have hit all year, to be honest with you," Keota head coach Dakota McCombs said. 'I am just as happy as can be about that. We have got a lot of walks in other games this year but this was the first time we actually came through with some hits to score some runs. I think we've had 17 hits all together in our first four games and we had nine in the first game."
That leaves a total of eight hits in the other four games, a total surpassed against Sigourney with 10.
'I think half of our team was batting zero before tonight," McCombs said. 'This is the fifth game and half of your kids haven't had a hit yet ... that hurts. So it was really good to see us start connecting on some base hits."
Waterhouse had three singles and three runs batted in. Brady Duwa had a triple and a single. seven of the nine batters had a hit and everyone reached base at least once.
The cause of the lack of hitting may have been the shortened preseason, which led to an emphasis on other aspects of the game.
'We did not get a lot of hitting practices in," McCombs said. 'We worked a lot on getting our arms ready. (Tuesday) we had a three-hour practice with hitting, just hitting. We didn't even field the ball. I guess we had to do something to change things up and it must've worked."
Working on the pitchers' arms was effective as the Eagles have given up a total of 23 runs in five games. The highlight was a 2-0 road loss to No. 10 HLV.
'HLV was really a good game for us," McCombs said. 'A couple inches and it could've been a 2-2 game. Colten Clarahan pitched really well that game. Even though we got the loss I can't complain about a game like that."
Clarahan threw a complete game with three hits, two walks and eight strikeouts at HLV.
'HLV is a good team and stuff happens and that's all I want to say about that," Clarahan said. He hit a sinking liner in that game that could have scored two runs but a shoestring catch by HLV saved the game for it. he hit a double to score the first run of the game against Sigourney (2-3).
Against Sigourney, he went six innings with three walks, five hits and nine strikeouts. Both runs were earned as he walked the first batter, got a fly out, then a double before a two-run single.
'I am very happy with our outing," Clarahan said. 'I think we all are happy about it because we needed this to jump-start out of the pothole we have been in."
Clarahan settled in after the first inning. The Eagles scored four more runs for a 9-2 lead before he took the mound for the bottom of the second inning.
'It is definitely easier to pitch when you have a nice cushion behind your back. What was working for me tonight was not trying to throw it completely through the mitt," he said. 'I really tried to work on my control. The curveball felt really good. It was working for me early and it gave me some strikeouts. I think that helped throw their timing off. I messed around with the change up a little bit because I am still working on it. I am happy with how it worked for me."
Keota is 2-3 and hosts Iowa Valley Friday.