Home / Life
Bentonsport Heritage Day is July 16
Courtesy of Mindy Kralicek
Jul. 6, 2022 1:00 pm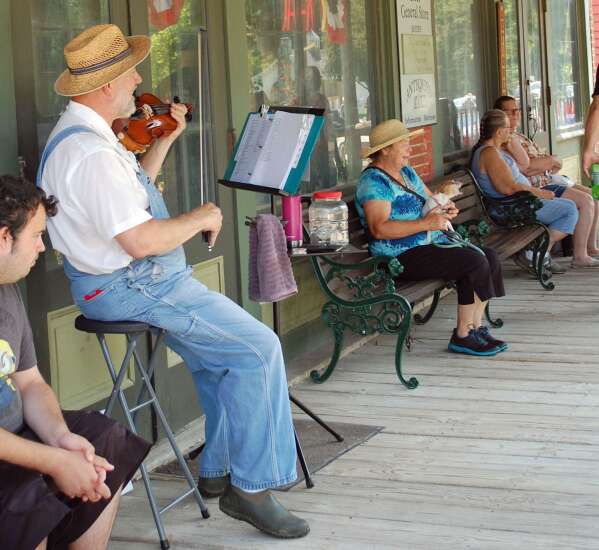 Once a steamboat landing on the Lower Des Moines River and a terminus of the Des Moines Valley Railroad, settlers came through Bentonsport before traveling westward. The village drew the naïve, the wanderlust, and those seeking opportunities to enrich themselves. It was also home to 600 villagers that loved its scenery on the edge of wildness.
Experience the Bentonsport heyday for yourself July 16, from 10 a.m. to 5 p.m. Hop aboard a covered wagon and tour the village. Meet villagers going about their day, as well steamboat travelers on a stopover as they make their way upriver. There are shopkeepers with items to sell for the journey. Food that will wake up your tastebuds. Artisans demonstrating villager skills from the 1850s.
What was the area like before settlers arrived? Cherie Haury-Artz, from the University of Iowa Archeology Department, will have artifacts for all to see at 1 p.m. in the village center. At 2 p.m. the display will move to the air-conditioned Stone House for a sit-down show and tell of what life was like along the Des Moines River for ancient peoples up to the time of settlement. This free presentation is sponsored by the Bentonsport Improvement Association.
Live music begins at 11 a.m. Enjoy the songs of John Lee Boyer, as he plays his guitar and harmonica, the fiddling of Tom Shadonix on The Greef Store porch, and the creative tunes and unusual musical instruments of the Galvanators in the gazebo at 1 p.m. and again at 3 p.m.
This is a free event for families, with the exception of food and purchases in the village shops. For more information, contact Mindy Kralicek at 319-592-3292 or go to www.bentonsportheritage.org and click on events.