Home / Life
Elementary schools learn to 'Pick a Better Snack'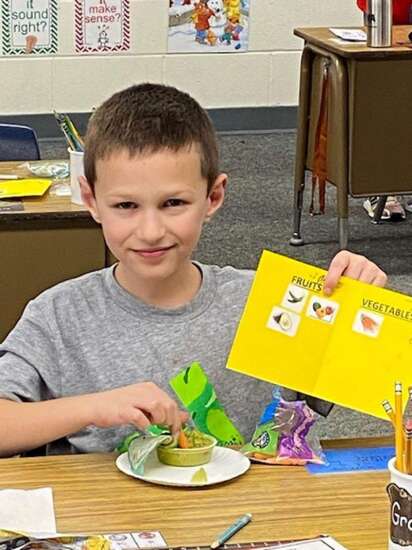 Healthy fruit and vegetable snacks have invaded Kalona Elementary second grade and Washington's Stewart Elementary kindergarten and first grade classrooms through the Pick a Better Snack program offered by Washington County Extension.
This program is designed to motivate children to eat more fruits and vegetables in meals and snacks and to be more physically active. Amy Green, 4-H/youth coordinator, visits classrooms through Zoom lessons to talk about healthy snacks, making healthy choices and they always get to sample a particular fruit or vegetable of the day.
Each week, the students are reminded to be brave and try new things – including healthy fruits and vegetables. This past week, students learned that vegetables are plants and when eating a vegetable a person is eating either the root, stem or leaf of a plant. Fruits always grow from a blossom and contain seeds.
This week, they enjoyed both a fruit and vegetable – carrots dipped in guacamole. They had a lot of questions about the avocado, its parts and how that turns into guacamole.
The Pick a Better Snack program is supported by Washington County Extension, Mid-Prairie Boosters, and a Riverboat Foundation grant. Contact the Washington County Extension Office, 319-653-4811, with questions about the Pick a Better Snack program or to donate or volunteer.