Home / Life
Fairfield Art Association opens new exhibit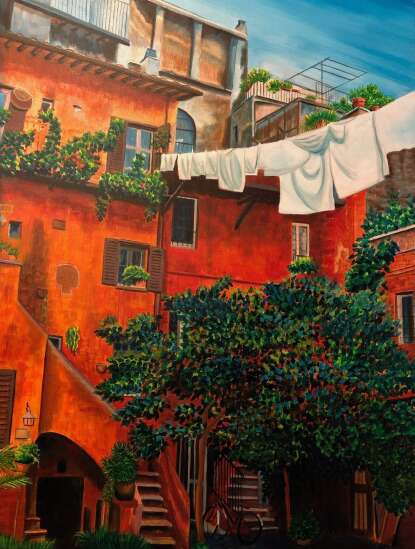 The Fairfield Art Association has announced a new exhibit to kick off its 55th Year. On display are oil paintings by Pella artist Andrea VanWyk, in all sizes, measuring from as large as 6 feet, down to smaller ones 12-inches by 12-inches.
Featured are a variety of colorful themes - realistic gardens and European street scenes, abstract florals and architecture. The exhibit opens on Friday, May 7 in the Main Gallery at the Fairfield Arts & Convention Center. The gallery is open to the public, masks currently required, from 6-8:30 p.m. on this First Friday, and then Mondays through Fridays from 9 a.m. to 5 p.m.
"You won't want to miss this 'feel good exhibit' as the world around us is in full bloom!," said art association volunteer director Suzan Kessel.
Andrea (Busker) Van Wyk has been teaching visual art classes at Pella Community Schools since graduating from Central College in 1984. Following the completion of her master's degree in Art Education from Iowa State University in 1999, Andrea has been teaching Art Appreciation for DMACC at Pella High School and is the adjunct professor for the Elementary and Secondary Methods of Art Education at Central College.
Andrea and her husband Mike live and farm east of Pella. They have two children: a daughter, Sarah Flaherty (married to Dan) who have four children, and a son Ross (married to Madelyn).
Andrea has exhibited solo shows of her work in Iowa and Illinois, most recently at the Quad Cities Airport, the Quad Cities Botanical Center, Simpson College, Indian Hills Community College, Central College, Iowa State University, the Des Moines Central Library and Mars Cafe. You can find Andrea on Instagram at AndreaVanWykArt and you can view all her work at AndreaVanWyk.com.
Andrea said she considers herself a lifelong learner, continuously discovering and exploring.
"I am a combination of my experiences and a synthesis of my family, traveling, teaching, and reading," she said. "My current paintings are an exploration of organic subjects from gardens as close as the Des Moines Art Center rose garden and as far away as Australia."
The Pella artist said the architectural details she discovers may be from the Louvre, a pub in Ireland or the cliff side streets of the Cinque Terre. The flower compositions are a result of her mother's love of gardening and exploring the amazing details she finds in nature.
"The Golden Ratio properties of harmony and proportion captivate me in the flowers as well as spiral staircases," she said. "The architectural compositions are a personal metaphor for overcoming fear and taking steps of faith to grow and experience life to its fullest. Taking a step into the unknown as many of these paintings depict, led to wisdom."
Van Wyk said that if she hadn't taken a step forward, she would have never experienced the adventure that was there. She said she takes small steps toward her goals every day by being productive in creative ways, whether painting on a canvas, doodling in a devotional journal, teaching students, or listening to an audio book or podcast.
"I am intentional at expanding my thoughts and engaging my mind to experience the adventure, joy and fulfillment of life that ultimately reflects in my paintings," she said. "My work will always portray subjects that represent growth and positivity, to bring light and hope to whoever encounters my work."