Americana extravaganza
From ax throwing to frog jumping, the Washington County Fair showcased unique talents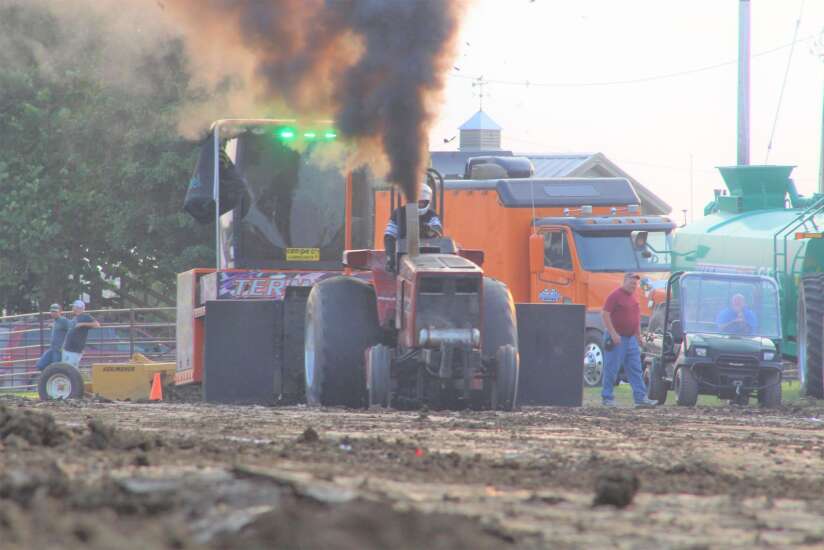 In their continuing effort to expand the Washington County Fair, organizers brought in a melting pot of performers, vendors and personnel.
"We've seen a lot of people happy to be back to a full fair," Fair Board President John Wagner said. "Last year was exhibitors only. Now we have our entertainment, whether it's the ax throwers, or the illusionist, or the small stage performers. I think people are happy that the fair is back."
The fair's programming had something for everyone, from an afternoon jumping contest between attendees' pet frogs to a tractor pull that packed the grandstands.
Performers from the Axe Women of Maine group said the fair gave them, like many others, an opportunity to show off their unique talents.
"It's really good for exposure to the sport," Performance Axe Woman Lynette Davis said. "There's quite a group of people that do timber sports competitively, but not really a lot of people know about it or have seen it. It's a good way to promote the sport to people that have not seen it before."
The programming gave fairgoers a chance to show off their own talents as well. Some of those talents were practical, like the mechanical know-how and safety etiquette displayed during a tractor pull.
Others relied on less glamorous skills.
11-year-old Oreo stacking competitor Nathan Schrock said his event required careful precision.
"What I do is I get the bottom all straight," he said. "If you get it not even, it'll just topple quicker."
Second place adult pie eater Jess Menzia said his event was less about strategy and more about skill.
"It's been a lot of pie eating since I was a youngster," he said. "You need to keep your eye on the prize to finish it as fast as you can."
Six- and 7-year-old division pie eating contestant Tucker Janecek said he had a competitive advantage thanks to the whipped cream, which was most of the pie's volume, being his favorite part.