Andreasen crowned Miss Sweet Sixteen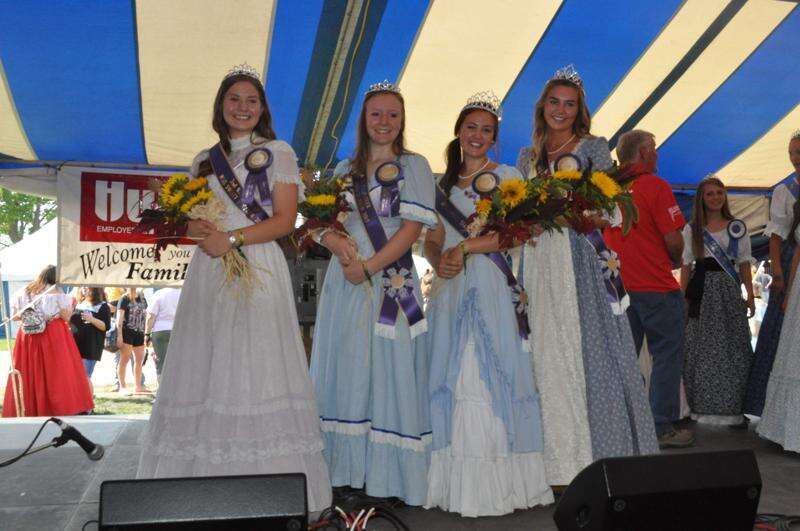 MT. PLEASANT — Under the blue and white big top, Erin Andreasen stepped forward, her face a mix of shock and awe as she was crowned Miss Sweet Sixteen at the 2019 Midwest Old Threshers Reunion on Monday, Sept. 2.
Andreasen, a junior at Mt. Pleasant Community School District who is heavily involved in the high school's music program and cheerleading, was one of a dozen girls to participate in the Miss Sweet Sixteen Contest this year. Andreasen is the daughter of Jeremy and Lara Andreasen.
Andreasen decided to participate in Miss Sweet Sixteen because she wanted to meet new people and give back to her community. 'I love people and I think this is a great opportunity to give back to your community you live in,' she said. 'And I wanted to be an example for little kids.'
And already, that was happening. As Andreasen finished up her interviews with the media following the crowning ceremony, a line of little girls patiently waited to meet her.
Although the crowning ceremony is at the end of the Reunion — this year it was moved from Sunday to Monday, the final day of the event — the girl's participate begins long before. The girls volunteer on the Old Threshers grounds throughout the event. During that time, undercover judges roam the grounds and observe the contestants, scorning them on their friendliness, aproachableness and knowledge of Old Threshers. The contestants also have formal interviews and give a presentation on what display could be added to the grounds.
'I have a really lovely group of ladies this year,' said Miss Sweet Sixteen Coordinator Danielle Davidson. 'Everyone was courteous, prompt and well-mannered.'
Although Davidson loves the crowning ceremony, the real joy for her is watching the girls volunteering throughout the week. 'Each one averaged 59 hours of volunteer time this week.'
First Runner-up, Elaina Liechty said in an interview with the Union that she participated in Miss Sweet Sixteen because it's a fun learning experience. 'I saw how important Old Threshers was to my community and I wanted to be contribute,' Liechty said.
'It has been great meeting so many people and learning about Old Thresher's past,' she said. 'I even talked to some people who know my great-grandmother, who I never had the opportunity to meet.'
'There are 12 girls this year, but more need to get involved,' she continued.
To promote participation in Sweet Sixteen, Liechty proposed a Sweet 16 in-training program.
'Little girls ages 8-12 would follow Sweet Sixteen contestants around for a half day and learn about the competition and Old Threshers,' she explained, adding that she hopes her idea is approved by Old Threshers officials. Liechty is the daughter of Michael and Linda Kelley of Mt. Pleasant.
Second Runner-up, Grace Kelley said she attends Old Threshers every year, and decided to participate in the Sweet 16 contest because 'this is just a good way to meet new people, try new things and give back to the community.'
Kelley said she feels helpful when she can answer visitors' questions, give directions on where displays are located and offer advice on what to see or do.
Kelley's favorite spot to volunteer was at the bingo games.
'Everyone was so riled up trying to win!' she laughed. Kelley is the daughter of Michael and Linda Kelley of Mt. Pleasant