Blood donations steady but not back to normal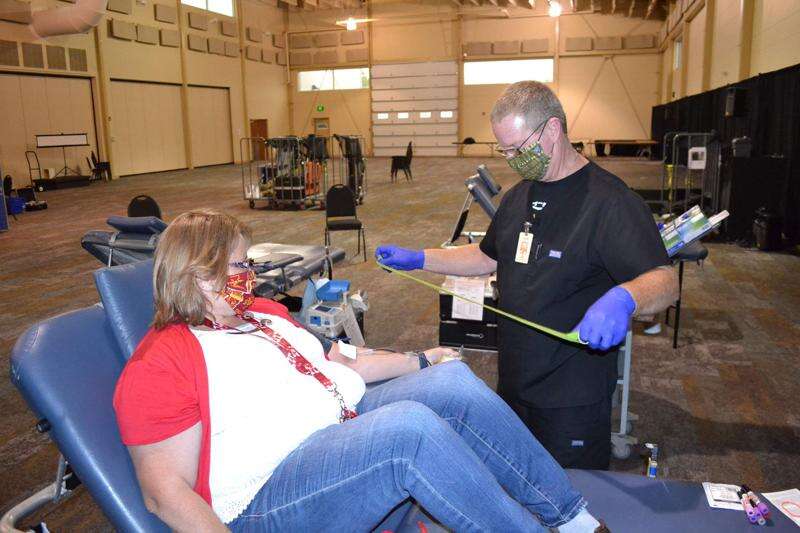 FAIRFIELD - Officials from Mississippi Valley Regional Blood Center said they've seen a drop in blood donations since the COVID-19 pandemic began.
They added that the situation has improved in the past couple of months but the number of donations is not yet back to normal. Members of the blood center were in Fairfield Wednesday for a blood drive at the Fairfield Arts & Convention Center.
Kevin Campbell, a charge with the blood center, said blood donations have been steady.
'They haven't rebounded to what they were though," he said.
Denise Fogle, supervisor of donor services for the blood center's Ottumwa location, said the center has three mobile offices, so it could do as many as three blood drives a day. It averages about 20 people per drive, though that varies depending on the city and the number of hours allotted for that event, which can range from 2.5 to five hours. Wednesday's blood drive in Fairfield lasted three hours, and the center had a goal of obtaining 16 units of blood. After 2.5 hours, 15 people had come through the door and donated about 11 units combined.
'Even if we don't make our goal, we will still leave here with more blood than we came," Fogle said.
Bob Spencer, another charge for the blood center who was in Fairfield Wednesday, said it takes one to two days to process the blood and screen it for diseases. Blood has a 'shelf life" of 42 days. Platelets have a much shorter shelf life, and must be used within five days. He remarked that the center's main office in Davenport distributes blood to hospitals in the same area where it holds blood drives, so donors know they're helping their neighbors when they give.
The blood center saw an interruption in its donations during the first few weeks and months of the pandemic owing to location closures. The center gets donations in high schools, nursing homes and churches, and most of those closed their doors to the blood center in the spring. Some churches have invited the blood center back, or found other arrangements for the center to conduct its blood drives.
The center has adopted a number of policies designed to combat the pandemic. For the past couple of months, it has required staff and donors to wear masks. It sanitizes the beds the donors lie on more than ever and spaces them farther apart. It encourages donors to schedule appointments in advance so it can control how many people are waiting to give blood at a time.
Fairfield resident Chris Garrison donated during Wednesday's blood drive. She is a regular donor, giving blood every eight weeks. She has not hesitated to donate during the pandemic either. She said she donates because she figures someday she might need blood, and there can't be a stock of blood if people don't donate.
Ed Miller volunteers at every blood drive in Fairfield, chatting with donors after their donation and reminding them to schedule their next appointment. He noticed a dip in participation during the early days of the pandemic but to him it seems the numbers are back to normal. He said he's not afraid of interacting with a large number of people, but he does take precautions, like wearing a mask when people are around.