Blueberry picking a hot commodity during COVID-19
By Brooklyn Draisey, The Union
Jul. 10, 2020 1:00 am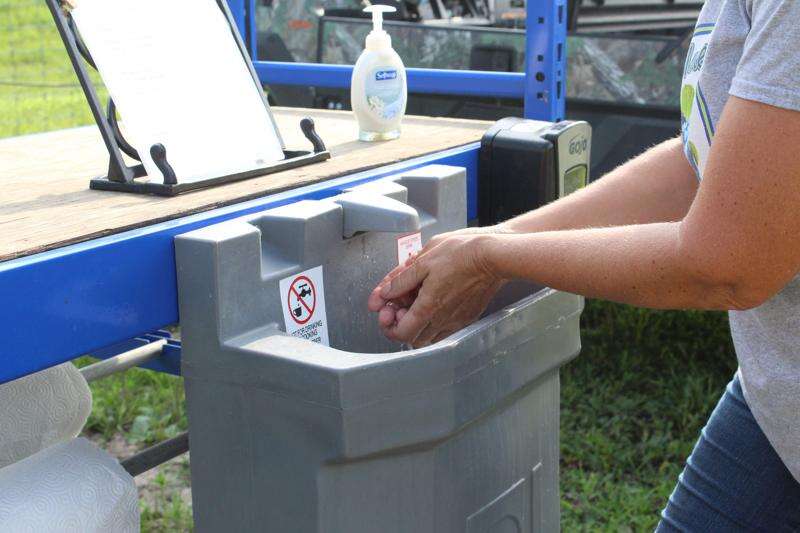 Dew still glistened on the blueberry bushes at 8 a.m. as the temperature climbed past 80 degrees.
Kim Anderson, who owns and runs the Blueberry Bottom farm with her husband, Steve, said they cannot let customers pick the berries while they're still wet because they're more likely to break down.
Not that customers haven't tried to schedule picking times that early, Anderson said with a laugh.
'The demand has been crazy," she said.
Blueberry Bottom opened for picking last summer on Highway 78 between Coppock and Brighton, offering different varieties of organic blueberries for picking and pick-up. The picking season began June 30 and usually goes through July, but that can change depending on the weather and other conditions.
Earlier in the year, a storm came through and knocked the blossoms off some blueberry bushes, creating less of a yield in those rows. Right now there are around 25 rows that can be picked, and Anderson said rows have been picked clean quickly with all the people wanting berries.
Anderson said demand has skyrocketed from last summer, and they've had to switch to appointments to avoid being overwhelmed and promote social distancing amid the spread of the novel coronavirus.
Anderson said the increased demand is due to two reasons; one is that word got out on social media after the farm opened last year, and the other is the COVID-19 pandemic.
'People's lives have been canceled because of COVID," Anderson said.
Many customers visiting the farm are grandparents trying to find things to entertain their grandkids or families wanting to get out of the house. At the beginning of the season people could come and pick blueberries without scheduling an appointment, but it hindered the Anderson's and their few employees' ability to keep up with visitors and keep them distant.
They attempted to keep groups in their own rows, but there were just too many people. On July 2, Anderson looked at her phone to check the time, thinking hours and hours had gone by, but it was only 10 a.m., an hour after they opened.
'It just seemed unmanageable," Anderson said.
Visitors can schedule appointments by messaging the farm on Facebook or calling the 'blueberry hotline" at 319-423-9954. All the half-hour long appointment slots have been filled this week, but Anderson will post appointment times for next week on Facebook.
Most customers wear masks while at the farm, Anderson said, and they have some available by the check-in table for those who want one. Masks aren't required and kids are allowed to come, but they are required to stay with their groups.
The Anderson's have a process for people coming to pick blueberries: come in, park where directed, wash your hands at the newly built washing station, then check in. Check-in and check-out have been separated to different tables to encourage social distancing.
Next year, Anderson said they want to incorporate software to help with scheduling appointments and add a porch to the building they use for check-in so they wouldn't have to deal with a tent in the event of bad weather.
'Every year, we make improvements," Anderson said.