Elementary students 'recharge' at Camp Invention
The five-day camp has students learning about science and technology with fun, hands-on experiments.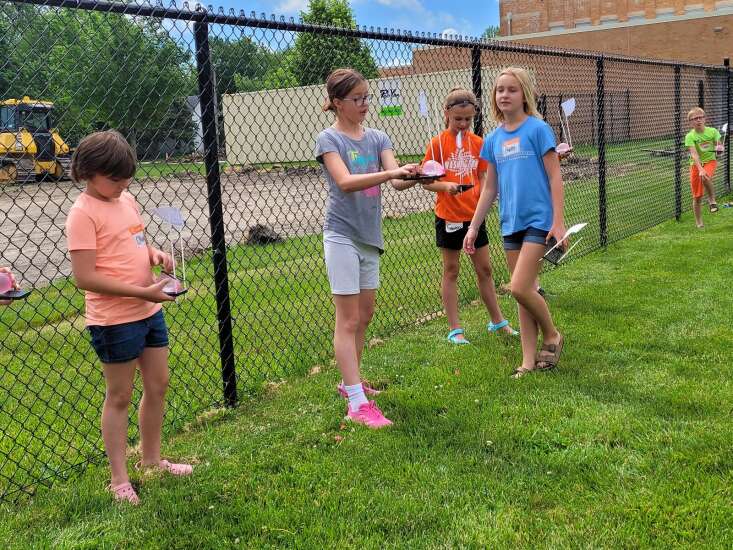 At Camp Invention, elementary students tinker with toy cars, solar-powered robots, and other gadgets as they learn about science and technology in a hands-on format.
Alex McFarland and Sam Kaye, both fifth-graders, rummaged through the "upcycling room" at Stewart Elementary on Tuesday, looking for supplies to build a paper clip launcher. The room is filled with cardboard, milk jugs and other recyclables brought in by the students for use as building materials throughout the week.
The task was part of the "Duck Chuck," one of five stations where campers built inventions using electronics or physics. At the Duck Chuck, campers worked to build a platform to launch rubber ducks as far as they can.
"It's like an air cannon where if you pull it back hard enough, it will launch it hard enough to knock it back," McFarland said.
The national summer program, which is in its 11th year in Washington, gives elementary students the chance to build inventions and learn about science. The camp returned to an in-person format this year after being virtual last year.
The camp began Monday and finishes on Friday.
Janet Conrad, the camp's director and a PE and reading teacher at Stewart Elementary, said students were eager to sign up for the camp after the pandemic shut down most opportunities for summer camps last year.
The camp brought in 91 campers, ranging from kindergarten to sixth grade, and Conrad said she had to turn away some after the camp filled up.
"So that showed me that they were definitely ready to come back to camps and get their kids involved in camps again," he said.
The theme for the five-day program is "recharge," and the stations feature activities related to charging or electricity. Beyond the Duck Chuck, there are three other stations for campers to enjoy:
Open Mic, where campers disassemble and reassembled a microphone to learn about the internals.
Road Rally, where campers build cars powered by fans to navigate courses.
Solar Bot, where campers build habitats and accessories for a solar-powered cricket.
Later in the day, some campers at the Duck Chuck station were outside trying to use their creations to launch water balloons. The students lined up in the grass and loaded their makeshift catapults, but the balloons were too heavy to be launched, and most of them slumped off the platforms and popped in the grass.
Counselors reminded the students that trial and error was fundamental to science, and campers discussed ways to modify their launchers to make the experiment work.
Campers had different ideas of which station was the best. Some liked the Road Rally, others the Open Mic. At all the stations, campers were engaged and interested as they explored what the camp has to offer.
"I like just inventing things," said sixth-grader Olivia Klinzman.
In the school's gym, students brought their cars to test them out. Some cars veered in different directions and others fell apart, but the students tinkered with the cars, adjusting the propellers and axles to improve their movement.
At the Open Mic station, camper Michael Corso was using a screwdriver to put a microphone back together after taking it apart. Corso said he liked seeing the electronics inside the microphone.
"We have to take it apart, and we put it back together," he said. "There's a chip right behind this."
The camp was staffed by volunteer high school students who provided guidance for the young campers, as well as adult helpers who facilitated some of the stations.
Drew Horak, a high school junior volunteering as a counselor, said helping out at the camp was fun and nostalgic, bringing back memories of when he was younger.
"People say it wears you out, it doesn't really wear you out," he said. "The kids are great."
Conrad said students at the camp learn in a way that doesn't feel like learning because they're having fun. Those lessons include technology, teamwork and how to develop and test ideas.
She said a lot of girls sign up for the camp, and it's important to teach them that engineering and science are professions that are open to girls as much as boys. There are 35 girls and 56 boys in the camp this year, she said.
"We're trying to teach them that whatever ideas they have are valid ideas and they're worth trying," she said. "So with guidance, they can use their imagination to try out a lot of new things to test them and recreate them if needed."