Gas line fire rocks Mt. Pleasant
Construction crew hits gas main on West Monroe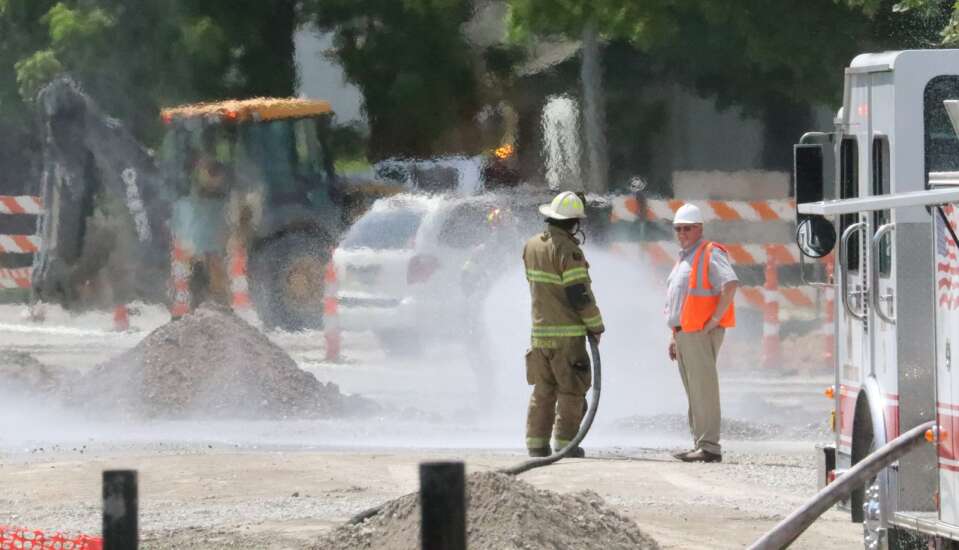 A burst gas pipeline on Monroe Street in Mt. Pleasant caused a fire that reached as high as 12 feet in the air on Tuesday before fire crews put out the flames.
The blaze started when leaking gas caught fire at a construction site on West Monroe Street between Jefferson and White streets, Mt. Pleasant Fire Chief Drew Schumacher said. No one was injured, and no property was damaged from the incident.
"It was natural gas coming out of the ground, and it's coming off a four-inch main, so it was probably 12 foot in the air, but once we started applying water it knocked it all down," he said.
The leak was caused by construction equipment inadvertently hooking onto a service line and pulling it loose from the gas main, Mt. Pleasant Utilities General Manager Jack Hedgecock said.
Crews from multiple utility companies were working in the area replacing utility infrastructure before an upcoming city street project.
The fire crews arrived a little after 12:30 p.m. responding to the gas leak, and the gas caught fire around 2:15 p.m., Schumacher said. He said the firefighters immediately began putting water on the fire while Alliant Energy crews worked to pinch off the gas along the pipe.
"We just tried to control it until the gas company put in another line stop up the road," Schumacher said.
The fire was extinguished around 3 p.m., he said.
Hedgecock said gas had to be shut down to some surrounding properties including an apartment complex, which was being reestablished Tuesday afternoon. Electricity was also shut off to one customer which was also being reconnected immediately after.
There won't be any significant delays in the utility maintenance or the planned street construction, Hedgecock said.
Hedgecock said the first responders handled the situation quickly and effectively, and Alliant Energy workers and the fire department did a great job controlling the fire.
"It was very well handled," he said. "I've been at this for nearly 40 years, and I think it was handled as well as could be done, and helped mitigate the potential loss of property or any injuries."