Fairfield City Council has two contested races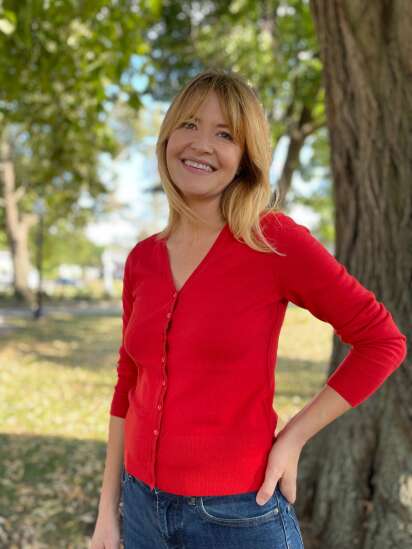 Fairfield residents will select a mayor and three members of the city council during the Nov. 2 election.
Mayor Connie Boyer, elected in 2019, is running unopposed, as is City Council member Doug Flournoy, who holds one of the two at-large seats. The other two seats on the council are contested, however.
Incumbent Paul Gandy represents Ward 2, and he will face off against challenger Brad Fregger. Ward 2 covers the north part of town.
The seat for Ward 4 is also up for grabs, and its current occupant, Michael Halley, is not seeking re-election. Two residents are vying to replace him, John Loin and Elizabeth Estey. Ward 4 covers downtown Fairfield, the Central Park and several blocks in all directions.
To learn which ward you live in and which candidates you will be able to vote for, call the Jefferson County Auditor's Office at 641-472-2840, or enter your address at the Iowa Secretary of State's website at https://sos.iowa.gov/elections/voterreg/regtovote/search.aspx
The Union sent a questionnaire to the four candidates of the two contested races in town. Here are there responses.
WARD 2
Paul Gandy
Family: Single
Occupation: Attorney
Political Experience: Completing first term as Fairfield City Council member for Second Ward.
1) Why are you running for office?
I enjoy public service, and work well with others in getting things done. This is important, especially in local government. I'm fortunate to have the endorsement of our former mayor Ed Malloy, and our former second ward council member, John Revolinski. I'm also honored by the vote of confidence from our current mayor, Connie Boyer, in appointing me Mayor Pro Tem.
2) What are your priorities if elected?
During my first term, I worked with great success on a city-county-hospital team in improving the ambulance service for our area. If re-elected, I would make Fairfield's continued, sustainable economic development a priority, including affordable and available housing and day care.
We have a solid core of Fairfield citizens in business, local government, education, and other areas who are committed to making Fairfield a safe, vibrant, and welcoming city. As a city council member, I would continue to contribute and participate with this great team in my second term.
3) What do you see as the top issues facing the city?
It's critical for the success of our local government that city council continue as an instrument in getting things done for the benefit of all our Fairfield citizens, rather than for some other agenda. City government is a place where mutual respect, teamwork, and civility are key in keeping Fairfield moving forward.
Among the council, we don't always agree on a particular course of action. Yet, at the end of the day, I'm encouraged to have experienced how we get things done for our citizens. I will continue that team tradition if honored by being re-elected.
Brad Fregger
Family: Wife, Barbara Foley. We've been blessed with three children, 11 grandchildren, and three great-grandchildren.
Occupation: Book publisher, writer, video blogger.
Political Experience: international speaker on leadership, written three books on leadership, successful careers in three industries, and a Master's in Societal Futures (San Jose State University).
1) Why are you running for office?
About 100 community members attended the City Council meeting and asked them to remove the mask mandate from the community rec center, over a month after the governor had removed COVID restrictions, the Council ignored the citizens' pleas, and "kicked the can down the road." I realized that the council was heavily progressive/liberal. I decided to run for City Council to provide a much-needed conservative voice.
2) What are your priorities if elected?
Number 1, to represent the people in my ward whenever they have issues with the city. Our citizens need a champion to either right a wrong or clearly explain the city's position.
Number 2, to make sure that Fairfield is not saddled with unnecessary rules and regulations that have the potential to damage our relationship with our citizens and/or make it more difficult to begin or run a successful business in our community.
3) What do you see as the top issues facing the city?
It appears to me that the city council isn't listening to a majority of our citizens. The first step in resolving conflicts is to gain understanding. This means clearly understanding all sides of every issue. So far, it seems that the progressive side is receiving the greatest amount of attention.
I have not done the research, talked to concerned citizens, to be able to answer this question intelligently. If elected, I will be doing my due diligence on whatever issues are brought to my attention, whether it be roads that need attention, unnecessary parks, rec center rules and regulations, etc.
WARD 4
John Loin
Family: Jody, wife, married for 40 years. Adult children Chelsea and Noah.
Occupation: General Contractor/Construction for 42 years.
Political Experience: This is my first time running for an elected office.
1) Why are you running for office?
I strongly believe in community service and representing the 4th Ward is another way to fulfill this pledge. I've served Fairfield for 27 years, establishing our Habitat for Humanity affiliate in 1994, the Habitat ReStore in 2010, and serving as the President of Fairfield's Rotary club from 2019-2021. I would be honored to serve if chosen.
2) What are your priorities if elected?
Housing is critical to the long term economic health of our city, and specifically affordable housing. Being a builder, I understand the costs and steps needed to help make this happen. I'd like to encourage more improvements to the downtown square area. I would like to take part in an upcoming downtown planning session in 2022 that will address these concerns. We've made some good strides in this direction, but there's more to do.
The Jefferson County Kids childcare facility will go a long way towards addressing the need for more daycare. I'm sure there will be more efforts to expand this capacity.
3) What do you see as the top issues facing the city?
Keeping our young people engaged and active in Fairfield will go a long way in maintaining our economic vitality. We are always competing for families and individuals looking for a great place to live and raise a family. Fairfield should be at the top of their list. Keeping our taxes competitive with other cities our size is also important.
Elizabeth Estey
Family: Husband Graham, and kids Leon and Ula.
Occupation: Law Student
Political Experience: I have canvassed for previous presidential candidates and I participate in caucuses. I have personal and professional experience in advocacy which is at the heart of public service.
1) Why are you running for office?
I love Fairfield and I want to see it thrive and grow. I want to serve Fairfield, and I feel I can do this by listening to residents and small business owners in the Fourth Ward and represent their interests on City Council. I grew up here, and my husband and I moved back home when we decided to have a family 12 years ago.
I owe this town so much and it's time to give back. My education in economics and law, and experiences as a long-time resident, homeowner and mother of school-aged children will help me represent residents on City Council.
2) What are your priorities if elected?
To help Fairfield grow while remaining a prosperous and diverse rural community. Fairfield has so many positive qualities: school choice, high quality of life, diversity, business and job opportunities, just to name a few. Fairfield has always attracted entrepreneurs, but these qualities could also attract people who now have the opportunity to work remotely.
3) What do you see as the top issues facing the city?
I've had the opportunity to walk around the ward and speak to different residents and business owners and hear what's on their mind. What I'm hearing is people are concerned about the lack of quality, affordable housing, childcare, downtown revitalization and support for small business owners.