Fairfield Farmers Market moves outdoors Saturday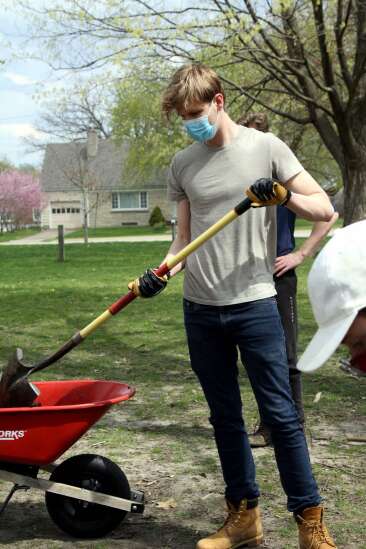 FAIRFIELD — The Fairfield Farmers Market will make its outdoor debut for the season Saturday at Howard Park.
The market will be open from 8 a.m. to 1 p.m., its usual hours. Barb Sieren, a vendor with Back to the Basics Farm, said the farmers market board is not planning any special entertainment Saturday and has not allotted any money for entertainers this year.
"If someone wants to play guitar, they're on their own," Sieren said.
However, there is a special event planned that morning to unveil a new bench in Howard Park. The TerraCycle company donated a bench to the city in honor of Fairfield being named the "world's first TerraCycle town" for its commitment to recycling. The bench is made entirely of recycled materials. It will be unveiled at 10 a.m. that day. Fairfield Mayor Connie Boyer will speak at the event.
Members of Fairfield Interact, the youth chapter of Rotary, met at Howard Park April 18 and created a brick patio for the bench to rest on. Fairfield resident Stuart Valentine, who got the ball rolling on creating TerraCycle Fairfield, said the Interact club members have provided the "brawn" for TerraCycle's recycling efforts during the past 1.5 years.
Valentine and Interact club members plan on having booths at the market that day. TerraCycle Fairfield will have a booth where it will sell baked goods, raffle tickets, TerraCycle hats and books from TerraCycle's founder Tom Szacky.
Valentine said he hopes to use the occasion to talk about another project he's working on as president of the Sustainable Iowa Land Trust (SILT), which is in its fourth year. He said the group has put forward a plan called "Circle Our Cities," a three-year, $3 million initiative to have at least 10 cities in Iowa commit to circling their towns with farms that are either under a SILT easement or outright donated to SILT. Those farms would grow food for local consumption. Valentine said SILT has chosen Fairfield as the pilot town, the first to embrace the project.
One change to this year's farmers market is that the Wednesday farmers markets will be held at Central Park instead of Howard Park like the Saturday markets. Sieren said the board hopes being on Central Park will make the vendors more visible and attract more people to come to the Wednesday markets. The Wednesday markets will be held from 3-6 p.m. starting May 5.