Fairfield's final Coming Home, Coming Together Concert planned for July 15-16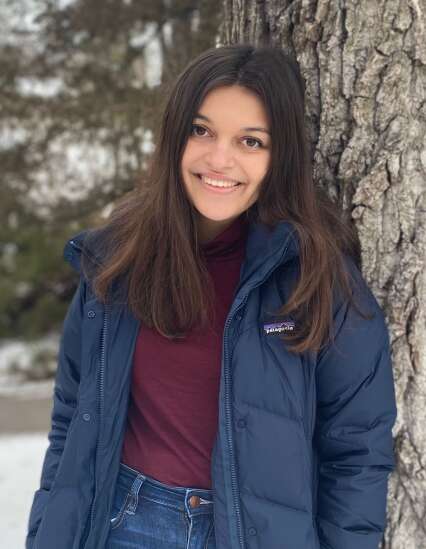 FAIRFIELD — The Coming Home, Coming Together Concert began in 2015 as a venue to showcase the talented singers and musicians who have come through Fairfield High School.
The concert attracted FHS alumni from far and wide, and has been so warmly received by the public that it is now in its sixth year, after taking two years off because of the pandemic. This year's concert will be next Friday and Saturday, July 15-16, at 7:30 p.m. at the Fairfield Arts & Convention Center. There is no charge to attend, but the arts center is asking for a suggested donation of $15. Money raised will go toward the Fairfield Arts & Convention Center.
Organizer Sally Johnston said this will be her final Coming Home concert. She's proud of having been able to host so much locally grown talent during this last decade, but she's ready to pass the baton onto someone else. She hopes another person will come along to organize a different annual event, such as a citywide talent show.
"If somebody wanted to put that together, it would be hugely successful," Johnston said.
Johnston said she started the Coming Home concerts because she wanted to provide a place for Fairfield graduates to show their skills. She had no idea the series would grow into what it has become.
"For the performers, music is a vital part of their lives," she said. "It's great to bring their talents back home."
This year's lineup includes many familiar faces, such as those who have performed at one or more Coming Home concerts before, and others who are recent FHS graduates, or even still in school.
Here are the biographies of this year's performers:
Dick Hunt
Dick Hunt graduated from FHS with the Class of 1966 and from Parsons College in 1970. He is retired from Fairfield Aluminum Casting Company and lives in Fairfield with his wife Debbie. Dick and Deb have two children, Scott and Jennifer.
Jenness Parker
Jenness E. Parker graduated from FHS with the Class of 1996. The Libertyville native has sung for audiences since she was 4, and sang throughout high school. She even studied classical musical technique in college, and still sings to this day, performing in musical theatre and opera. She is a corporate litigator and partner in Wilmington, Delaware.
Chris Davis
Chris Davis graduated from FHS in 1975. He started singing on family road trips to Michigan in the car to pass the time, and has been a member of the Methodist Church Choir from third grade on to the present. At FHS, he was involved in Chorus, Chamber Singers, and All-State Choir.
Emily Roth McIntyre
Emily McIntyre graduated from FHS in 2005 and has lived in the area ever since. She resides in Keosauqua with her husband Adam and two young children. For the last 15 years, she has worked at her father's dental practice. Emily loves singing with the Fairfield Big Band in her free time, leading a small children's choir in Keosauqua, and helping out local churches by sharing special music or playing the piano.
Joe Hunt
Joe Hunt was born and raised in Fairfield. He graduated from FHS in 1968, attended Parsons College, and continues to live in Fairfield with his wife Jane. He and Jane have four kids, who have all flown the coop and are spread throughout the West Coast and Midwest. He purchased his first guitar in 1970, and has been playing it ever since.
John Turner
John Turner graduated from Fairfield High School with the class of 1965 and now lives in Colorado Springs, Colorado. His musical career began as a 6-year-old piano student of Dorothy Dawson Lowell, and just three years later was given the responsibility of being the pianist at the Calvary Baptist Church in Fairfield. After college, he enlisted in the U. S. Air Force in 1968 as a bandsman. His Air Force band career took him to Louisiana, Georgia, Hawaii, Alabama, Nebraska and eventually to Colorado Springs, where he performed as a musician with the USAF Academy Band.
Megan Higgins
Megan Higgins is a 2020 graduate of Fairfield High School and currently lives in Philadelphia, Pennsylvania. She'll be entering her junior year of college this fall at the University of Pennsylvania, where she studies political science as well as jazz and popular music. At school, she's the assistant music director of her a cappella group, Penn Counterparts. When not singing, she can be found spending time with her sorority sisters in Sigma Delta Tau, writing a cappella arrangements, or cracking jokes with her Counterparts friends.
Paul Schwengels
Paul Schwengels graduated from FHS in 1966. In school, he performed at dances and for fraternity parties at Parsons College and other colleges in the area. He is retired after a long career in government service and later consulting on international assistance to promote sustainable energy and environmental improvement. He was awarded a Nobel Peace Prize in 2007, along with Al Gore and 3,000 other scientists and technical experts worked on the major reports of the U.N. Intergovernmental Panel on Climate Change.
Sophia Fritz
Sophia Fritz graduated from FHS earlier this year, and will spend her summer working at Fareway in Washington. She plans to attend Central College in Pella, where she will study literature in the hopes of becoming an author or editor. During her tenure in Fairfield, Sophia performed in plays, speech team, individual speech and musicals.
Xavier Kessel
Xavier Kessel has not even started his high school career, but already has many performing accolades under his belt. He will be a freshman this fall at FHS. He is the son of Alex and Christie Kessel, both graduates of Fairfield High School. Xavier started his singing and acting career at Fairfield Middle School when he played the role of Simba in The Lion King. That summer, he joined the Fairfield Area Community Theater team with the role of James in James & the Giant Peach. Most recently, he played the title role of Peter Pan with the Van Buren County Players this past winter.
Jim Edgeton
Jim Edgeton recently retired from 29 years of directing the bands at Fairfield High School and 12 years in other districts in Iowa and Texas. He is also the director of the Fairfield Municipal Band, the Fairfield All-Star Jazz Band, music director of the Fairfield Area Community Theater, and directs choirs at the Fairfield First United Methodist Church. He is president of the Fairfield Concert Association.
"It has been my honor and pleasure to have had the opportunity to work with Sally Johnston on the Coming Home, Coming Together Concerts where we have been able to accomplish two things: one, bring attention to all of the outstanding local talent our city has produced over the many years, and two, bring attention and support to this outstanding facility," Jim said. "I hope there can always be a connection between these two in the future."
LeAnne Edgeton
LeAnne Edgeton was born and raised in Harvard, Illinois, graduating from Illinois Wesleyan University and Southern Methodist University with degrees in music. While in Texas, she taught and performed in the Dallas area. She also was a police officer and detective in the Mesquite Police Department until she and her family moved to Fairfield in 1992. She then worked at Telegroup, and just recently retired from Cambridge Investment Research in Fairfield. She and her husband Jim raised two boys — Jim, 34, and Jon, 32. She and Jim have six grandchildren. LeAnne loves to play piano and accompany other people.
Call Andy Hallman at 641-575-0135 or email him at andy.hallman@southeastiowaunion.com