Festival of Trees in Fairfield to raise money for Little Superheroes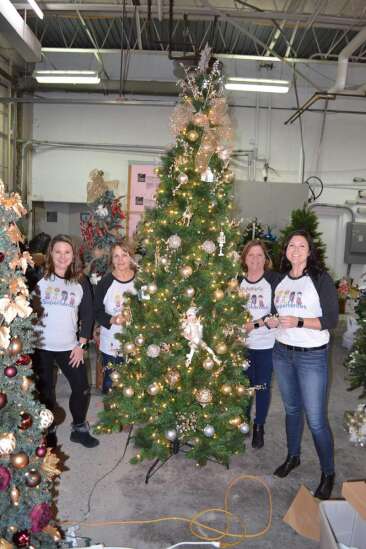 FAIRFIELD – Residents will have a chance to help families in need at the third installment of the 'Festival of Trees" Nov. 29-30 at the Fairfield Arts & Convention Center in Fairfield.
The event is a fundraiser for the organization 'Little Superheroes," a local 501c3 charity whose mission is to provide help and hope to children facing serious life-threatening ailments, and to their families dealing with the financial fallout of a long-term medical crisis.
The event will last from 10 a.m. to 8 p.m. Friday, Nov. 29, and from 10 a.m. to 3 p.m. Saturday, Nov. 30. Attendees will have the chance to purchase decorated trees of all sizes, plus wreaths, garlands, centerpieces, and all manner of holiday creations. Sponsors, decorators, bakers, artists, craftsmen and helpers are still needed to share their talents during the event. Organizers said that more than 100 trees and over 40 wreaths will be available for purchase.
Friday's event at the convention center will accompany a tailgate party during the Iowa-Nebraska college football game. Local bakers are providing homemade holiday treats to eat there or take home each day, and hot chocolate and coffee will be served. Children can take part in making holiday crafts and enjoy traditional holiday activities.
Formation
'Little Superheroes" was formed in 2015 by Alex and Christie Kessel after their daughter Valerie was born with a rare condition whereby her intestines didn't work properly. When this condition kept both parents by her side in the University of Iowa Hospital and Clinics in Iowa City for months, they decided they wanted to do something to help other families struggling with serious long-term life-threatening issues.
'When your child is in the hospital, you have to take a lot of time off work," Christie said. 'And if you don't live near the hospital, you spend a lot of time driving back and forth. There are a lot of costs associated with that. I wanted to help alleviate some of that financial stress, because the emotional stress is hard enough. I wanted people to have one less thing to worry about."
The first Little Superheroes event was in 2016. Christie said the community support has been fantastic, 'surpassing my expectations." The organization has given out more than $90,000 in grants to over 20 families. Christie said local families are given priority for the grants, but the organization has been so successful in fundraising that it has been able to help those from across Iowa and even outside the state.
On its website, littlesuperheroesfairfield.com, a family can apply to receive funds, and members of the public can donate to the cause. Christie said that most of the families to receive funds so far have been referrals from individuals familiar with the organization or referrals from the University of Iowa Hospitals and Clinics.
Core team
Christie and a core team of helpers – her sister Terri Kness, mother Debbi Davis, and mother-in-law Suzan Kessel – have spent the past month decorating trees and making decorative arrangements at 300 N. 16th St. in Fairfield (formerly occupied by Hawthorne Direct), which has served as their workshop. The smaller items are for sale, and the trees will be sold at a silent auction. The trees will also have a buy-it-now price on Friday for those worried about being out-bid on Saturday.
'When our granddaughter Valerie was in the hospital, we all pitched in as a family because [Christie and Alex] had to be up there so much," Debbi said. 'What Christie has started is very near and dear to our hearts."
Terri remarked that it was 'five years ago today" that she shared pictures of Christie and Alex bringing Valerie home from the hospital. Within just two days, they had to take her back to the hospital, where she stayed for the next four months.
Debbi remarked that Valerie's hospital stay lasted through the holidays. Valerie's grandpa Chris stayed with her Christmas Eve so that Alex and Christie could spend Christmas with the two older kids.
'It took a toll on the other kids, but everybody was a trooper and got through it," Debbi said. 'We did as much as we could to make things normal for them."
Terri added, 'Val is such a sweet little girl, you'd never know the adversity she's gone through and still faces."
Suzan said the Little Superheroes organization gives hope to people who are going through a tough time by letting them know they're not alone.
'[Val] is a normal feisty little girl, and it gives people hope when they see that," Suzan said.
'One of our goals is to offer not only our financial support but our emotional support as well to these families, because it's an overwhelming time for them," Christie said.
Christie said the Festival of Trees would not be possible without the generous support of dozens of volunteers. She estimated that more than 50 people donate their time to transport the trees, set up and tear down at the event, bake goods, decorate and much more.
The Little Superheroes has a nine-member board of directors consisting of Lori Schaefer-Weaton, Jennifer Larsen, Wendy Marmion, Amy Jones, Lindsay Haskins, plus the aforementioned Christie Kessel, Terri Kness, Debbi Davis and Suzan Kessel.
Families of Little Superheroes
A press release from the organization includes testimonials from families who are receiving grants from the Little Superheroes. For instance, Michelle, a mother of three, wrote that her son Jaxton recently lost all feeling in his legs and is now paralyzed from the chest down due to a medical condition.
'I am struggling," Michelle wrote in her application. 'I recently had to move out of our third floor apartment because I can no longer carry him up there. I'm barely hanging on financially and all my savings are gone. I'm doing the best I can, I just need a little help to get through this rough patch."
Isaac, a father of four, wrote in his application that his 10-month-old son Benjamin is unable to tolerate food other than in very small portions and frequently vomits. Benjamin's prognosis is unclear, and the doctors don't know what else to do or what tests to give.
'This situation has had a tremendous impact on our entire family. We have been overwhelmed with the physical and mental challenge of dealing with this unknown future, and lack of solutions," Isaac wrote.
Isaac has been on medical leave from his job, and only by hiring a friend to step into his role was he able to save his company from shutting down completely. He said a lot of damage was done with his clients, and he's unsure what the future holds.
'We are in a bad spot financially due to all of our time being spent with doctors and in hospitals," he wrote in the application. 'I hope to salvage things and rebuild. Seeking financial assistance is the last thing I ever thought we'd be doing. Thanks for anything you can do to help."