Grassley talks public health at Fairfield visit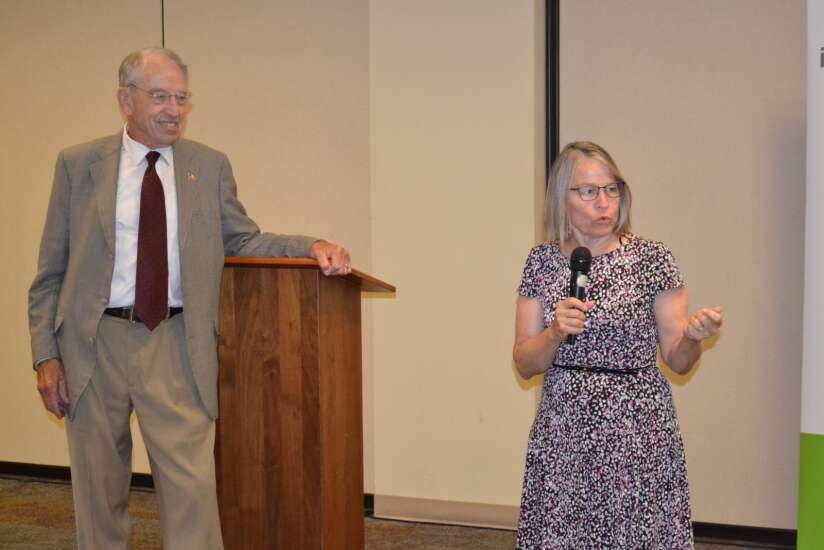 FAIRFIELD — Public health was the focus of U.S. Sen. Chuck Grassley's stop in Fairfield Thursday afternoon.
Iowa Public Health Association, a nonprofit organization not to be confused with the Iowa Department of Public Health, organized a meeting between Grassley and local public health officials at the Fairfield Arts & Convention Center.
Joining Grassley was U.S. Rep. Mariannette Miller-Meeks In attendance were local elected officials state Sen. Adrian Dickey and Rep. Jeff Shipley.
Lina Tucker Reinders, executive director of IPHA, said the purpose of Thursday's meeting was to address the concerns of public health organizations, such as the need to reestablish the public's trust in institutions such as the Centers for Disease Control and Prevention (CDC) and National Institutes of Health (NIH).
One theme of the meeting was that public health does not have the resources to address the root causes of health problems. Instead, it has been tasked with "putting Band Aids on bullet wounds," in the words of Washington County Public Health Administrator Danielle Pettit-Majewski.
Pettit-Majewski said the job of public health officials is akin to "pulling babies from the river."
"We've got to figure out who is throwing babies in the river," she said.
Pettit-Majewski said preventive health measures can include things such as ensuring water is free of lead, that women have access to a birthing center in their town, and that there are enough dentists willing to take Medicaid patients.
Tucker Reinders said her organization wants leaders to "make the healthy choice the easy choice" by encouraging healthy eating habits. She lauded Iowa's law passed more than a decade ago that banned smoking in bars and restaurants as a great step toward improving the public's health.
Jefferson County Public Health Administrator Chris Estle said one of the things public health officials want is to be valued as the medical professionals they are, and for politicians and members of the public to understand the responsibilities public health officials have been tasked with.
For instance, she mentioned how the COVID-19 pandemic has been different from earlier disease outbreaks like H1N1. She spoke about guidance from the federal level has changed frequently about the best practices to contain COVID.
At one point during the meeting, Miller-Meeks took the microphone and answered questions from the audience. She echoed Estle's comments about how COVID has played out differently from H1N1 from a public health perspective, something Miller-Meeks was familiar with because she was the director of the Iowa Department of Public Health at the time of the H1N1 outbreak.
She said social media, which was minimal back in 2009 at the time of H1N1, altered how health professionals responded to the COVID pandemic. She said Dr. Anthony Fauci, director of the National Institute of Allergy and Infectious Diseases, has not given straight answers on what qualifies as herd immunity during his congressional testimony, and that health officials gave confusing advice about mask usage, first urging Americans not to use them and then later reversing course.
Grassley spoke about some bills that he hopes will lead to better health outcomes for Americans. He noted that he and fellow U.S. Sen. Ron Wyden of Oregon are leading a bipartisan effort to reduce the cost of prescription drug prices. Grassley said the idea is more popular among Senate Democrats than Republicans, and he expects the bill will come before the Senate now that U.S. Sen. Chuck Schumer, a Democrat, is the majority leader.
In November, Grassley tested positive for COVID-19 and had to be quarantined for two weeks. He did not show any symptoms of COVID. This prompted a question from the audience about what Grassley, aged 87, attributes his good health to.
Grassley responded that he learned years ago how hard it is to get elderly people in the nursing home to run, so he began running. Today, he runs 2 miles, six times per week, though to be "intellectually honest," he said his run is more like a "shuffle."
Grassley said the most disappointing part of getting COVID and having to be quarantined was that he ended his 27-year streak of not missing a vote in the Senate, which was almost 9,000 votes.
Grassley's visit to Fairfield was part of his annual tour of all 99 counties in Iowa. During this most recent tour, Grassley made stops in Bloomfield, Keosauqua and Ottumwa, which means he has visited 85 counties so far this year.