ICON Gallery holding biennial art auction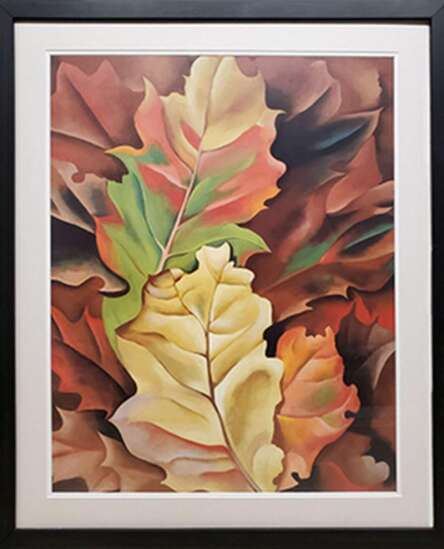 FAIRFIELD - ICON Art Gallery in Fairfield is holding its biennial art auction now through Dec. 16.
The auction is the main source of funding for the art gallery, a nonprofit organization. Bill Teeple, the gallery's curator and executive director, said the auction normally generates $10,000. He said the fundraiser could not have come at a better time because ICON is strapped for cash.
The COVID-19 pandemic has hurt the economy, which has resulted in fewer donations to the art gallery. The gallery relies on donations, both monetary and in the form of artworks that it can sell at auctions like the one ICON is doing now. All of the artwork up for bidding has been donated, and all of the proceeds stay with ICON.
Teeple said there are 168 artworks in the auction by 100 artists, with new work arriving each week. Bidding for the pieces is done online at ICON-art.org, where all pieces can be viewed. Due to the spike in COVID-19 cases, the gallery will be open by appointment only to view the work in person. To set up an appointment, email Teeple at ICONBillTeeple@gmail.com, or call 641-919-6252. Masks are required. Patrons can bring their phone and bid on the spot.
Teeple said the auction has art of all varieties and pleasing to all art sensibilities, from realistic rural landscape to abstract expressionism. He said he's chosen to hold the facility's major fundraiser every two years instead of every year because he knows people get tired of so many fundraising appeals. He figures that if he can hold one big auction once every two years, both the bidders and the artists are more excited for it.
'We do small-scale events that make us $500 to $1,000, but we rely on the art auction to get us through," Teeple said. 'We're always starting to run out of money near the end of the second year."
Teeple said the gallery has not hosted any shows since the pandemic hit Iowa in March. Teeple runs an art teaching business in the back of ICON Gallery and has responded to the pandemic by doing more of his teaching online. He does one-on-one consultations and group classes where he demonstrates how to recreate a famous historical artwork.
Teeple hosted a mask decorating contest earlier this year. More than 100 masks were entered in it. He put together a mini-art auction in July and August to test out the new online bidding software. The event raised about $2,000.
The big art auction, which opened for bidding Nov. 6, features some of the most famous artists in the state, such as Jim Shrosbree, Gyan Shrosbree, Suanna Breed, Madeline de Joly, Robert Hoerlein, David Kupferman, Joanie McGinnis, John Preston, Lawrence Sheaff, Danielle Shier and Greg Thatcher.
20th Anniversary
ICON Gallery is celebrating its 20th anniversary this year. Teeple said the gallery came about after he moved his art teaching business into Barry Ross's old studio on the third floor of 51 East Broadway on the Fairfield square. Before long, he and his wife Janet were hosting art receptions in the studio and named the office Gallery 51 East.
Teeple said he was aware there is only a small market for art in Fairfield given its size. The art exhibits he and Janet hosted were a labor of love which came with a fair amount of expenses in the form of rent, advertising, postcards, receptions and food spreads. He felt that the solution was to create a nonprofit art space where artists could display their work without having to depend on sales but rather donations. Thus, Iowa Contemporary Art, or ICON for short, was born.
ICON Gallery has been an integral part of Fairfield First Fridays Art Walk since that organization's founding in October 2001. ICON has become the event's anchor gallery, hosting art exhibits every month.