Jefferson County ISU Extension hosts career day for seventh-graders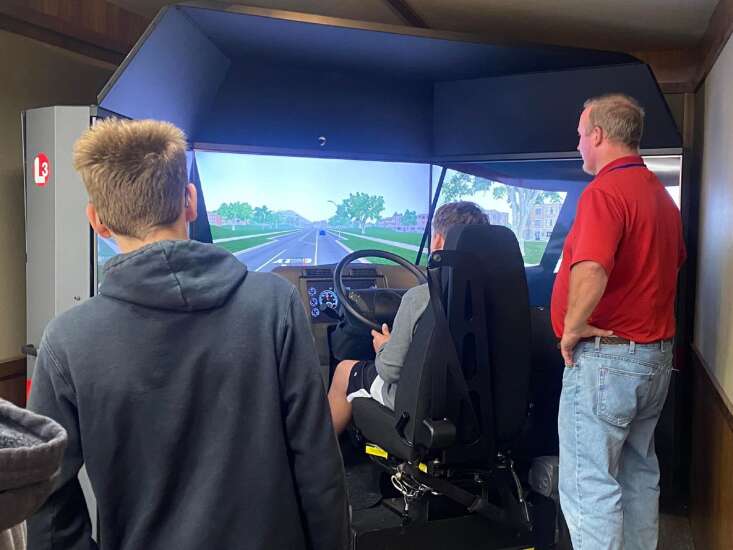 FAIRFIELD — Jefferson County Iowa State University Extension and Outreach organized a career day for the area's seventh-graders to give them a taste of jobs they might like to do after high school.
The event was called "STEAM'n Into Careers," referring to the acronym that stands for Science, Technology, Engineering, Art and Math. It was held on the morning of May 9 at the Fairfield Arts & Convention Center, where 21 organizations set up booths to educate the students about careers in their field.
More than 200 seventh-graders attended from Fairfield, Maharishi School, Pekin and Van Buren school districts. Rachel Fishel, 4-H Youth Program Specialist with ISU Extension and Outreach, said this is the first youth career fair the extension office has hosted in about five years.
"We want youth to have the experience of getting exposed to a variety of careers in the STEM and arts fields," she said.
Among the groups in attendance that day was the Jefferson County Sheriff's Office, which showed off its drone and how the device is used to aid law enforcement tasks. Iowa PBS had a green screen where students could take photos and then edit the background on an iPad. Jefferson County Farm Bureau had a tablet where students created their own avatar, and answered questions about what interests them to find out the different agriculture-related fields they might like to work in.
One of the highlights of the day was found outside, where the Iowa Motor Truck Association parked a semi. Students could go inside and play a game that simulated driving a semi.
"I heard from the people running it that the students need a little more practice before hitting the road in a semi," Fishel said.
Jefferson County 4-H set up its own activities that included a Lego pit, robots, and ramps and pathways creating a roller coaster of sorts that Fishel said resembles a model train set.
Fishel said that seventh grade might seem young for a career day, but she said it's a good idea to "plant a seed" in a young person's mind to get them thinking about life as an adult, and educating them about the careers they want to work toward in high school.
"The more we can expose kids to opportunities, especially local opportunities, it will help them as they prepare for high school and for the trade schools or colleges they may want to pursue," Fishel said.
Fishel said eighth-graders in the area already have a career day, where they are invited to the campus of Indian Hills Community College in Ottumwa.
"Giving the seventh-graders something now serves as a springboard into what they will explore at Indian Hills in the fall," Fishel said.
Fishel said ISU Extension was fortunate to be able to provide "STEAM'n Into Careers" on a budget that included renting space at the arts center, which gave ISU Extension a discount. Everything else was provided by the participating organizations. The Southeast Iowa STEM Hub, which co-sponsored the event, provided drawstring bags for all students.
Fishel said the event went well, and she's looking forward to doing it again.
"We heard from teachers that, within 30 minutes of leaving, the students were talking about how much they loved it and couldn't wait to do it next year," she said.
Call Andy Hallman at 641-575-0135 or email him at andy.hallman@southeastiowaunion.com