Jerusalem artichokes bloom in Jefferson County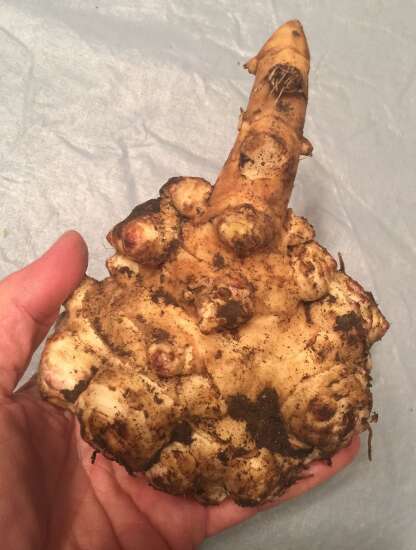 Jerusalem articokes are blooming all over Jefferson County. They are a great food forest plant.
I started my relationship with Jerusalem artichokes when I found tough fuzzy stems poking through a pile of burned up coal clinkers that were under a large pine tree. No sun, completely acidified soil and still they were growing. I was impressed. I researched to find out what they were and quickly fell in love with this robust vegetable with pretty yellow sunflowers.
These delicious wild and easily cultivated root crop from the sunflower family are native to North America. They were a staple food for many American Indians.
There is theory that it received the name Jerusalem from American corruption of "girasole artichoke" (the Spanish or Italian name for Sunflower artichoke). The artichoke part came from the taste. They are most often marketed as Sunchokes these days. A better description.
It's easy to find them blooming in the late summer and early fall. Keep track of where they are after they have died back so you can dig them any time the ground is dig able from late fall to early spring.
Late fall is the most common time to harvest. This can be done anytime after a killing frost and before the ground freezes. To extend the harvest, simply heavily mulch the bed to keep the ground warm. Then you can pull away the straw or leaves to dig up another batch.
The clumps of root look like a cross between ginger and potato: sort of knotty. The clumps can be as big as a fist or individual tubers about the diameter of a quarter. Mine have always been white but there are now more varieties available that are larger than the wild ones and some that have red skin, too
It is interesting to note that the roots form both close to the surface and again about a foot deep. This makes it easy to harvest and easy to miss them all: nature's way to ensure survival of the species.
I once harvested a 5-gallon bucket of 'cokes' from 1 square foot of ground. The bad thing about this is that it is almost impossible to get rid of the darlings once they get established. And the tiniest sliver of root somehow has the capacity to grow.
They are amazingly hardy and will grow just about anywhere (remember the shaded coal clinkers) but prefer full sun and some rain once in a while. Many grow in the sunny ditches in rural Iowa. They can be found in alley ways and in fields and along the highways.
Be thoughtful about setting them in the garden, though. They don't play well with others so give them their own dedicated space that can be mowed around. They are so hardy that they will strangle almost anything else except some grasses.
They bloom late in the summer or fall: Bright yellow sunflowers on very tall stems with several small bright yellow flower heads along the very top of the stem. They can get 7 to 15 feet tall in sunny locations so make a good screen for the mid summer through fall. They die back to leave long fibrous stocks that are wonderful for compost. I believe the American Indians used the stocks for more than burning, but I'm not sure what.
The tubers are crisp and sweet and can be eaten raw but may cause gas, so it's safer to cook, especially if harvested before they are ripe or before the first killing frost. Some people call them Jerusalem "fartichokes."
They can be used any way potatoes are used but don't have the starch of potatoes so are better calorically and medicinally. They have inulin, which is a beneficial type of dietary fiber. They are also a super prebiotic, food for the probiotics that our body needs in regular quantities.
They are known to balance blood sugar and are recommended food and "medicine" for diabetics and hypoglycemic. They are also a good source of prebiotics and ferment well. I made a great 11-root ferment including them a couple of years ago.
I like to sauté them with onion and use with stir fries and soups. They are good roasted or baked. I've boiled them and mixed with other veggies to make salad. The French make soup with them.
Try them out. You can find them in the grocery store or farmers market
– Colleen Bell is a lifetime gardener and graduate of the Master Gardeners program in Jefferson County.