Mark Smith purchases bicycle repair shop in Fairfield, names it 'The Ride'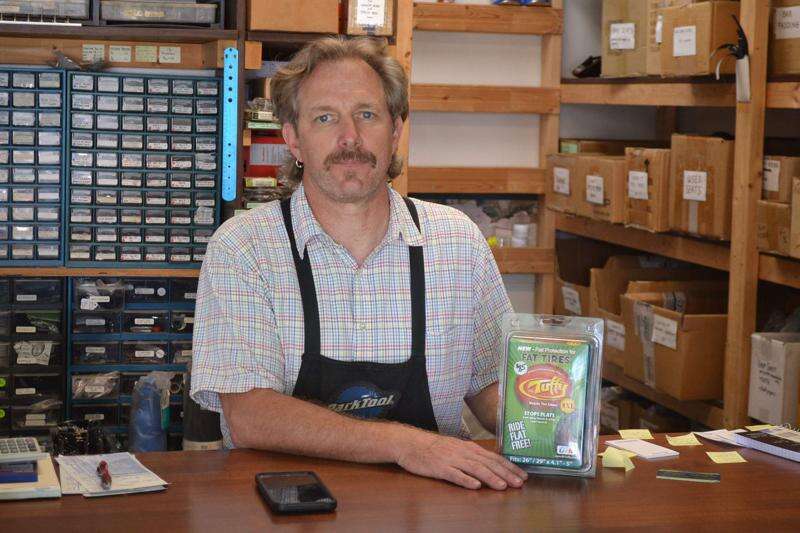 FAIRFIELD - AJ's Bicycle Shop in Fairfield has a new name and a new owner.
Mark Smith, an employee of the bike shop for nearly 20 years, purchased it from its former owner in January. Smith renamed the business 'The Ride," and put up a new sign reflecting the name change.
Smith began working for AJ (who goes just by his initials) in 2001 as a mechanic and later as a customer service agent as well. He kind of fell into the job, Smith recalled. At the time, Smith had just gotten into cycling as part of his training for triathlons. A longtime runner, Smith developed a foot problem, and his podiatrist recommended cross-training.
Smith was about to embark on a long bicycle tour the following year. He approached AJ for advice on how to make the most basic bike repairs. He even offered to work for free as AJ's apprentice. AJ was in the process of both moving and expanding his business from his old location on West Burlington Avenue behind what is now Green Building Supply to its current location on North Court Street. AJ needed more than an apprentice. He needed full time workers, and offered Smith a job.
'I guess I asked at the right time," Smith chuckled. 'I stumbled into the whole bicycle thing by having sore feet and having friends who were into it."
Smith admits he had almost no experience repairing bikes when he started in 2001. His brother had taught him how to fix flat tires, but that was the extent of his bicycle repair knowledge. Granted, Smith wasn't a stranger to the bicycle, either. He had already ridden RAGBRAI twice by that point in his life, and has ridden the whole thing four times and portions of it a further seven times.
As Smith learned more and more from AJ, his interest in cycling only grew. Seeing friends go on days- and weekslong cycling tours inspired him to do the same. Smith has done the Great Divide Mountain Bike Route, a tour that runs from Montana to New Mexico along the Continental Divide. The trip through the Rocky Mountains follows remote fire roads that Smith described understatedly as 'pretty hilly." Smith has also done tours through multiple Midwestern states lasting two to three weeks, and did a three-week tour in Spain while studying there one year.
The phrase has become cliché, but Smith really is a jack of all trades. He studied English literature and Spanish literature at the University of Iowa, and has studied abroad in not just Spain but in Mexico, too, in the city of Guadalajara. He said it's fun when he gets to use his Spanish with clients.
Smith has had careers in multiple fields. He was a chef for 18 years, opened multiple restaurants and ran several kitchens. Most of his years as a chef were spent in Iowa City, where he worked for restaurants such as Mondo's Tomato Pie, Givanni's, First Avenue Club, The Brown Bottle and The Fieldhouse. Smith was also a wildland firefighter, too, working for a couple of years in New Mexico.
This is sort of an odd year for cycling. On the one hand, cyclists were bummed to learn of the cancellation of RAGBRAI as well as the proposed Iowa's Ride, which was supposed to make its debut in 2020 one week before RAGBRAI and travel from east to west across the state. Both events were canceled due to fears surrounding the coronavirus.
'The [virus] has been really tough for organized rides," Smith said. 'It's pretty much impossible to organize a ride."
Instead of the weeklong rides that feature thousands of people clustered in a single town, Smith said the sport has seen a resurgence in day rides that allow riders to keep their distance from one another.
'Some of the people who do RAGBRAI, or who ride across Minnesota, are looking for those daylong events," he said.
Van Buren has such a ride planned, and the Fairfield Area Chamber of Commerce along with businesses in town are planning a gravel ride on Saturday, July 25, and the Bike Around Fairfield Loop Trail Annual Fun Ride on Saturday, Aug. 8.
The coronavirus has wreaked havoc on so many businesses. However, it hasn't been all bad for bike repair shops like The Ride. In fact, Smith said cycling has become a hugely popular pastime since it's a great way to exercise without being around other people.
'It's been a huge boon for us," Smith said, adding that the repair-side of the business is two or three times busier than normal. The only trouble is that the virus has disrupted shipping, so while there is great demand for bicycles and bicycle parts, it's taking the items a long time to arrive on the shelves.
'For some things, we can't get resupplied until August or September," Smith said. 'People want something to do. Our repairs are up, and our electric bike sales are up. It's been a huge surprise."
Smith said he feared having to close the shop in March because of the lockdown, but fortunately Gov. Kim Reynolds declared bicycle shops to be an 'essential service" because enough people rely on bikes as a means of transportation. That meant bike shops were spared from being shut down like a host of other businesses were.