Mid-Prairie to remove masks for final month of school year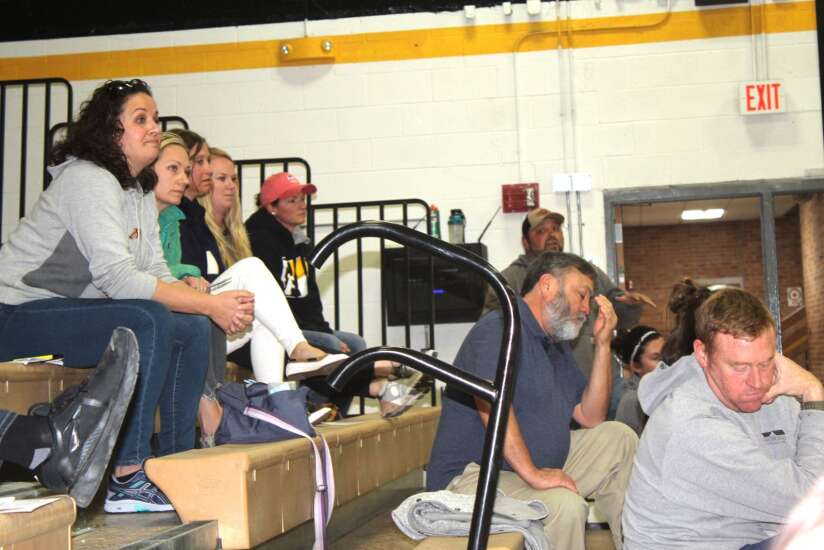 The Mid-Prairie is removing its mask mandate for the final month of the 2020-21 school year.
After a long and, at times, passionate debate, a split school board voted to make masks optional for the remainder of the school year effective April 26.
There was a flurry of motions.
The policy change, which passed in two separate motions, encourages, but does not require the use of face coverings. The mask requirement would be put back in place for any building that goes above a 3 percent positivity rate, including quarantined students and other illnesses.
Board member Jeremy Pickard offered the motion to not include the high school.
That motion passed by a 4-3 vote.
Board member Mary Allred, who voted against Pickard's motion, offered another motion to include the high school, and that motion passed 5-2, with board members Marianne Schlabach and Gabby Frederick voting against it.
Those motions came after two previous motions failed.
Schlabach proposed a motion to keep the mask mandate in place for the remainder of the school year, but that failed by a 3-4 vote.
Allred, who said that she has believed from the start that masks should be optional, then proposed a motion to drop the mandate and set a threshold of 2.5 percent positivity, and not count quarantines or other illnesses.
That motion failed 2-5, with board member Jodi Meader the only other member to vote for it.
Board President Jeremy Gugel, who ultimately voted in support of the motions to remove the mandate, expressed concerns about high school seniors missing out on some of the final weeks of their year if positivity rises.
"Elementary, middle school, even lower high school, they all get to do this again," Gugel said. "Seniors, they've got six weeks. By no choice of their own, they could miss two, and no one gets to pick which two."
During a public forum prior to the votes, district parents offered their opinions of the issue.
Courtney Anderson, who has children in the Home School Assistance Program, noted that neither the state nor the county have mask mandates.
"Parents are sick of the masks," Anderson said. "You represent us. Every study before 2020 showed that masks do not work."
She said that children have suffered from having to wear masks.
"Children have suffered long enough," she said. "Masks are a lie. You think that they protect you, and they don't."
Anderson suggested that any teacher uncomfortable in a maskless teaching environment go to online teaching.
Parent Tammy Rich said that the risks of COVID-19 are overblown.
"It's not a death sentence," Rich said. "It's going to be a seasonal virus. That mask is not what keeps you safe, and you are not in danger."
Parent Matt Paul questioned the district's quarantine and contact tracing policy.
"If you're going to have a policy that takes students out of school, we should consider the effectiveness of that policy," he said.
He urged the board to reconsider the policy.
Another parent echoed Paul's suggestion.
"You have 100 percent absolute authority not to quarantine," she said. "I don't take a lot of stake in what the CDC says."
Superintendent Mark Schneider explained that the district is following public health guidance.
He added that, while the board has the authority to go against public health policy, the district could be open to lawsuits if there is an outbreak of COVID-19.
"I don't think anyone here (on the board) really desires to be sued by anyone for changing our own idea of quarantine," Gugel said. "Some say that other schools have done that, but I haven't found any yet."