Mt. Pleasant grads finish a long journey
MT. PLEASANT — Family members of the Mount Pleasant High School class of 2023 packed into the building's gymnasium Sunday afternoon, for their send-off from public education into the real world.
For many, it was a tearful goodbye.
"There's one hour left, one more hour until we receive our diplomas and go our separate ways for the first time in so long," Salutatorian Bowen Davis said in an opening statement. "I've simply loved growing up with you guys … this class has shown me love when I was at my highest of highs and lowest of lows. And I know that for the last 12 years, when I was between classes, after games and on the field, we have all learned to love each other."
In a speech, Superintendent John Henriksen invoked the immortal words of Spider-Man comic books, telling the seniors the great power of their education came with its own great responsibility.
"You guys are moving into a time of greater influence and greater reach," he said. "Do not take the selfish way out. Don't live for yourself, that's what Uncle Ben was trying to tell Peter … it's the choices we make that make us who we are. So, make good choices. Make responsible choices. Make ethical choices."
Valedictorian Bryce Wilson voiced a similar sentiment in his own commencement address.
"You may be thinking to yourself, 'Well, what exactly makes a good person?'" he said. "I am here to tell you to stop thinking about it. Just be one. You'll probably end up on the right track."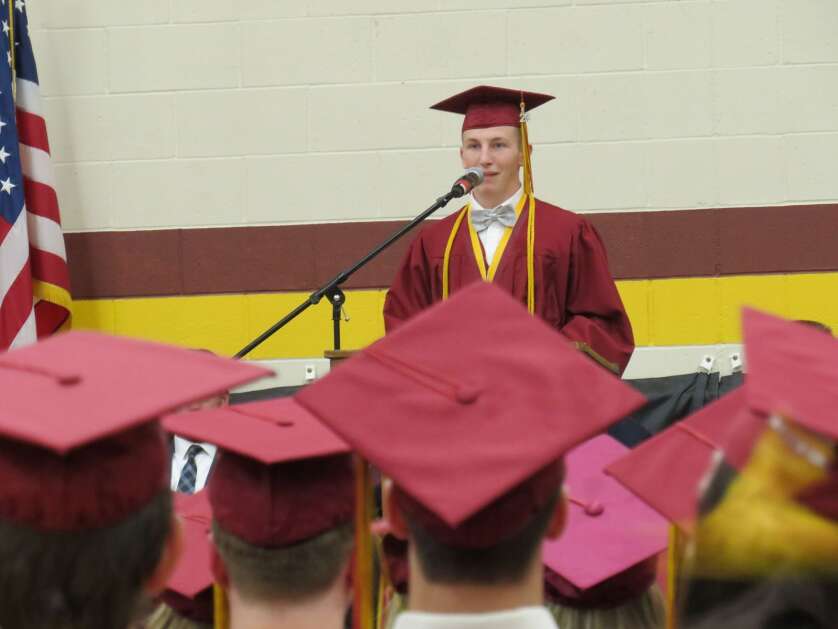 Comments: Kalen.McCain@southeastiowaunion.com