Mt. Pleasant show choir invitational canceled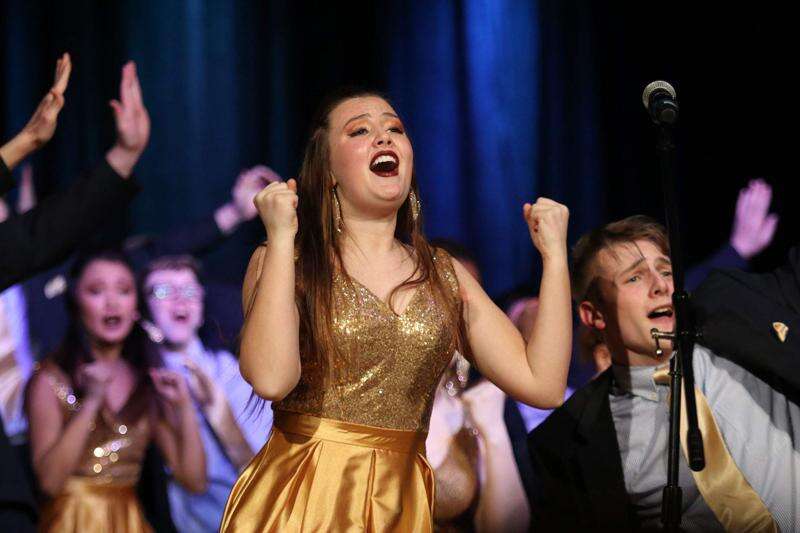 MT. PLEASANT - The show must go on, but not this yeaer in Mt. Pleasant.
The Mt. Pleasant 2021 'Music InMotion" show choir invitational has been canceled due to health and safety concerns related to the novel coronavirus and its transmission, according to Marlene DePreist, director of the high school's show choir group 'InMotion."
DePriest said the event 'just wasn't feasible" due to the difficult mitigation measures that are employed for vocal performances.
Having to ensure that the gym is well ventilated, giving ample time for the room to 'air out," limiting spectators, mask requirements and bringing in schools at different times of the day are all mitigation measures that the school would have to employ to limit transmission at the invitational.
With this in mind, DePreist couldn't bear the fact that even with all of this in place the event is likely to become a mass transmission event due to the high number of air particles that are emitted when singing.
'We were willing to do whatever was needed, but I just didn't feel like we could safely bring in the groups and maybe become a super spreader, I just couldn't do that," DePreist said.
Although the group's home invitational is canceled 'InMotion" still is on the schedule to perform and compete at other show choir invitationals this year including Davenport North on Jan. 30, Pella on Feb. 20, Central Lee on Feb. 27 and Fort Madison on March 6.
However, DePriest will look carefully into the mitigation strategies at each invitational to make sure it is safe for students to attend.
She is skeptical about ones that are far away like Davenport and Pella because they would have to travel to the event and prepare there prolonging potential exposure time.
Invitationals like Fort Madison and Central Lee are closer and would allow the group to prepare at the Mt. Pleasant High School and then travel to the event for the competition, according to DePreist.
'At this point in time we have things on the schedule and are keeping our fingers crossed," DePriest said.
Although, DePriest said all of the invitationals will take a much different look this year. With schools only being allowed in for a specific amount of time to get dressed, warm up, and perform. This is to limit the amount of possible exposure at the event.
Most events will not be holding evening finals, meaning groups will only perform once that day and leave. Group's will not be allowed to attend other performances as only people from the show choir's group will be allowed to watch during performances.
According to DePriest, these are the more cherished parts of the show choir experience, leaving many kids disappointed about this year's season. However, DePreist said that they are excited about whatever they get to do.
'I think they have resigned themselves to the fact that it's not a normal year, and they are thrilled with anything that they get to do," DePreist said.
Many show choir seniors are disappointed that their last year is without a home invite, something cherished by show choir members but show choir senior Erin Andreasen still is optimistic about this year.
'I think I can speak for all of the seniors when I say that it's been kind of disappointing but not many schools get to do this so I think we're lucky that we can have a year," Andreasen said.
'I think it brightens our spirits a little bit even though the competitions will look different, but I think we are still blessed to be able to compete still even with the COVID regulations," she added.
However difficult it may be, DePriest is proud of how far the group has come and performed despite not having any certainty about a season.
'I couldn't be prouder of what they're doing. They just come and do their thing, and they want to keep getting better. Just like me our fingers are all crossed and hoping that we get to show people what we've been working on," DePriest said.
PULL QUOTE
'I think I can speak for all of the seniors when I say that it's been kind of disappointing but not many schools get to do this so I think we're lucky that we can have a year."
Erin Andreasen, Mt. Pleasant senior