'My Four Years at Parsons College' tells story of Fairfield school's tumultuous era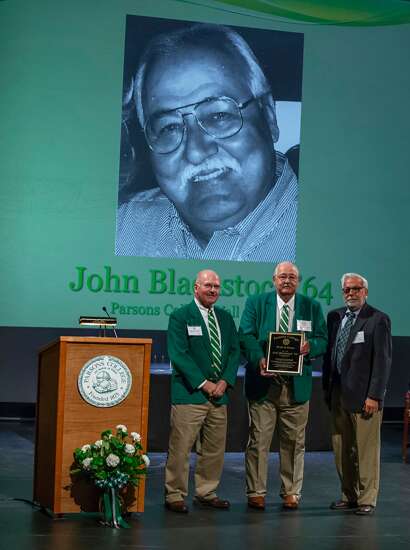 FAIRFIELD — Parsons College alumnus John Blackstock has published a book about his time in Fairfield titled "My Four Years at Parsons College."
The book details Blackstock's career at the institution from his arrival at the Leggett Hotel bus stop in Fairfield in 1960 until his graduation in 1964. This was a tumultuous time for the college, which was growing by leaps and bounds, attracting more students than the campus had room for.
"My Four Years at Parsons College" covers the school's founding in 1875, thanks to a bequest from Lewis B. Parsons Sr., the college's winning sports programs, entertainers who left their mark on Fairfield, and so many exceptional people Blackstock met along the way as editor-in-chief of the Portfolio, the college's weekly newspaper.
"You didn't have to attend Parsons, or live in Fairfield, to enjoy reading 'My Four Years at Parsons College,'" the Parsons College Alumni Association wrote in a news release. "But after having read the book, there's a good chance you'll wish you had."
'Favorite little town'
Since his graduation, Blackstock has been active in the Parsons College Alumni Association and was a founder and major mover in the creation of the Parsons College Wall of Honor at the Fairfield Arts & Convention Center.
In 2018, Blackstock was inducted onto that very wall during the 10th and final Wall of Honor induction ceremony.
Though he hasn't lived in Fairfield for more than 50 years, Blackstock calls it his "favorite little town in the world." Blackstock is especially interested in continuing the mission of the Carnegie Historical Museum.
"The museum is the last outpost of Parsons College," Blackstock said, referring to the many exhibits the museum has dedicated to the college.
His warm feelings for the museum are why Blackstock has donated $1,000 to the museum from sales of his book. He said proceeds from further sales, as well as any additional donations, will be directed to the Carnegie Museum Foundation.
Unlikely college student
Were it not for Parsons College, John Blackstock would not have gone to college at all. That's how Blackstock felt at the end of his senior year of high school when he was a "one-man farewell committee" to all his friends going off to college.
At his high school in Pennsylvania, Blackstock was a letterman in three sports, class president and a representative to the local Rotary and Kiwanis clubs. But his parents never went to college, and Blackstock "didn't know squat about it." He never took college preparatory classes. He was more focused on "sports and girls" than on education.
"I'm getting letters offering football scholarships, but I take the test and fail, so I'm getting rejected by all these colleges," Blackstock recalled. "I'm an athlete without a team, a sports editor without a paper."
Desperate to find a college that would take him, Blackstock went to see the guidance counselor, who just happened to have a recent issue of Time magazine on her desk with a front-page story on Parsons College. The story was about how Parsons College was growing thanks to high salaries for its professors and an openness to accepting marginal students. Blackstock applied, and to his delight, was accepted.
"So many people who went to Parsons were late bloomers," Blackstock said. "Parsons was a steppingstone that spawned so many successes. I don't know anyone who went to Parsons who wasn't a solid success in life, no matter what they did."
A few years after Blackstock graduated, Life Magazine ran an article in 1966 about Parsons President Millard Roberts headlined "The Wizard of Flunk-Out U." Blackstock said its characterization of Parsons as a school for flunkies was unfair, and that while it was true the college accepted failing students from other schools, its standards for them were high.
"It was easy to get into Parsons, but hard to get out. You had to make your grades, and if you didn't, you had to go to school in the summer or you couldn't come back," Blackstock said. "It was no diploma mill."
Arrival
When Blackstock got on the bus to take him across the country, he wasn't sure if he was heading to Iowa, Idaho or Ohio, "and I didn't really care. I was going to college, and that's all that mattered."
Blackstock was entering Parsons at a time when the college was in a state of flux. In fact, he said 1960 was a watershed year because that's when the enrollment really started to boom. When Roberts became president in 1955, the school had 212 students, but by the fall of 1960, its freshman class alone numbered 700-plus.
The college set up cots for the students to sleep in the gymnasium. School officials went door-to-door in Fairfield looking for empty bedrooms. When Blackstock got off his bus at the Leggett Hotel Bus Stop, he asked where he would be staying.
"You're standing on it," he was told. Blackstock would stay at the hotel for his first few months at Parsons, before moving into an elderly couple's home in town and a year later moving into a fraternity house.
Town-gown relations
The influx of hundreds of new students did not go over well at first with the townspeople.
"People in town didn't care for the students because they saw them as rowdy and noisy," Blackstock said. "And to the students, people in Fairfield were a bunch of old farmer fogies. Initially, they didn't get along at all."
However, business owners such as Lee T. Gobble and others brought the two communities together.
"Once merchants saw the impact of these kids with their unlimited credit cards, they mellowed out a bit," Blackstock said.
Fairfielders also began to take an interest in the college's sports teams and its summer festivals.
"On Saturday mornings, people hustled to get their chores done so they could watch the Parsons football team," Blackstock said. "The support of the town was fabulous."
Where to find it
Copies of the book can be purchased in the Fairfield Art Association's office in the Fairfield Arts & Convention Center, or by contacting Blackstock directly at johnbla42@gmail.com, or by phone/text at 314-610-0497.
"My Four Years at Parsons College" is the third book in a series of autobiographical books Blackstock has written. His first two books cover his high school adventures and what it was like growing up in the Greater Pittsburgh area in the late 1940s and 1950s. Blackstock said he's pretty sure he'll stop at three books in the series.
"I shudder at the thought of a fourth book," he said.