Organizers promise a big year for TrekFest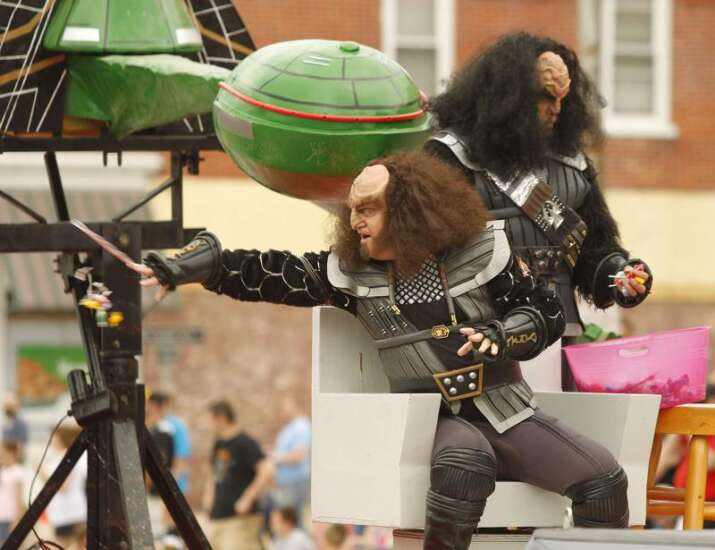 RIVERSIDE — Organizers of this year's TrekFest expect big things. From the city's 150th anniversary to a reopened Railroad Park to appearances by well-renowned Klingons, TrekFest 37 Chair Travis Riggan said the event would be impressive.
"We're in a really good place going forward, and I think TrekFest is in a safe place and I think it's something that's going to be here for the long run," he said. "In the past couple years we might have said it's kind of dying off. I think that we're here, we're here to stay and we're here to entertain."
The theme of the weekend is "the Shipyard," named after the scene in Star Trek (2009) where James T. Kirk joins Star Fleet, and which semi-canonically takes place in Riverside. The name is fitting: the Riverside Area Community Club (RACC) is using the event to raise funds to repair the USS Riverside, a galaxy-class starship model the town runs in every TrekFest parade.
"The USS Riverside is needing restoration, it's needing work to be done on it … so to get people engaged with that, I think it's going to be great," Riggan said. "It just has some damage on it and some paint that needs redone … We have probably 20-30 people stop daily and get pictures in front of that ship, it's something that for the last 30-some odd years has been a part of the history of Riverside."
The theme is commemorated by a new beer released by the Kalona Brewery for the event called Sector 47. Complete with a custom label, the drink is named after the part of space explored by the Enterprise for its maiden voyage in the 2009 film. The merch tent will sell custom-ordered Lego sets of the USS Riverside, and the weekend will feature a scale model show and contest.
This year's guest stars include J.G. Hertzler and Robert O'Reilly, who played Klingons Gen. Martok and Chancellor Gowron in several of the franchise series. On Friday, John Paladin, a professional Trek makeup artist will offer his services to guests.
The occasion marks several big-ticket events for the town. Friday marks the city's sesquicentennial (150th) year. The town's historical museum plans to open a 1990 time capsule Friday to mark the occasion. It will be replaced with another capsule sealed until March 22, 2228, Capt. Kirk's birthday according to a city assertion made before a different date was made canon.
History Center Director Mike Meinders said the new capsule would be filled with Star Trek paraphernalia, among other things.
"There's going to be a Bat'leth (Klingon sword) bottle opener … probably some centennial coins, some autographs," he said. "There's going to be some Riverside post cards and probably a Klingon Emblem poster and Star Trek poster."
Also on Friday, the city also will hold-a ribbon cutting to reopen Railroad Park, which has been closed for renovations since April.
"Because it's been closed for so long and looks so different from what it did before, we're deciding to have a grand reopening," City Administrator Christine Yancey said. "It's a big showcase issue for the community now. Not that it wasn't a good park before, but it's even better."
Riggan said the weekend's programming, from city events to the star-studded lineup, was only possible with the collective work of the town's volunteers.
"It's really a team effort when it comes to planning TrekFest, and the Riverside Area Community Club has some really good members," he said. "I would say we expect about 3,500-4,000 people based on what I'm seeing on Facebook, I think Riverside will be the place to be this weekend."
Comments: Kalen.McCain@southeastiowaunion.com