Raines builds home south of Fairfield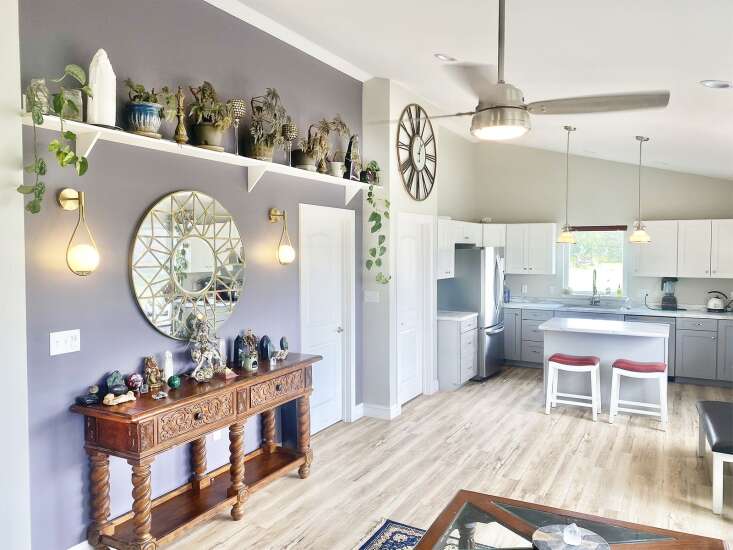 FAIRFIELD — Tiffany April Raines always dreamed of owning a homestead, she just didn't think the opportunity would come along so soon.
Raines, a lifelong Fairfield resident, was living in an apartment until a series of fortunate events allowed her to purchase an acre of land south of Fairfield where she built a new home. The house is on Kale Boulevard, about 5 miles south of town, at the foot of a 60-acre farm.
Raines runs a small permaculture nursery called Wild Spirits LLC that sells organic plant starts. John Freeberg and Susan Walch offered to let Raines grow plants on their land about five years ago. Last year, Freeberg and Walch sold one of their acres to Raines, where she built her home.
"They're like my second parents," Raines said of Freeberg and Walch.
Raines hired Judd Connor of Connor Custom Homes to build the home. Construction began in July 2020 and finished in July 2021, though Raines moved into the home five months before it was done.
The home is a 2,000-square-feet duplex. Raines designed it so half the downstairs could be leased as an apartment. Raines lives upstairs, and the other half the downstairs is her grow room. Building a home during the pandemic was a challenge because Raines had to rely on online ordering, hoping the products she chose would look as good as they did on the screen.
The house has two bedrooms and two bathrooms and shares many of the features Raines loved about her apartment in Fairfield. That apartment was in a 100-year-old house. She loved the amount of space she had and the south-facing windows, which are important for a plant-lover like her. She liked having two bathrooms, especially when company was over.
The one thing she didn't like about her apartment was the utility bills.
"Utilities are way cheaper in my new house," Raines said, attributing the savings to more energy-efficient building materials and techniques. "In my old apartment, I spent a considerable amount of money keeping it heated and cooled, and I'm spending probably half that now."
The house can accommodate a roommate upstairs or a tenant downstairs. Raines saw the addition of a downstairs bedroom as a way of making the new home more affordable by giving her a potential source of income as a rental.
"I would like to use the downstairs as a short-term rental for people who need to get out of town, or family members who want to come and visit," she said.
The grow room contains a self-watering system with grow lights, where Raines starts her plants from seed during the winter. The seedlings she grows include vegetables, flowers and herbs that she sells at Everybody's Whole Foods and at the Fairfield Farmers' Market, items such as peppers, kale, basil, chard, cabbage, broccoli and more.
Raines has an herb garden in the field outside her home, though much of it was torn up to put in her septic system. She's planning to replant the land with perennial herbs and berries.
"I'm trying to create as much of a self-sufficient homestead as possible," she said. "And there's no comparison between freshly harvested herbs and what you can buy in the grocery store."
Raines said she plans to turn her entire acre into a garden eventually. On top of that, she owns a few greenhouses across the road from her house, which is where she takes her plants once they're a few months old and can survive outside. Raines said her plant nursery business has become successful thanks to a surge of interest in gardening and food self-sufficiency.
"I'm considered the plant lady of Fairfield," she said.
Moving to her new house has streamlined Raines' business. She used to spend 1-2 hours per day driving to and from her grow room and greenhouses that other people were letting her use. Now her grow room is downstairs and her greenhouses are across the street.
"I can go down and water my seedlings in my pajamas in the dead of winter," she said. "It's great."