Santa turns on the lights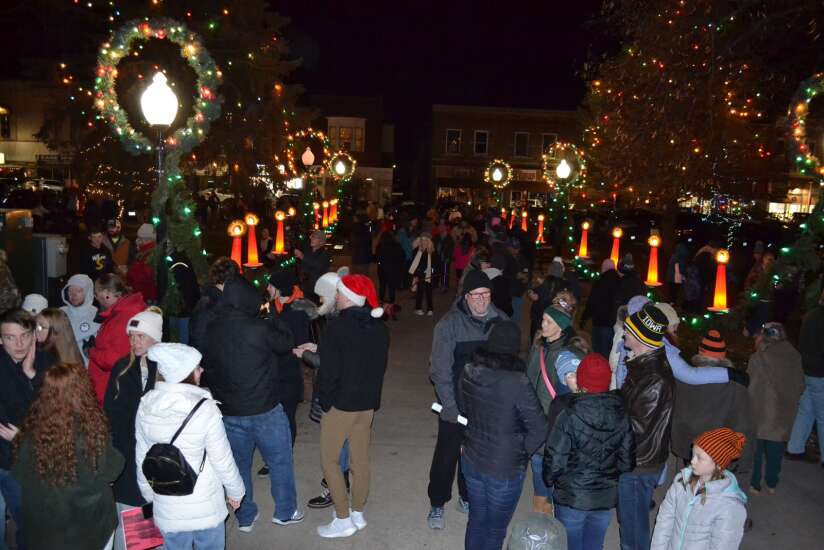 FAIRFIELD – Fairfield's Central Park was packed with people, and almost completely dark. But that was about to change.
With the flip of a switch, the downtown holiday lights were turned on Friday night in the Fairfield Area Chamber of Commerce's Annual Holiday Lighting Ceremony. A special guest is invited to flip the switch, and this year's guest was truly special indeed. In fact, his outfit made him hard to miss, wearing his patented red jacket, pants and stocking cap. Yes, that's right, the 2021 honoree was none other than Santa Claus himself.
After turning on the lights, Santa listened to the hopes and dreams of children who came to visit him in his Santa House, built in 2019 by the staff of JC Huffman Cabinetry. Teresa Huffman served as master of ceremonies for the evening, and said she was thrilled with the large turnout and beautiful weather.
While waiting to see Santa, residents could sip hot chocolate and munch on cookies that were served from a window in the Santa House. There, Huffman's granddaughter Kinzley Dunkin greeted guests dressed as an elf, and offered them marshmallows for their hot cocoa.
After getting their photo with Santa, kids could take their Polaroids to the nearby workshop (also built in 2019 by JC Huffman staff), where they got to put it in an ornament and decorate it right then and there. This year, the ornament is shaped as an angel with the year 2021 written on it, and the design changes every year.
"They got to put a heart on the angel and decorate it with glitter," Huffman said. "The kids loved it. Everybody loves glitter."
The Fairfield High School choir performed to begin the festivities. Doug Smith offered horse-drawn carriage rides around Central Park.
The public will have many more chances to see Santa in his house in the coming weeks. The Santa House and Workshop Hours are from 6-8:30PM on the following dates:
•Friday, 11/26/21
•Saturday, 11/27/21
•Friday, 12/3/21
•Saturday, 12/4/21
•Friday, 12/10/21
•Saturday, 12/11/21
•Thursday12/17/21
•Friday, 12/18/21
•Thursday, 12/23/21