Some damage reported after storm brings high winds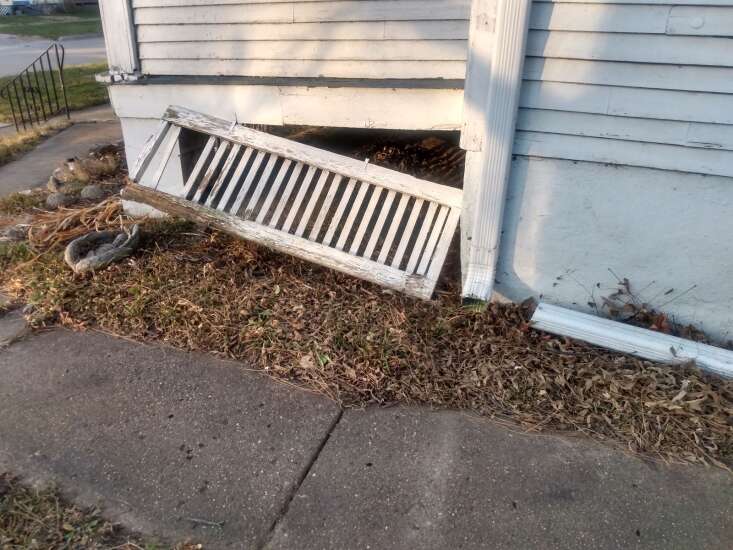 When a storm with strong winds swept across the state Wednesday night, Southeast Iowa was spared much of the extensive damage experienced in other parts of the state.
Heavy winds brought down tree limbs and power lines and caused power outages in some areas of Southeast Iowa.
At times, winds in excess of 70 miles per hour triggered weather sirens, calling for people to take shelter.
For many communities, the storm set off weather sirens despite a lack of tornadoes, the result of a recent change in Iowa's emergency siren protocol.
"Our protocol is we do set them off for winds over 70 mph because they can do as much damage as tornadoes," Washington County Emergency Management Coordinator Marissa Reisen said. "This is one of the first times we've had to do that, I know there were a lot of questions about that … we updated that within the last year as a result of the derecho … prior to that, Washington County's policy was to just set them off for tornadoes."
Washington County 'pretty good, all things considered'
Washington County Emergency Management Coordinator Marissa Reisen said the area experienced a range of issues Wednesday night, including a power outage that effected the dispatch center.
"We were without power here for a while because of power lines being affected," she said. "We were running on generator power last night, (from) 8:30 until about 11."
Reisen said there were a handful of serious incidents reported around the county, but not as many as some in the department had feared.
"We've got one spot (where) there was a shed that got blown away, and some tree branches in the power line, so Alliant Energy had to be out there because there was fire and downed power lines," she said. "That's the worst that I've heard about."
The Washington County dispatch report for Wednesday revealed a number of other incidents.
In Washington, reports came in throughout the evening of isolated power outages, including a possibly blown transporter by the fairgrounds. Another report around 9:20 p.m. said a roof had blown off a property on East Washington Street, but that it had caused no injuries.
In Kalona, calls came in reporting downed trees throughout the evening, as well as a fuse box fire.
A caller in Wellman reported a power line falling in the road around 8:30, but emergency crews found it was a cable wire and removed it from the road themselves.
A Riverside call reported the above mentioned more serious incident involving a shed.
"A shed had blown into trees and a power line," the dispatch log said. "It is sparking badly. Riverside Fire, Washington Fire, and Kalona Fire (Departments) all responded."
Jefferson County
Jefferson County residents suffered minor damage from Wednesday's storm, which resulted in downed tree limbs and a few power outages.
Jefferson County Emergency Management Coordinator Brett Ferrel said Thursday morning he was not aware of any major damage from the storm. The worst damage he's seen occurred in central and Western Iowa.
"I don't know of anybody in the county who is still without power," Ferrel said. "It was slight damage. We've seen a lot worse."
Ferrel said that he didn't realize it until Thursday morning, but the storm damaged some shingles on his own house. He spent Wednesday night at the Jefferson County Law Center helping to answer phones and share the latest weather information.
Tornado sirens went off in every Jefferson County town that has them. Ferrel said this was not because a tornado was spotted but rather because the National Weather Service reported 70 mile-per-hour winds, which is the threshold for setting off the sirens.
"That's the point at which the wind can start tipping over mobile homes and tearing roofs off," Ferrel said.
Ferrel said almost all the counties around Jefferson County set off their sirens, too.
"The Ottumwa airport recorded 82 mile-per-hour winds before the storm reached us," he said.
Ferrel said there's a common misconception that sirens are only for tornadoes (they aren't) and that they're intended to be heard by people indoors. In fact, they're meant to alert people outdoors to seek shelter.
Ferrel reminds residents that the best way for them to stay informed about severe weather is to sign up for alerts through the Iowa Department of Homeland Security and Emergency Management at: https://homelandsecurity.iowa.gov/alert-iowa/
On the website, residents can select their county and which events they'd like to be notified of, such as tornado warnings and watches, thunderstorms, floods and more. They can choose to receive the alert as a text message, phone call or email.
Henry County
According to Walt Jackson with the Henry County Emergency Management there was no significant damage in Henry County due to Wednesday's storm.
"In Henry County we lost some power, but for the most part there wasn't any reports of any significant damage within the county," said Jackson.
As far as power outages, there were a few places within the county that were without power.
"We experienced a power outage in Salem and Hillsboro, those are being addressed," said Jackson.
Emergency Management will be doing a drive-by in rural areas to check for damage.
"Secondary roads crew is out clearing debris and limbs," said Jackson. "We were lucky in Henry County to not have any more damage than what we did have."