Stewart students read stories to pets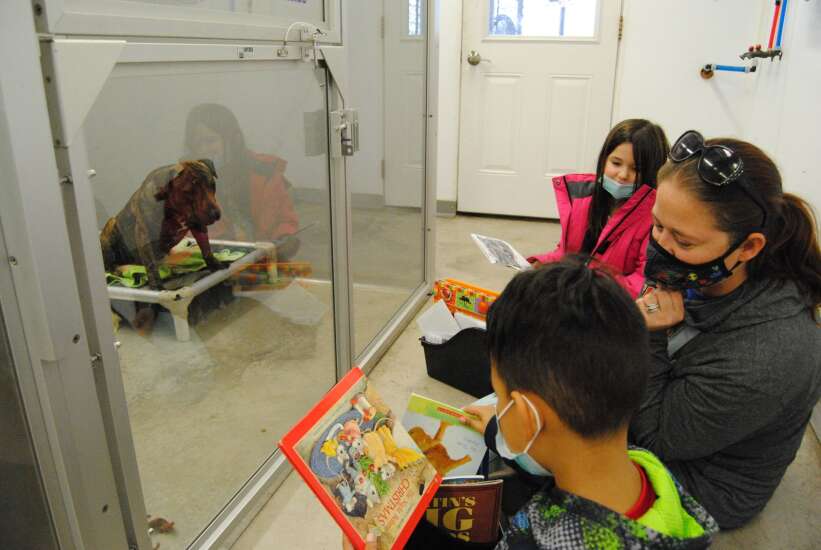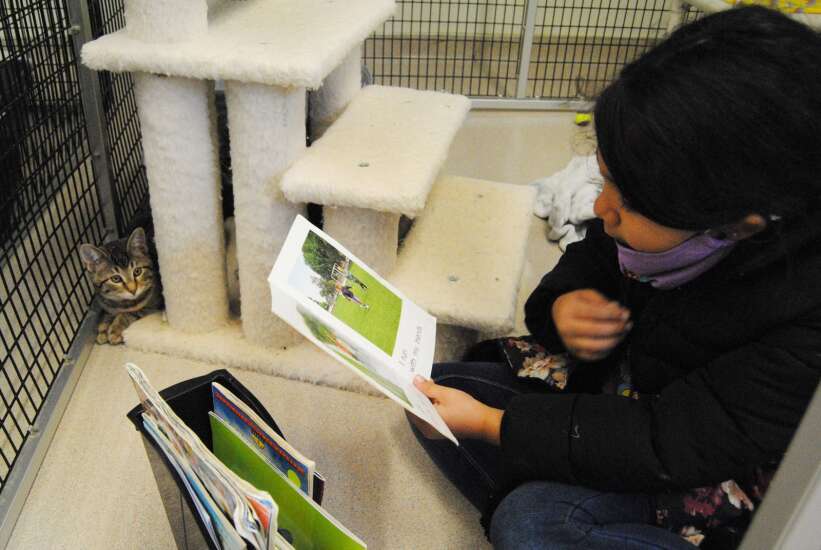 WASHINGTON — Around 20 first-graders from Stewart Elementary visited the PAWS & More Animal Shelter Tuesday afternoon. Their purpose: read stories about dogs and cats to the animals.
"Before COVID, I used to teach second grade, and we just read to the cats and the dogs," said first grade Teacher Liz Goodwin. "We had break for a year-and-a-half, and then I asked my principal if we could come back and he said yes, so I emailed Amber and we got it worked out."
While the first grade group was a little more rambunctious than the second-graders of years past, Goodwin said things went well.
"Their (reading) stamina is not quite as long as the second-graders," she said. "Hopefully with some more expectations and guidelines, we'll be where we need to be, but I think it was a really good first time."
Goodwin said the experience was great for the students.
"Some kids, you know, it's therapeutic to relax with a cat or a dog," she said. "It also helps their reading. We brought books to read to practice their reading fluency and stamina. It's almost like a performance, we work really hard on reading and so they have guests now, or pets, to read to."
The visit was also a productive experience for the animals at the shelter, according to Shelter Director Amber Talbot.
"When they start they're a little aroused, but when they settle in and really start to read, there's this stillness and this calmness that happens," she said. "(It) goes throughout the room and you can see that it's really calming for the animals, and they show that … they're getting enrichment through the physical and sensory part of it. It's very therapeutic. The more interaction they get with people, the better."
Talbot said the goal was to hold visits for the class again every month.
"We're all about new and innovative programming," Talbot said. "I was just thrilled that she reached out and was able to do it."
Talbot added that reading to the animals could be a fun activity for those thinking about visiting the shelter outside of class.
"Even private citizens can come do this, it's a great family project," she said. "If there's an afternoon a family wants to come in and read to the animals, anybody can do this, and the more people come out here and spend time with our animals, the better."
Comments: Kalen.McCain@southeastiowaunion.com