Students show solidarity with sit-in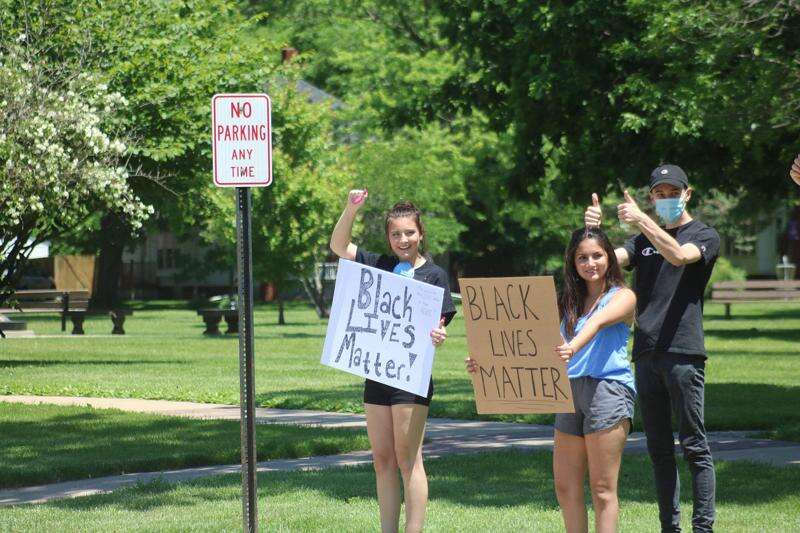 MT. PLEASANT - With masks on and signs in hand, over 30 local students and community members from and around Mt. Pleasant gathered for a sit-in at Iowa Wesleyan University on Thursday afternoon in solidarity with other Black Lives Matter protests happening across the country.
'Today we've gathered here to not only mourn and honor the loss and life of George Floyd, but also raise our voices and concern for the deeply rooted, systematic racism in America. It is not enough to know it is unjust - we must show it," Olivia Larson, a rising senior at Mt. Pleasant Community High School, said to the small crowd as the sit-in began.
Larson, who came up with the sit-in and organized the event with her friends, said she 'wanted to do something small and peaceful," that would also show solidarity with protests in larger cities.
During the sit-in, the group held an 8-minute moment of silence in honor of George Floyd as well as listened to remarks from several students about ways to support the movement, including voting in the general election in November and donating to organizations like the ACLU or bail funds. Following remarks, the group migrated to Franklin St. to wave signs at passing cars.
'I am a white woman in America, that means I am three time less likely to get killed by the police than a person of color is. That means this movement is not about me, but I must use my privilege to support this movement. I must learn, and read, and donate and spread awareness to enact change, because white silence is violence," Larson also said in a small speech she gave.
Many participants brought signs with popular protest phrases including 'I Can't Breathe," 'Black Lives Matter," and 'Say Their Name."
Paige Stater, a senior from MPCHS, arrived at the protest with a sign that read: 'I see you, I hear you, I stand with you." Stater said she decided to participate in the sit-in because she was disappointed to see 'how little things have changed as far as discrimination is concerned."
'I want to be part of change. Being a young person today, we sort of get belittled for wanting a voice and I don't think we should stop. I think that's their whole point - they want to belittle us to go with the norm," she said.
In addition to local high schoolers, several Fairfield High School students, who heard about the event through social media, also attended the event to show support. Devika Pharasi, 17, and Kyle Schubick, 16, were looking for ways to be more involved beyond posting on social media.
'While that's a good way to spread the message, I wanted to be out here physically to be more involved to show that we're out here and believe in change and that we want to see a better America," Schubick said.
Pharasi added that as a person of color in a predominantly white town, she felt it was especially important for her to be showing solidarity with the Black Lives Matter movement.
'It's everyone's duty but especially people of color in America to stand up for other people of color who have been discriminated against," she said.
Ivy Greene, a student from Mt. Pleasant Middle School, brought her family with her to the sit-in. Greene said before the school shutdowns, she started a club at the school in support of the Black Lives Matter movement.
'It was to educate the people on how we experience our daily life and things like that. I'm super glad to see so many people here to supper Black Lives Matter and the things going on around us," she said.
Greene's mother, Lanae, said seeing Ivy so involved with the movement 'makes her proud."
'I'm really proud to know that she wants to educate herself and educate her peers in a way that they can all work together better in that classroom setting and see each other," Lanae said.
'Racism and injustice has been a problem for years. No matter what, we're trying to let people know that we need to be heard and so this is an important time to support the local community where black lives and brown lives live and this is a way to start that conversation," she added.