Superintendents discuss strategies for determining school cancellations and delays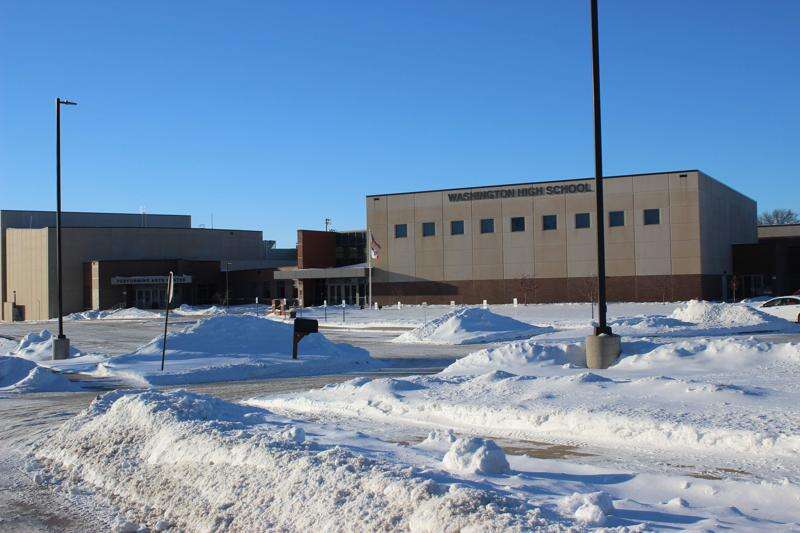 Students are now back in school just in time for winter to arrive. Although no cancellations have been called yet this school year, local superintendents say the lookout for potential hazardous weather begins daily at about 4 a.m.
Willie Stone, Superintendent for the Washington Community School District, said he tracks the weather weekly and then rises early on the days where the weather is looking precarious. He said especially if there is snow, sleet or particularly cold weather expected, he is on high alert.
Stone said there is not a specific amount of snow or specific temperature that influences him to call off school and that it is all situational. Stone wakes up around 4 a.m. in order to get on the roads at about 4:15 a.m. to see the conditions for himself.
Jeff Mader, Superintendent for the Winfield-Mt. Union School District also drives the routes himself to see what the road conditions are like. He said being a rural school district, the gravel roads are a concern for him because many students and busses rely on them.
He also checks the weather forecast to see when the snow is expected to start and stop. A late start might be considered if the snow has started early in the morning and county crews are still working to plow the roads. He said these decisions can come down to the wire, but he typically tries to make them as soon as possible.
Stone said his route takes him out of town and through Coppock and Brighton, he said, before back to Washington. Once back in the city he calls other superintendents in the area to see what their opinion is but tries to make sure the call is made early enough that it does not interfere with anyone who might already be beginning their day.
'Typically we try to make that decision by 5:30 a.m. We have students that come in and lift and a lot of other things going on at the school fairly early so we try to make sure we make that call so we don't have any kids or staff members out on the road (in unsafe conditions)," he said.
John Henriksen, superintendent for the Mt. Pleasant Community School District, calls this a 'game time decision" meaning sometimes all he can do is wait until the last minute to call off school. He said the busses start rolling out an hour and a half before school starts so watching the weather down to the minute is imperative. Dr. Laurie Noll, Superintendent for the Fairfield Community School District also reported participating in phone calls with area superintendents. She said in her district, phone calls are placed to the transportation director to gather their opinion.
The National Weather Service in the Quad Cities issues will email the night before a storm is expected to let anyone on the call list know a situation report will be released the next morning at 4:30 a.m. Noll said she calls in to hear what they have to say and uses that information to determine specifically how the weather could effect the area.
Mader said he also contacts superintendents in the area to see how they are handling the weather situation. He said he specifically checks with Morning Sun and Wapello because they are so geographically close.
Stone said he does not contact the transportation directors and prefers to make the call on whether to cancel or delay the school day himself. He said if he can make it through in his own car he is sure the busses can get through and experienced drivers should have no problems. It's the inexperienced drivers that give him pause.
'Honestly I don't worry about our busses as much as I worry about our students driving. Our busses are big and heavy and they can go slow and plow through about anything. I really worry the most about our student drivers, especially our new student drivers who possibly have not driven in snow before," he said.
When it comes to deciding whether or not to cancel or delay school, Stone said that comes down to weather patterns and how quickly the county and city can get the routes cleared. All superintendents reported being in contact with county officials to ensure the roads were safe for driving.
Henriksen said this especially a concern for him when it comes to busses because winter conditions can make it hard for the bus drivers to see where the lanes are when trying to turn around. In these cases, he considers running busses on hard surface roads only.
He said for the families that live on gravel roads, they just need to drop off their children at the nearest pickup spot. For families who are unable to make it, an excused absence can be issued if a parent calls in to report the situation.
Delays can also taken into consideration and if there is a predicted time the snow will stop, a two hour delay will be called. Stone said in Washington, school is only canceled in the event it will snow all day and leaving will be hazardous for students.
'That's probably one of the biggest decision we make because I worry about the safety of our kids," he said.
Noll said a similar decision is made in the Fairfield district. She said the county supervisors have the bus routes and make them a priority to be cleared in time for pickup in the morning. Delays are considered if the roads will be cleared later in the morning and safe for the evening commute home. If roads will take four hours or more to clear then school is canceled for the day.
'If you're thinking about (calling) a two hour late-start, the busses are out there by 8 a.m. but if the roads are not going to be cleared by then, you will not be able to do that," she said.
When school is canceled or delayed, all superintendents reported having alert systems that send texts and emails. The information can also be found on the school website and Facebook page. Noll a free app, 'Fairfield CSC" is available for download for all smartphones and includes closure updates, activity schedules and other school news. All superintendents reported calling local radio and TV stations as well to make sure the public is informed as soon as possible.