Two more chances to see 'Christmas at the Barns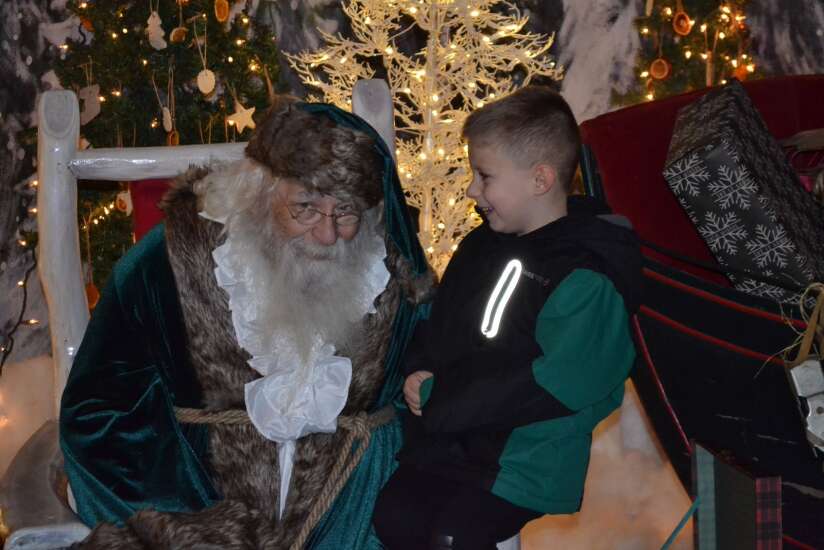 FAIRFIELD — Saturday marked a new chapter in the storied history of Maasdam Barns in Fairfield as the barns hosted their first Christmas-themed event.
The event was known as "Christmas at the Barns," organized by Visit Fairfield Iowa and the Maasdam Barns Preservation Committee. Those who missed it should not fret because they'll have two more chances to see Saint Nicholas this coming weekend on Friday, Dec. 3 and Saturday, Dec. 4.
Christmas at the Barns features not just ole St. Nick but a number of other things to do such as crafts, carriage rides, seeing horses in the mare barn, roasting marshmallows to make s'mores, snacks such as Dutch cookies and merchandise for sale from the Maasdam Barns gift shop.
The event this last Saturday was in the evening, and the next one on Friday, Dec. 3, will be, too. Then on Saturday, Dec. 4, the event will be held in the morning and afternoon, which organizers believe will be more attractive to families with small children.
The Friday, Dec. 3 event will be from 5:30-8:30 p.m. and the Saturday, Dec. 4 event will be from 10:30 a.m. to 2 p.m.
For the evening gathering, guests are invited to line up along the lane for St. Nicholas's arrival at 5:45 p.m. Saint Nicholas will hand out golden chocolate coins, and the public can get photos with him from 6:30-8:30 p.m. Friday and from 11 a.m. to 1:30 p.m. on Saturday.
Guests to this coming Saturday's event will get to witness Dutch oven cooking courtesy of Therese Cummiskey.