'Vast store of knowledge'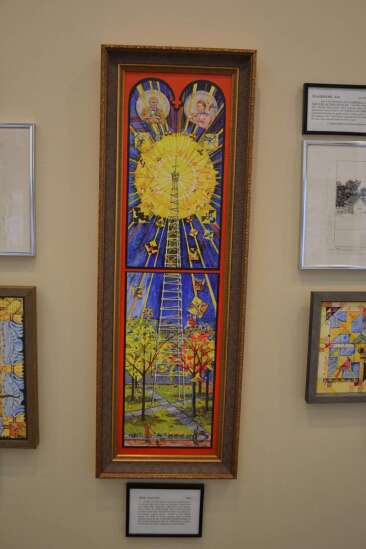 FAIRFIELD – The Fairfield Art Association is hosting a gallery dedicated to Fairfield artist Mark Shafer.
The 'Mark Shafer Retrospective" is on display now just inside the front entrance to the Fairfield Arts & Convention Center, open to the public from 9 a.m. to 5 p.m. Monday through Friday.
The exhibit features 33 pieces, some of which completed in the last year and others dating back to Shafer's childhood. A reception for Shafer will be held at a date to be announced later.
Shafer's first drawing lesson took place in his Grandpa Summers' lap. After mastering the anatomy of a cow's hind leg, Shafer moved on to embrace other subject matter.
This show explores local architecture, the polio pandemic, Greek mythology, Native American culture, Christian iconography and chickens, with explicit written descriptions of pieces.
Shafer's work tells a story and incorporates a multitude of images with deep meaning in each one.
Shafer said some of the pieces are for sale, while for others, he's selling prints.
'Some of them have taken 12-16 months to paint," he said. 'If somebody were to buy one, I want it to be worth my while. I can spend five hours on just a half-inch square."
Some of the paintings may already be familiar to local audiences. One of them appeared in the documentary 'A Place to Grow," the third film in the Fairfield History Series. The painting is called 'Mother Moon," and shows a woman holding the moon, overlooking a river and crop field. Dick DeAngelis, producer and director of the Fairfield History Series, commissioned Shafer to paint it after he struggled to find a piece of art that properly told the story of Native American agriculture.
'His criteria was that he wanted it to be curvy, with water as a theme and including corn, beans and squash," Shafer said.
Shafer said he has always been fascinated by Native American culture. In fact, the earliest piece of art that's part of his display is a picture of Native Americans on horses that he created at age 11 on a piece of leather made to look like an animal hide.
Another piece in the collection shows Franklin Delano Roosevelt in a wheelchair, which Shafer painted in 1985 and which he added to this past year in remembrance of his 65th anniversary of contracting polio in 1954, a disease that also afflicted the former president.
One piece, called 'Bird Magnet," is an image of the giant light tower that once stood in downtown Fairfield from 1882-1910. Shafer said this one tower illuminated the entire square, and could be seen from 40 miles away. Sadly, it also attracted birds, that died after flying into it, which is depicted in the painting.
Shafer has a series of paintings called 'Chicken Trap," commissioned by his sister-in-law Alison Herzog Shafer. Alison loved visiting her grandmother's farm and rigging a chicken trap.
Shafer has a number of religious-themed paintings he dubs his 'mercy series," which explores the concept of mercy and how it works. One of the paintings, called 'Ocean of Mercy," depicts saints in the sky, with Mary weeping, and each tear bathing the wounds of Jesus's outstretched hands.
Background
Shafer was raised on a farm north of Fairfield and is a 1967 graduate of Fairfield High School. He studied art at the University of Iowa and abroad. In 1972, he married Susan Anderson. He taught art and special education in the Fairfield schools for 34 years.
Shafer was a founding member of the Fairfield Art Association in 1966 as its youngest member and went on to serve as a board member several years. His previous art associastion one-man show was in the organization's old gallery in the basement of the Carnegie Building in 1976 and featured the original drawings for his popular book 'Fairfield at the Turn of the (19th) Century".
Shafer serves on the local Historical Preservation Commission and received Fairfield's citizen of the year award in 2006 for his many community contributions. In receiving that honor, he was described as 'a truly gifted individual, with a wonderful sense of humor and great attitude towards life and is a community treasure. With an expertise in so many areas, he is constantly called upon for facts, educated opinions and colorful anecdotes from a vast store of knowledge."
The Fairfield Entrepreneurs' Hall of Fame Portraits were painted by Shafer and hang in the executive conference room at the Fairfield Arts & Convention Center. Since his retirement in 2008 Shafer has directed the Carnegie Historical Museum.