Washington County COVID cases skyrocket in kids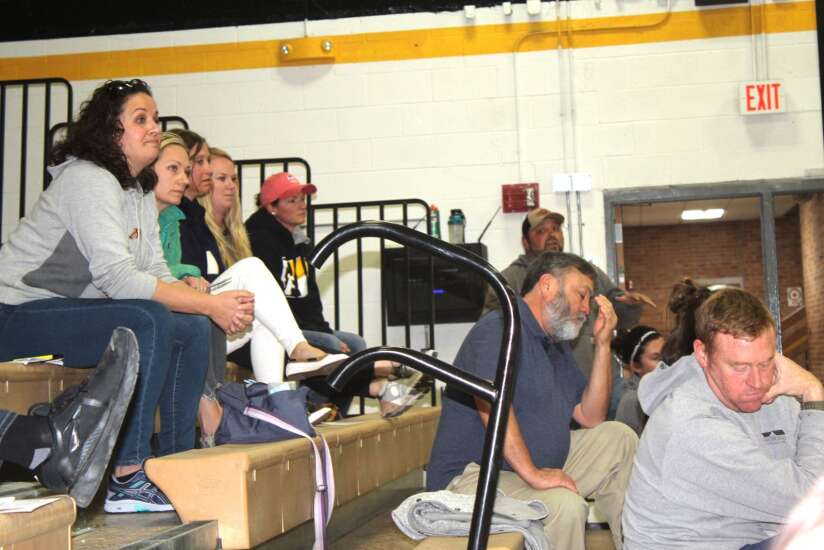 Washington County clocked 90 positive cases of COVID-19 between Sept. 1 and Sept. 7, according to state data. The plurality of those, at 46%, were in the 0-17-year-old age group. For reference, the next highest age group was 30-39-year-olds, at 18%.
The data comes three weeks into a school year where districts are banned from requiring masks, per a law signed by Gov. Kim Reynolds in May. While that rule currently faces several lawsuits, it remains in effect for the time being.
"With there being not a mask mandate, people have to assume that their kids are going to be around it at some point in the day," Washington Superintendent Willie Stone said at a school board meeting Wednesday. "That's probably just reality. We do have several kids that wear masks, we have several staff who choose to wear masks … it's just kind of the way we do business now."
Stone said the district expected court rulings on the statewide mask mandate ban in the near future and would discuss the option if it became possible.
"We're currently sitting at 38 students that we have that we know are out with positive cases," he said. "It seems like it's hitting our middle school, high school population more than it's hitting elementary school at this time … (a court ruling) may change things, it may open up the possibility of wearing masks. That will obviously spawn a whole other discussion at this table whether we should or not."
Stone said the district had changed its notification measures from last year.
"We're not sending out notices this year," he said. "Last year when we started sending them out, they became white noise to the point people weren't reading messages we were sending out anymore."
After Mid-Prairie announced in a Facebook post that its Sept. 10 home football game with Regina would be canceled, Superintendent Mark Schneider said the decision was based on a number of reasons, including several injuries, a lack of reserve players, and "some illness among the team players."
Schneider declined to comment on whether the illness mentioned was COVID-19, citing medical privacy concerns.
"I'm not going to tell you specifically that," he said. "With the current situation, people can use common sense. I don't necessarily know what each player that is ill has. It could be COVID, but it could be something else, too."
On Sept. 8, Mid-Prairie launched a districtwide COVID-19 tracking table, but cautioned that data was limited to voluntary reports from parents and students, not gathered by state-sanctioned data collection practices. As of Sept. 9, the district had 29 students and seven staff absent due to COVID-19.
At Highland, the smallest school district in the county, case numbers were notably lower, with less than five students and staff out due to the virus.
"What I attribute — knock on wood — our low number to is our community." Highland school nurse Cindy Peiffer said. "Our community has been really good about keeping their kids home sick if they're sick, and about getting their kids tested if they're symptomatic."
Peiffer declined to comment on which buildings or age groups of students had more COVID-19 cases, citing medical privacy concerns in the small district.
While the data from schools is informative, the usefulness of the data to school policy decisions is limited by state law. In addition to the ban on mask mandates, online and hybrid learning models are no longer sanctioned by the state.
"The provision of state law that allowed schools to request to temporarily transition to a hybrid or remote learning model expired after June 30," Iowa Department of Education Communications Director Heather Doe said. "Schools or districts can transition to remote learning for all students, but those remote days or hours would not count toward the minimum school calendar."
The Iowa Department of Public Health requests that schools report excessive illness-related absenteeism but is vague about how to handle the situation from that point.
"IDPH continues to ask K-12 schools to report when greater than 10% of students are absent due to illness," it said in its education guidance for the school year. "When greater than 10% absenteeism is reported, IDPH will contact the local Public Health department … Public health will contact the school to provide best practices and support tailored to the specific types of illnesses being reported."
Washington County interim Public Health Director Chris Estle said that "tailored support" did not change a district's policy options.
"Schools notify the state and then the state makes the notification to the local public health department," she said in an email. "Policy change cannot be enacted regarding masks. We review best recommended practices."
Despite limited options, Estle stressed that county public health officials and schools were committed to keeping students healthy and safe.
"Please be supportive to school and health care partners," she said. "We are all doing the best we can. If you feel a mask mandate is needed, reach out to your local state elected officials and let them know your concerns."