Washington County grapples with paramedic shortage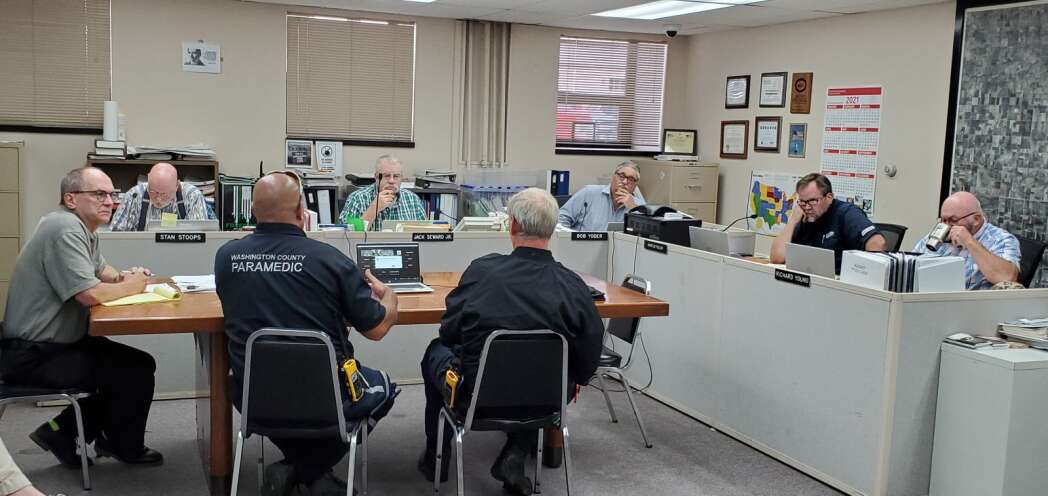 The Washington County Board of Supervisors discussed solutions to a nationwide shortage of paramedics at its regular meeting Tuesday morning.
One solution pitched by Ambulance Director Jeremy Peck was employing a Basic Life Support crew to a new truck, instead of Advanced Life Support crews on every shift.
"BLS transports last year was 58%, so a high percentage of our calls just ran BLS. But we still need ALS service to look at that person and make sure that they don't need advanced care," Peck said. "With the lack of paramedics in the nation, things are changing … I think there's an opportunity for us to go and pick a patient up, and get them to the care facility that they need without a paramedic."
Peck said the difference between ALS and BLS services boiled down to the training of the people on board. While Advanced Life Support crews include a paramedic, trained to performed advanced medical procedures, BLS crews are staffed only with emergency medical technicians.
While those EMTs are trained in first aid and some complex emergency procedures, Peck said their inability to perform advanced procedures like giving medications or starting IVs meant they would ideally be called upon for non-emergency transportation, like patient transfers and non-life-threatening injuries.
Peck said the move would increase the county's ambulances available at a given time from two to three, out of the county's five trucks. The third BLS crew would likely be composed of the service's currently part-time staff.
"What I'm hearing you say is it doesn't cost the ambulance anything," Board of Supervisors member Jack Seward Jr. said. "ALS or BLS, there's no difference. The only difference is how you staff it."
Peck said that the addition of two on-duty EMTs for eight hours every day would run the county about $60,000, a number that works out to $6,280 less than an ALS crew working the same hours. That difference makes the BLS proposal a potential middle point between county budget concerns and the need for increased ambulance coverage.
"You're still going to have to have your two trucks that are staffed currently as ALS trucks, but it would be cheaper than a new ALS," Peck said. "With our call volume increasing, we need to staff that truck. The question is, where are we getting the paramedics … the least we could do is get a BLS unit, because 50% of your calls are BLS anyway, so that's better than nothing."
While the move runs the risk of a BLS unit arriving at a scene where a patient needs advanced medical care, Peck said some measures could be taken to prevent that.
For one, the BLS team would likely be sent by dispatch to less urgent calls, or saved as a last resort, not to be deployed unless the other two on-duty trucks were already answering calls. If a BLS team arrived to find that a paramedic would be needed, Peck said it could coordinate with other ambulance crews to get one on-site as quickly as possible.
Some details remain. Peck said a new BLS crew's hours of operation were a major issue the county would have to consider, but stressed that something had to be done to relieve the ambulance service amid growing call numbers.
"The idea is really good, how we're going to implement it, the operations part, I don't think will be too big of a deal, my major question is how many hours of the day we're going to do this," he said. "If it maintains, we're shooting over 3,000 calls this year, that's 200 more than last year."
Though Peck mentioned other possible solutions for the staff shortage, including a pay raise for paramedics, he did not go into depth on any alternatives during the meeting.
While the board took no action on the issue, Peck said he would stay in touch with officials, planning to bring a final proposal before work begins on the county budget for next year.
Comments: Kalen.McCain@southeastiowaunion.com