Washington to host candidate forum Wednesday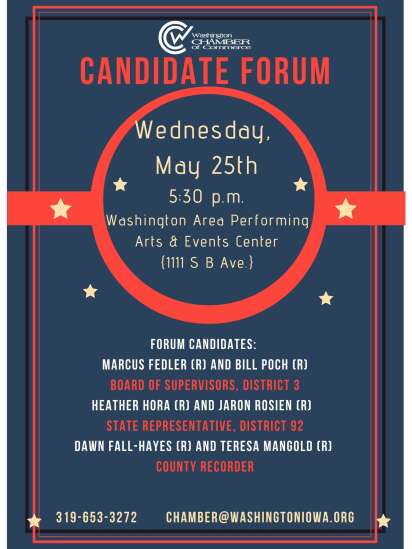 WASHINGTON — The Washington Chamber of Commerce plans to start its candidate forum at 5:30 p.m. Wednesday at the Washington High School auditorium. After allowing unopposed primary candidates to make statements, the floor will go to competing candidates in the community's primaries, including the races for State House District 92, Board of Supervisors District 3 and Washington County Recorder.
"Legislative actions with the chamber are really meant to just open dialogue and bridge communication between candidates and the public," Washington Chamber of Commerce Executive Director Michelle Redlinger said. "We believe that the community should be well-informed of who is running for office and what platforms they stand for so that those they vote for represent the community's interests."
The event promises to be interactive. For each round of candidates, the Chamber has prepared a list of pre-disclosed questions. Once those are finished, the candidates will take a quick break as Chamber volunteers collect additional questions from the audience.
"We'll sort through those and try to ask as many as possible, or sometimes try to merge a couple questions that are similar," Redlinger said. "(The audience) can jot down any questions they have that they already wanted to ask coming in, or something else that comes to mind while they're discussing their platform."
Redlinger said the event was less of a debate and more of an informational meeting.
"Each candidate will answer a question, and then they each get a chance … to add anything that may have come to light when their opposing candidate answered," she said. "So it can go back and forth a little bit, but primarily it's just a forum."
In addition to in-person attendance, the event will be streamed over Zoom, via a link on the Chamber website.
Comments: Kalen.McCain@southeastiowaunion.com