WEDG child care study results announced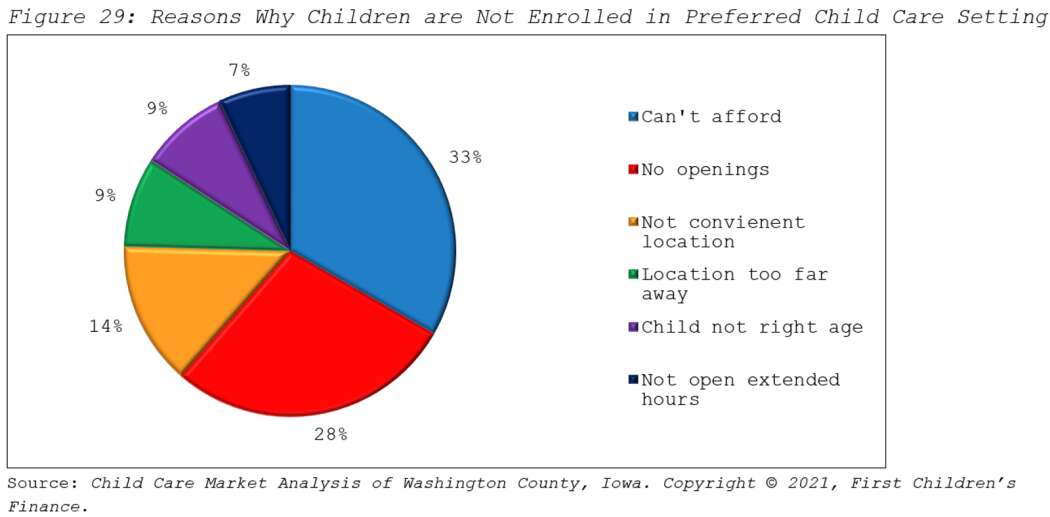 The Washington Economic Development Group held a presentation at the Washington Public Library Monday afternoon, showing the results of its child care study conducted earlier this year.
"When a community comes to us, they already know there's a shortage," said First Children's Finance (FCF) Senior Development Specialist Angie Duncan, who gave the presentation. "We know we need more child care, you're already feeling it, but what are we talking about? What are the numbers? How do we go about approaching this? That's really what this study was about."
The survey, which drew a sample size of 202 parents, 22 employers and 18 child care providers, yielded nine key findings outlined by FCF.
Some of those findings were unsurprising, such as confirmations that most parents were in the work force, most said finding child care was at least moderately difficult, and people struggled to afford the child care they desired. The exact numbers of the findings, however, were more surprising.
The survey found that less than half of families were using the child care they preferred.
"This one was a shocker to me," Duncan said. "I always look at this data point to compare. Normally it's about 50%, but only 36% of parents say that their child is actually in the exact setting that they want.
"We did a follow-up question to ask them why. The number one response was that they couldn't afford the setting they wanted … Not too far behind that was the (lack of) openings, really the thing that started this whole study."
While Duncan said many communities surveyed by FCF expressed difficulty finding care, Washington County's needs were unprecedented.
"Eighty-one percent of parents who had a child aged 0-5 who took the survey said it was difficult on some level," she said. "We can compare that to ages 5-12, those add up to 68%, that's still a lot of parents."
Duncan said the most common obstacles to care were lengthy waitlists, finding providers that would accept Child Care Assistance, finding openings for babies, finding part-time care and finding summer care.
Duncan said one question asked if struggles to find child care impacted peoples' family planning decisions, to which nearly a quarter of current parents replied with a resounding yes.
The issues are magnified by a staffing shortage among child care providers.
"For child care providers, just like everybody else, staffing is a challenge," Duncan said. "Eighty percent of centers and 30% of homes said it was very difficult to hire in the last 12 months … they collectively lost 20 employees in just one year."
The survey outlined a range of impacts to Washington County's now confirmed child care shortage. For one, Duncan said it was likely deterring community growth.
"A lot of times we'll put this question out there and have people from out of the county take the survey and say, 'Well, yeah, I'd consider moving to the county, but I can't find child care,'" she said. "This is the first time where I've seen the reverse. They're considering moving away because they can't find child care. (One) family said they moved to Kalona from Iowa City, and they said they were thinking about moving back to Iowa City because of child care issues."
Another implication falls on the private sector. Duncan said the survey found widespread effects reported by employers.
"There have been times that parents have not been able to get their kids into the center due to a waitlist, which in turn delays their return to work," she said. "Separately, 55% said they had challenges with absenteeism. Because there are shortages in the community, we have some hires, new employees, that cannot start their position or have to find temporary care with their relatives so they can get started."
With the data in mind, Duncan offered some guidance for seeking solutions.
"First and foremost is not overlooking your existing child care programs," she said. "If you're talking about adding more spaces, the easiest way to do it is to expand an already-existing program."
WEDG Director Mary Audia said the report would have an immediate impact on funding requests for hopeful new or expanding child care providers.
"I had a child care provider contact me, she wants a letter of reference because she's applying for the Child Care Challenge grant," she said. "You get extra points if you've got a fresh study, so she's going to be able to get more points because of this study."
While Audia said WEDG would eventually outline specific policy initiatives based on the data, it had not yet had time to do so.
"We needed to figure out where the biggest issues, where the biggest holes in the wall were so we could plug those up," she said. "That's what we're going to digest, and we'll take this before the WEDG board first … because we just got this today."
Comments: Kalen.McCain@southeastiowaunion.com