Wine, walking combine for fun at Oakland Mills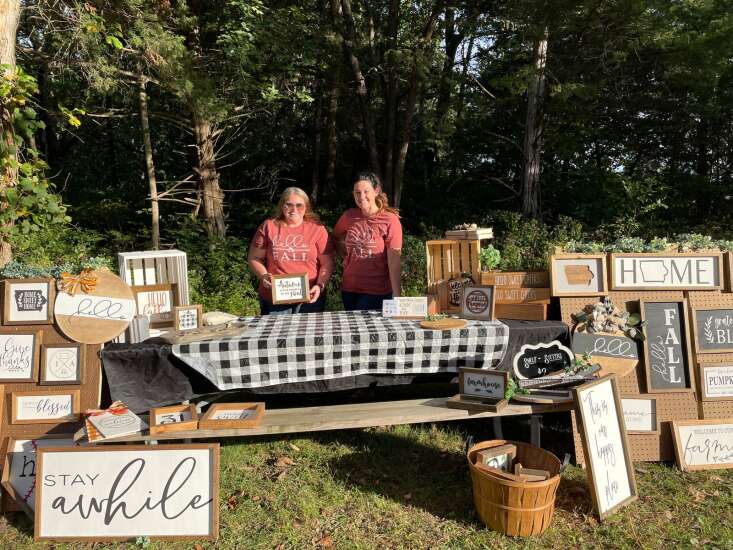 The first-ever Wine Walk took place at the Oakland Mills Nature Center Tuesday.
A large pool of people turned up on the crisp fall evening event. Preregistration numbers alone were around 80 people. Those who preregistered received a special Henry County Conservation Cup.
The event allowed participants to take a stroll through Oakland Mills' interior road while tasting various wines. Many of the vendors sold their wares.
Some of the businesses that took part in the event were Country Home Couture, East Grove Mead, Ardon Creek Vineyard and Winery. The Iowa State University Extension and Outreach also had a table.
Samantha Freeman, the owner of Country Home Couture, said that an event like the wine walk is a great way to connect with the community.
"First off, it's a local event," Freeman said. "Anytime you can support something local, that's always ideal, and just the fact that there are different businesses from the community, it's nice to connect with other businesses. Getting to see community members come out and socializing with them is important too."
Joel Garretson, who owns East Grove Mead, says that being out in nature is one of the unique aspects of the event. Not a lot of other places have tastings out in the country.
"It's fun for us, and it's for a good cause, promoting the nature center," Garretson said. "It's a beautiful setting. We go to a lot of different tastings and events that are not like this. We like to be out in the country like this. We enjoy the nature part of it. It's a good way to get the word out that we have a meadery in southeast Iowa."
For Conservation Director Caleb Waters, the event involves getting people to take advantage of the local parks.
"Our goal is to get people to utilize our parks," Waters said. "There's a lot of people, much to my surprise, born and raised in this community or have come to the community, that have never been out here. No. 1, it's a beautiful evening. No. 2, we want to get people out, and a lot of people like to drink wine."
Comments: hunter.moeller@southeastiowaunion.com