A Legacy of Kindness
As the school year ends Mt. Pleasant middle school students leave their mark
AnnaMarie Ward
May. 19, 2022 12:15 am, Updated: May. 24, 2022 2:34 pm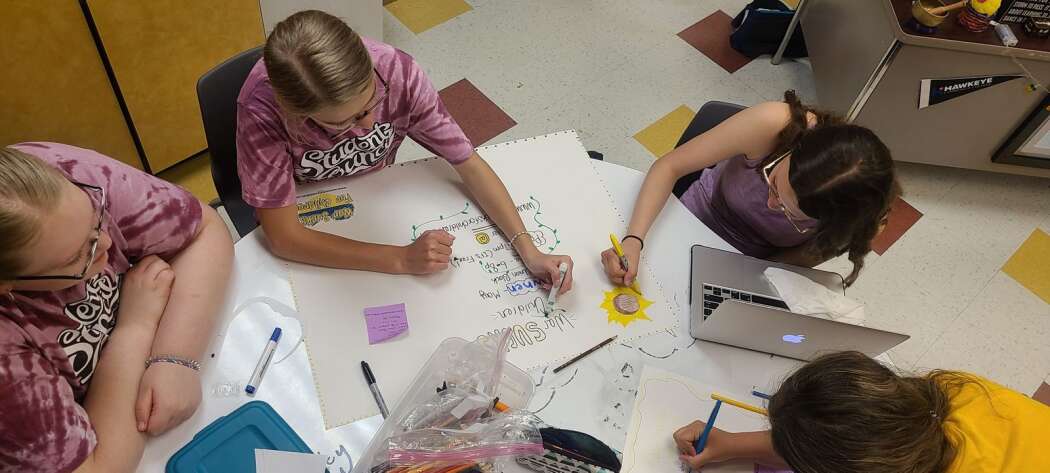 MT. PLEASANT — As the school year comes to a close Mt. Pleasant Middle School student council ensure that they leave their mark.
Thursday the student council met with Signs and Designs to place new window wraps on the main entrance of Mt. Pleasant Middle School.
The student council has spent the year raising funds for their school via school dances, flower sales, and smoothie sales.
Eight grade council member Ashley Davis' favorite fundraiser has been the Halloween dance.
"It really got kids interacting with each other," Davis said and continued to describe how every student joined one big conga line during the dance.
Window wraps are not the only thing that concern the Mt. Pleasant Middle School Student Council, though, there is a desire in these students to make impacts even beyond their school walls.
Thursday the council members worked together to create posters to promote the War Sucks for Children fundraiser for Ukrainian.
"I've seen around town that people are putting sunflowers on vacuums with a sign," Davis said.
The vacuums are found all around Mt. Pleasant and for a donation those who receive a vacuum in their yard can make a donation to have the vacuum removed, a larger donation to have it sent to someone specific next, and an even larger donation to also not have it come back to their yard again.
A cumulative event for Ward Sucks for Children will be held at the Union Block May 25 from 6-8 p.m. with a brief program at 7 p.m.
The children in the Mt. Pleasant community want to be involved in these efforts.
"I just think it's crazy," eighth-grader council Alayna Wagner said about the situation in Ukraine.
"They have no right of doing it," seventh grade council member Keagyn Coleman said about Russia bombing Ukraine.
The president of the middle school student council Ashlynn Beauchamp also had an opinion.
"I think war in general is just really sad," Beauchamp said. "Usually it's just things the people have no control over and it is all government stuff."
Beauchamp added a quote from Cinderella to her poster, "Have courage and be kind. For where there is kindness there is goodness and where there is goodness there is magic."
"Have Courage and Be Kind means that it doesn't matter what age you are, if you do that you'll basically be a good person," Beauchamp said.
That is exactly what Mt. Pleasant students across the district are trying to do.
For more information on how to get involved with War Sucks for Children visit www.warsucksforchildren.com.
Comments: AnnaMarie.Ward@southeastiowaunion.com