Creatures came out Thursday
Mt. Pleasant Community Band performed for the first time of the season
AnnaMarie Ward
Jun. 20, 2022 9:59 am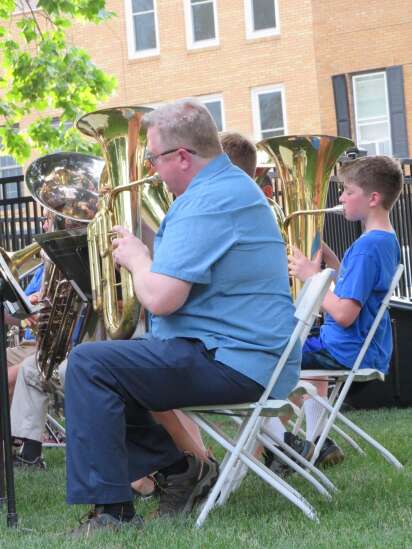 MT. PLEASANT — Music floated through downtown Mt. Pleasant Thursday evening, as the Community Band performed for the first time of the season.
A few families have found the opportunity of performing with the Community Band to be one of the few times all members can come together and play together.
The band averages between 25 and 30 members.
This season, four of those members are part of the Tansey family, including one of the youngest band members Michael Tansey who plays the tuba.
Another five are part of the Rynders family, who can also commonly be found leading musical worship in their church.
Band Director Adam Creager was pleased with the evening.
"It wasn't overly hot, the band played well, and we have our first performance under our belt," Creager said.
A large variety of community members, ranging from crawling babies to the most experienced citizens, covered Central Park.
Children ran barefoot in grass, one mature gentleman blew a blow horn in lieu of clapping, and many consumed pie from the P.E.O.
Silly collaborative community art creatures sat scattered among the park benches and folding chairs thanks to the Mt. Pleasant Art IMPACT group.
The band played a number of songs revolving around the theme of creatures to welcome the newest audience members.
They played songs such as the Jurassic Park theme song, Phil Collin's music from Tarzan, and a compilation of songs representing various dinosaurs.
As the band played their last song, some audience members began to clap in rhythm alongside the laughter of children playing pretend in the bright green grass.
The whole scene may have been sweet enough to induce a cavity.
Between the sunshine, the band, and the overall ambience, it is no wonder Arts IMPACT board member Ed Kopra compared these evenings to Norman Rockwell's caricatures of the "All-American life."
Comments: AnnaMarie.Ward@southeastiowaunion.com