DePriests honor students and the community honors them
Jim and Marlene DePriest conduct their final musical performances with Mt. Pleasant High School's music program
AnnaMarie Ward
May. 24, 2023 11:34 am, Updated: May. 29, 2023 8:38 am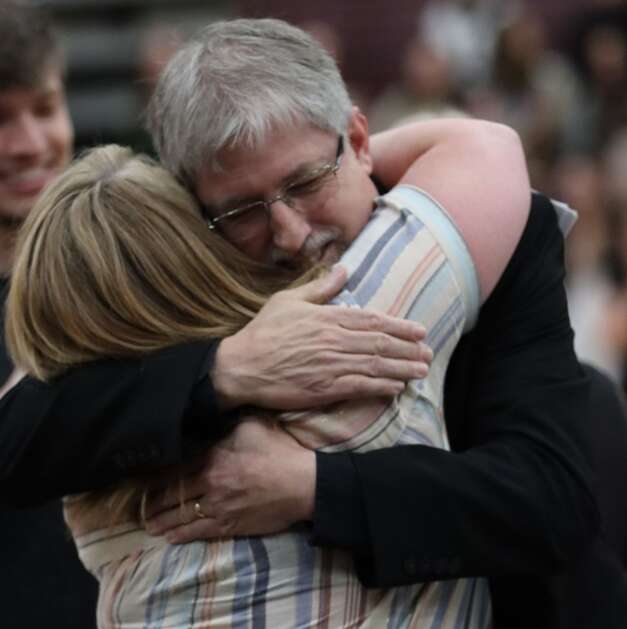 MT. PLEASANT — As the 2023-24 school year comes to an end, so does an era for the Mt. Pleasant High School Music Department.
Monday evening, Jim and Marlene DePriest conducted their last concert as the MPHS music band and choir directors.
The dynamic duo spent over 30 years pouring into MPHS programs various facets including marching band, color guard, InMotion, Chain Reaction, jazz band, concert band, symphonic band, chamber choir, concert choir, and many other musical opportunities for students.
During the annual spring concert, Jim and Marlene honored the hard work of their students as they presented awards.
Many students received recognition for their participation and exceptional talents during the awards, including Brandon Burtlow and Bryce Wilson.
"Our top award is the John Phillips Sousa Award," Jim DePriest said. "It goes to somebody that is a musician of extraordinary quality.
"And this one is kind of a no brainer," Jim said as he presented the award. "This is going to go to a young man who is a four time all-stater and in the all-state orchestra. He plays trumpet, he plays organ. There's about very little that he can't do."
"The best part is he may be one of the most humble young men that I have ever known, because if I had this talent, I would be bragging all the time," Jim gushed. "So, this year's John Phil Susa Award goes to Ethan, The Concert Master, Sexauer."
Marlene DePriest presented numerous choral awards, as well, including the Iowa Choral Director's Association Award.
"The top choral award for the state of Iowa is the Iowa Choral Directors Association," Marlene said.
According to Marlene this award is very similar to the band's John Philip Sousa Award.
"This has to go to a senior that goes above and beyond, whether it's going out for all-state or just being one of those people that is always leading and is always working super, super hard," Marlene said. "It was one of those years I couldn't just pick one again. And so we have two people that deserve this and that would be Brandon Burtlow and Jayden Housh."
Throughout the evening filled with honoring others, Jim DePriest also presented a memorial award to A.J. Becker's parents prior to the concert.
A.J. passed away n August 2022 and was a 2006 Mt. Pleasant High School graduate with deep connections to the music program.
In his memory, A.J.'s family established a memorial fund to benefit the music department.
"He was immensely talented musician …" Jim recalled. " … He will always be remembered for his natural presence on stage. As a soloist in jazz band or in the show choir, he was a born entertainer."
"Most importantly, he was a friend to everyone, and he always fiercely defended those whom he loved," he said. "And I can tell you, he was loved back by all of us. He was such a wonderful young man."
According to Jim DePriest, "The final component of our lighting system was completed because of a memorial on his behalf."
"The trusses that hang on the ceiling when you see our lighting system, we were able to finish that due to that, and they are markable plates denoted this contribution," Jim said.
The music department presented A.J.'s parents Jim and Lori with a plaque which held a quote from the musical Wicked's song "For Good" saying, "because I knew you, I have been changed for good."
"That plaque will hang in our music room," Jim DePriest said. " … So we look forward to hanging back in the music room tomorrow morning, and it'll be in there for anyone that needs to spend a little time with A.J."
Before the DePriest could head off to conduct their respective music groups, two members of the music boosters took the microphone and presented the beloved directors with a farewell gift and commemorative speech filled with inside jokes.
"So, dear Jim and Marlene, as a show of appreciation for your many years of selfless dedication and commitment to the music to our students and the community of Mount Pleasant, the music boosters, both past and present, took up a collection to help provide you with the opportunity to enter into retirement in style," music booster Meg Richtman said.
Richtman presented the two with a binder.
"So this binder contains a new itinerary for your upcoming retirement trip with three important factors to consider," she said with a smile. "One. 'Where are we going?' Anywhere you want to go. Two. 'When is the trip?' Anytime you want it to be. And three. 'What is the cost of the trip?' To be determined by you, you are welcome to do fruit sales fundraising."
"So, as a music booster organization, we care about you, and we want you to have all a well-deserved break," Richtman said before joking about the need for the DePriests to sign a trip intent form like every student has signed.
Then, just like they always have, Jim and Marlene took their places, for the last time, in front of their choirs and bands and drew-out beautiful music from the talented students they care so much about.
Comments: AnnaMarie.Ward@southeastiowaunion.com