Friendly Fourth festivities flood Henry County
Wayland, New London, and Mt. Pleasant celebrate the Fourth of July.
AnnaMarie Ward
Jul. 5, 2022 11:21 am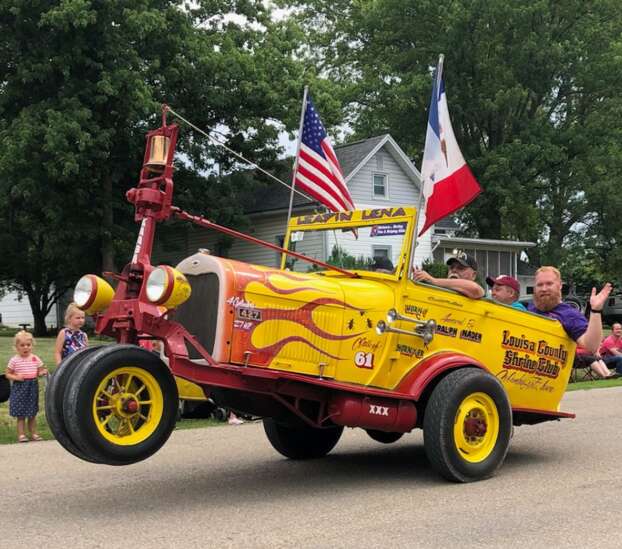 MT. PLEASANT — Despite the weather's best attempts, there was no raining on the parades in Henry County for the Fourth of July.
Families flocked to Wayland, New London, and Mt. Pleasant, Monday, to enjoy parades, food trucks, and good 'ol American family time.
Donned in red, white, and blue, many began their mornings in Wayland with the Lions Club breakfast.
Despite cloudy skies and a few rain drops, patriotic citizens lined the streets to enjoy Wayland's parade.
WACO's student basketball teams served up a freewill donation lunch of pork burgers, baked beans, coleslaw, chips, and of course, dessert.
With a break in festivities in Wayland until fireworks, some made the trek to New London for an afternoon parade.
Other New London festivities included sweet small town moments such as a kids Nation Anthem karaoke contest, kids finger printing, and the traditional baking contest.
To wrap up the All-American holiday, Mt. Pleasant hosted a parade followed by an opportunity to meet local heroes.
Almost-6-year-old Gabe Frink, from Mediapolis, said that "every part" was his favorite, as he looked starry eyed at Sheriff Rich McNamee.
Gabe's little two-year-old friend, Braxton Eberhardt, enjoyed the day by giving away all of his local hero swag.
"He'll do anything to make someone happy," Braxton's adult said of the sweet boy.
The heroes of Henry County enjoyed the kids just as much.
Ricardo Mollison, firefighter and Iowa Wesleyan student from Ecuador, loves to be right in the middle of the festivities.
Other than visiting with local heroes, families enjoyed trolley rides, train rides, face painting, and carousel rides.
Onward Christian Soldiers played as waving kids with smiles enjoyed the simple joy of riding the classic carousel.
The moment of adult participants waving in return created a beautiful sense of community and unity to the day like the song's lyrics suggest, "We are not divided; / All one body we: / One in hope and doctrine, /One in charity."
At the end of a full day of fun, family, and fervid patriotism, groups gathered on blankets, camping chairs, and the Old Thresher's bleachers to watch fireworks light up the evening sky.
Comments: AnnaMarie.Ward@southeastiowaunion.co