Preschoolers, pencils, and promising futures: New London seniors graduate
New London High School held graduation ceremony, Sunday
AnnaMarie Ward
May. 22, 2023 12:19 pm, Updated: May. 22, 2023 3:43 pm
NEW LONDON — Family, friends, and community filled the New London High School football field, Sunday afternoon to celebrate the graduating class of 2023.
The ceremony pulled at sentimental heart strings as speakers recalled younger versions of these new high school graduates.
Middle and High School Principal Scott Kraft remembered these graduates as young sixth graders entering his building.
"These students that are sitting before us entered our middle school only a few short years ago as anxious sixth graders," Kraft said. "Now, they're ready to take on whatever challenges they may face."
"We know this is true because of what they have accomplished individually and in the past over the last seven years," he said. "We are all proud of you and look forward to finding out about all of your accomplishments in the future."
Salutatorian Natalie Burden recalled younger versions of herself and her classmates.
She remembered many last days of school and their promises of fun-filled summers that would end in a return to the safety of New London schools in the fall.
"This year, there is no first day back," Burden said. "Instead, we all have individual directions creating our own paths without the help of the teachers, coaches and mentors we've always known."
"All we wanted beginning preschool was to grow up," Burden said. "What we didn't realize was that what we were wishing so hard for was something that was already happening."
"Years of waiting turned into just a few short ones, then weeks and days," she said. "Days of waiting have now come to an end as we stand before you graduating high school, all grown up."
From the perspective of the guest speaker New London School Board President and alumni Jesse Howard, the days will continue to fly by.
"It seems like yesterday that I was sitting in that seat about to graduate from New London High School and embark on an unknown world and an unknown journey," Howard addressed the graduating class.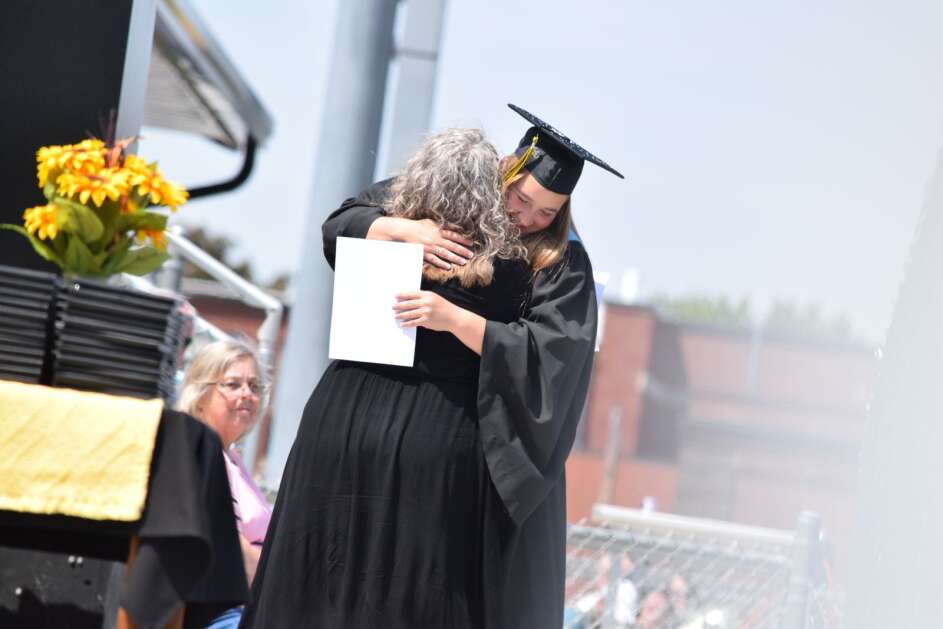 "I remember being both excited and nervous," he said. "I wondered what the future would hold and where I'd be in five, 10, 15 and now 20 years."
"As you sit here today, ready to embark on the next chapter of your life, I want to share with you some wisdom I have learned over the past 21 years since graduating," Howard said.
He held up a simple number two pencil and invited the graduates to consider this writing implement.
"It can be used by everyone, regardless of what hand you write with and will fit any handwriting style," he said of the pencil.
"We know that in order for this pencil to be useful, it will have to go through a resharpening process from time to time," he warned. "It's not the outside of the pencil that makes it. It is the contents on the inside that is most important and of the most use."
"One thing I have learned is that it isn't always easy to grow," Howard said. "It can actually be rather painful from time to time."
"This pencil is a reminder that the content on the inside of a person is what matters most," he encouraged the young adults with his analogy.
"Never fear failure," Howard said. "Just like this pencil has an eraser, many of the things you can do will be corrected and edited to create your masterpiece."
Principal Kraft presented the Class of 2023 armed with support, memories, diplomas, and words of wisdom, to the community as he reminded them, "Once a Tiger, always a Tiger."
Comments: AnnaMarie.Ward@southeastiowaunion.com