Trojans suffer two losses in wrestling opener
Fairfield fell to Centerville and Davis County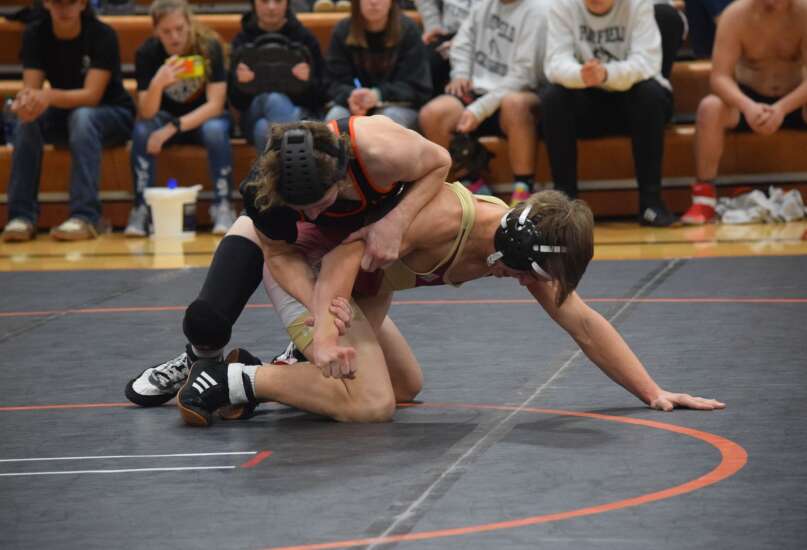 FAIRFIELD — The Fairfield wrestling team started the 2021 season with two losses on Thursday night.
The Trojans were ousted by Centerville 42-27 in the first competition and then lost a close one to Davis County 42-40. Keokuk was also at the meet, but the two did not wrestle.
Against Centerville, the Trojans were pinned in their first three matches before Theodore Metcalf picked up a win 4-1 over Centervilles Ryan Messamaker at 195. Cesar Smithburg added another win for Fairfield with a fall over Evan Williams in the 220-pound match. At 138, Jace Hannes pinned Carsyn Edwards in 2 minutes and 28 seconds.
Fairfield forfeited three weights, one at 106 pounds and the other two were double forfeits. The Trojans gained 12 points from two Centerville forfeits.
In their matchup against Davis County, the Trojans kept it close.
Cesar Smithburg picked up his second pin of the night in 47 second over Brayden Hartman. Cason Miller won by major decision, 9-0, against Deken Sorensen. Freshman Wyatt Lovelady pickup a huge win after being down 5-0. Lovelady would turn around and pin Dean Bragg Jr.
The Trojans forfeited three weights against Davis County, leading to 18 points. Davis County forfeited four weight classes, giving Fairfield 24 points.
"It's always getting the first one under your belt," head coach Steve Miller said. "You know, making weight for the first time. If you look at our team, we got a lot of young guys, freshman and sophomores, that's a huge thing. A lot of them have never done this before. Good numbers, but the biggest thing is great attitude, great effort and you know they're competitors. They may be getting beat but they're fighting to the end."
Centerville 42, Fairfield 27
160: Leland Henderson (CENT) over Landon Pilcher (FAIR) (Fall 1:43) 170: Sam Hash (CENT) over Konnor Gory (FAIR) (Fall 0:12) 182: Sabin Esaias (CENT) over Carter Moore (FAIR) (Fall 3:25) 195: Theodore Metcalf (FAIR) over Ryan Messamaker (CENT) (Dec 4-1) 220: Cesar Smithburg (FAIR) over Evan Williams (CENT) (Fall 2:25) 285: Cruize Flanders (CENT) over Tarence Craig (FAIR) (Fall 1:35) 106: Clayton McDonald (CENT) over (FAIR) (For.) 113: Double Forfeit 120: Double Forfeit 126: Ben Sirdoreus (FAIR) over (CENT) (For.) 132: Cason Miller (FAIR) over (CENT) (For.) 138: Jace Hannes (FAIR) over Carsyn Edwards (CENT) (Fall 2:28) 145: Isaac Messamaker (CENT) over Blake Sobaski (FAIR) (Fall 5:24) 152: Jax Mosley (CENT) over Wyatt Lovelady (FAIR) (Fall 0:42)
Davis County 42, Fairfield 40
170: Luke Farley (DACO) over Konnor Gory (FAIR) (Fall 0:47) 182: Carter Moore (FAIR) over (DACO) (For.) 195: Theodore Metcalf (FAIR) over (DACO) (For.) 220: Cesar Smithburg (FAIR) over Brayden Hartman (DACO) (Fall 0:47) 285: Tarence Craig (FAIR) over (DACO) (For.) 106: Emmitt Newton (DACO) over (FAIR) (For.) 113: Kade Martin (DACO) over (FAIR) (For.) 120: Blaine Meyer (DACO) over (FAIR) (For.) 126: Drake Hamm (DACO) over Ben Sirdoreus (FAIR) (Fall 1:48) 132: Cason Miller (FAIR) over Deken Sorensen (DACO) (MD 9-0) 138: Taylor Huggins (DACO) over Jace Hannes (FAIR) (Fall 3:12) 145: Jayden Ball (DACO) over Blake Sobaski (FAIR) (Fall 1:19) 152: Wyatt Lovelady (FAIR) over Dean Bragg Jr. (DACO) (Fall 2:57) 160: Landon Pilcher (FAIR) over (DACO) (For.)
Comments: hunter.moeller@southeastiowaunion.com