Home / Special Sections / Washington Year in Review
Washington County top 10 stories of 2021
Jan. 13, 2022 9:58 am, Updated: Feb. 11, 2022 6:05 pm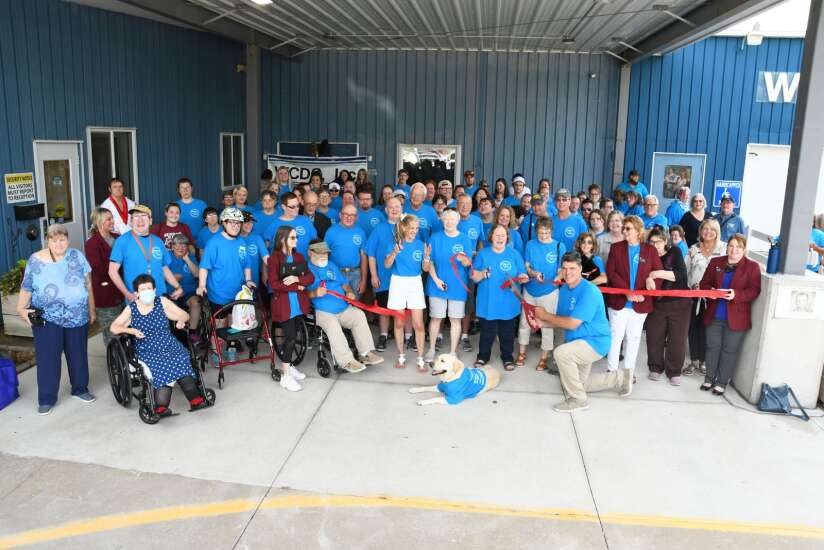 As 2021 wound down, the Southeast Iowa Union asked its readers to vote on the top 10 stories of the year in each market. These are the top 10 stories of 2021 as selected by Washington County readers.
No. 1
In the early morning hours of Jan. 4, the Washington County Communications Center received multiple calls of a house explosion at 1114 E. Washington St.
One adult was killed and a child was injured in the explosion that sent debris over a several block area.
Neighbors reported seeing a ball of fire and hearing calls for help. Residents more than a mile away reported hearing the explosion.
The Washington Fire Department was dispatched at 4:09 a.m. and arrived at 4:17, according to dispatch logs. Around 30 Washington firefighters and six Ainsworth firefighters responded.
Debris was scattered up to two blocks away. The neighbor's house to the east sustained extensive damage. Many surrounding neighbors had shattered windows.
A joint investigation concluded that the explosion was caused by a gas leak.
The investigation involved the state fire marshal, city Fire and Police Departments and the Johnson County medical examiner, according to a news release from the Washington Fire Department.
"The gas vapors filled the confined space of the apartment which were ignited when the occupant lit a cigarette," the news release said. "The source of that gas leak is undetermined."
No. 2
More than 1,000 voters turned out for Washington's middle school bond election in September, casting their votes to decide the district's future middle school plans.
With a final tally of 788-255, the bond issue exceeded the 60% approval threshold and passed, authorizing the district to maintain its $2.70 tax rate and undergo a $25 million renovation and addition to its high school, where the district hopes to relocate its middle school students to the added space by 2025.
The election results put to rest a discussion that started in May about how to replace the aging middle school building.
The now-approved project includes plans to build a 19,000-square-foot extension of the building's east wing, with classrooms to host grades six through eight. It also will build a 21,000-square-foot, two-story addition to the high school, extend 9,550 square feet of gymnasium space, and renovate another 52,500 square feet of the current high school.
No. 3
A full 2021 Washington County Fair returned in 2021 after a limited version of the fair in 2020.
In 2020, the COVID-19 pandemic forced organizers to limit the fair to exhibitors and their families only.
"We have high expectations for a great crowd," Fair Board President John Wagner said prior to the start of the 2020 fair. "We're extremely excited for this year's fair."
He said that he is especially excited for the youth exhibitors.
"Our main focus is the kids," Wagner said. "This year, we know they're all excited to be back to normal and to be able to see their friends.
"Last year, they missed that weeklong experience of being at the fair and being with friends."
At the start of the fair the Fair Board dedicated a memorial rock at the fairgrounds to the memory of longtime County Extension Director Nancy Adrian who died in December 2019.
"Nancy's life was always about making the best better," board secretary Tina Montz said. "The people that passed through her life were forever touched by her endless enthusiasm.
"Her passion for her family and her extended family was unrivaled."
No. 4
The Washington High School girls golf team won the Class 3A tournament at the par-72 River Valley Golf Course on June 2 after their June 1 first round put them 17 strokes ahead. The final tally was a 28-stroke win over second-place Gilbert, which had the individual champion.
Washington's Kiki Bruner was the runner-up medalist, carding a 77-74—151 to Eden Lohrbach's 76-73—149. It was a two-person race as third place was 10 strokes back.
"I tied for the lead a couple times, but I could never get quite past her," Bruner said.
"This was a very nice ending to my high school golf career. I am so happy for the team to win."
Josie Tanner and Anna Nacos had great endings to their Washington High School careers. Nacos tied for fifth place with a 80-83—163. Tanner, shot 96-89—185 to tie for 22nd. Of the team's three sophomores, Makenna Conrad posted scores of 90-89—179 to place 12th. Kaylin Long's card read 93-102—195 for 32nd overall. Alecia Goff was at 110-125—235, finishing 64th
No. 5
It took two rounds of votes, but in late October, the Legislature approved new congressional districts, as well as state legislative districts.
The biggest headline-grabber is the new congressional districts. By ceding Wapello County to the state's southwestern congressional district, the maps leave Rep. Cindy Axne and Rep. Mariannette Miller-Meeks competing for the same congressional seat, and leaving southeast Iowa without an incumbent.
Miller-Meeks has since announced plans to move into the newly drawn House District 1.
It also changes up the districts for Rep. Jarad Klein and Sen. Kevin Kinney. While both would continue to represent Washington County and a sizable portion of Johnson, their districts swap Keokuk out for Iowa County under the new maps.
"I hate losing Keokuk County because I think I've made inroads down there," said Kinney, who lives in Oxford. "But I live up here on the Iowa-Johnson County line and I have a farm in Iowa County, so I know a lot of the people up here. Whether that's good or bad, I don't know."
No. 6
In July, the Washington City Council unanimously approved a major site plan from Bazooka Farmstar.
The Washington-based company plans to add 37,500 square feet of production space.
Bazooka Farmstar Human Resources Manager Amanda Russell said the expansion would improve the facility's efficiency.
"The current facility provides constraints for us to assemble our stuff efficiently," Russell said. "We've added product lines, too, and we need more bay space in order to assemble that. We are just jamming product lines into the same cells. This will allow us to have all the different product lines in their own cells, so it will allow us to spread out over the space instead of sitting on top of one another."
Russell said the expansion would add a retention pond, production space and a pond where the equipment can be tested on water, rather than shipping it away for testing. The expansion will require new sewer connections at the facility, located at 800 E. Seventh St.
No. 7
After a year of Demon dominance on the Southeast Conference cross-country scene, the Oct. 14 SEC championship meet was the same old story.
Washington rose above all others at the 2021 SEC championships. Both the boys and girls teams took home conference titles.
Washington's boys championship was led by a one-two finish from Lance Sobaski and Micah Rees. Sobaski finished the race in 16 minutes and 32 seconds, notching his second title in a row, and also just the second SEC title in Washington boys cross-country history.
It was a dominant outing for the Demon girls. Washington's team of all underclassmen won the meet by 29 points, led by the second-place finish of Quincy Griffis, who crossed the tape in 21:06.
The Demon girls placed five runners in the Top 10. Lauren Horak placed sixth. Isabella Lujan was seventh. Amelia Dahl finished eighth, and Alyvia Anderson was ninth.
No. 8
Just as COVID-19 cases began to wane around the world in late spring, Washington County, like everyone else, began to see a summer surge of cases due to the highly virulent Delta variant of the virus.
By early August, Washington County had reached the "substantial" level of community transmission, according to the CDC's online COVID Data Tracker.
"For a long time, we had no new cases," Washington County Public Health Director Danielle Pettit-Majewski said. "This is exactly the wrong direction we want to be going in."
She said that in the second half of July, there were 24 new cases of COVID-19 reported in Washington County, with 17 of them in the last week of the month.
"The delta variant is so contagious," Pettit-Majewski said. "Even the vaccinated can spread the virus.
"The most important thing we can do right now is get vaccinated."
By the end of July, 46.9 percent of the population in Washington County had been fully vaccinated.
No. 9
It was great kids and depth throughout the Mid-Prairie girls track and field team that created the third straight Class 2A title for the Golden Hawks.
Mid-Prairie had 17 entries in 14 of the 19 events.
Danielle Hostetler continued the Mid-Prairie and family dominance in the 1500-meter run at the state track and field meet Saturday.
Hostetler, a freshman, won the 1500 with a personal best time of 4 minutes, 45.09 seconds.
It was the fifth straight 2A 1500 won by a Hostetler. Teammate Sydney Yoder was ninth.
Hostetler scored 21 points of Mid-Prairie's total of 61.
Mitzi Evans, a strong middle-distance runner, scored 19 points. She finished second in the 800, third in the 400-meter dash and fourth in the 200-meter dash. She owns the school record now in both the 200 and 400.
Hostetler and Evans were part of the winning distance medley relay team with Maddie Edgington and Amber Swart. The 4:10.82 was just off the school record of 4:08.
Mid-Prairie's team of Edgington, Amara Jones, Alyssa McDowell and Swart finished third in 50.59 in the 400-meter relay after qualifying in 51.10.
No. 10
For 50 years, WCDC — formerly known as the Washington County Developmental Center — has been fulfilling its mission to "promote and support individual independence in life choices."
In June, WCDC held a 50th anniversary celebration at its headquarters.
"The clients who have come through here have fit right in with the community," WCDC President David Hoffman said. "Today, we talk about inclusion. Intellectually disabled students in the schools are included in all of the things they do.
"That's our goal out here, for intellectually disabled adults to be included in adult life."
WCDC Vice President of Community Services Tammy Burlingame said that WCDC was serving about 25 clients when she started with the organization in 1983.
"When I first started, we only had the in-house facility, which was called work activity," Burlingame said. "The clients would go to the center to work and participate in activities."
WCDC now serves about 125 clients over the scope of its services.