Home / Special Sections / Corn Producers
Ag land values soar over 25% across Midwest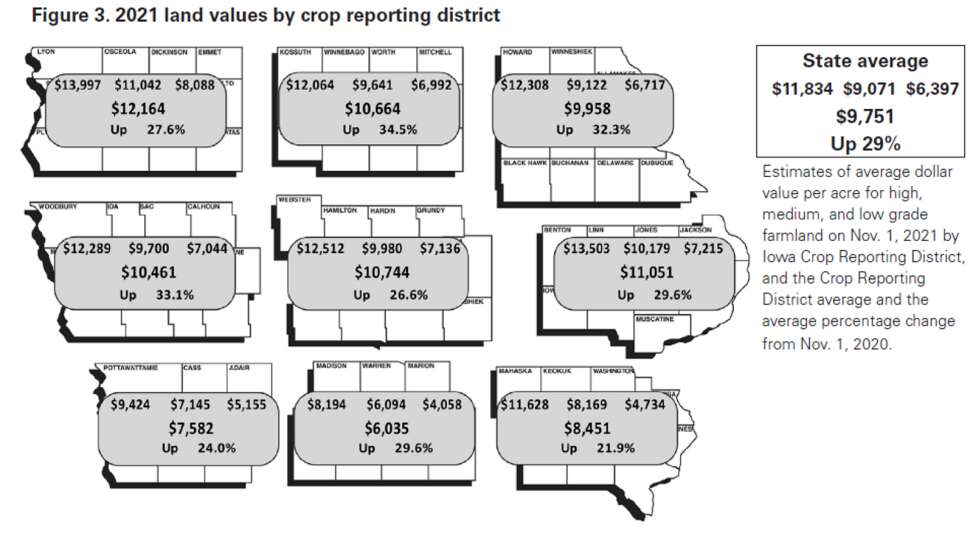 The price of farmland is skyrocketing across the Midwest, with Iowa farmers seeing jumps of 20-30% since summer of 2021, the fastest surge in a decade.
"Surging ethanol demand and high commodity prices were two of the significant factors driving the increase in 2011," Iowa State Economics Professor Wendong Zhang said in a news release. "The increase this year is in part due to much stronger commodity prices thanks to higher exports, stronger than expected crop yields, and strong ad hoc COVID-19 related government payments."
Rachelle Heller, a land consultant for Hertz Real Estate in Washington, said those factors were magnified by a market of confident buyers.
"Crop prices were really good, so that just helps with buyers' mindset," she said. "They feel more confident about spending money when they know the prices they're getting for corn and soy beans are strong."
That investor confidence meant more demand, which in turn meant higher prices.
"Land is seen as a pretty stable investment, a hard asset," she said. "So we're seeing a little bit more competition from those investor buyers which are pushing those prices up … they're not going to be the farmer, they'll buy it and then they'll rent it out to a local operator."
Heller said those price tags had sparked record liquidation sales of farmland.
"Statewide, we've seen far more farms hit the market, there were record numbers of auctions this past year," she said. "People saw what land values were doing and it was definitely motivating for sellers."
Southeast Iowa, however, saw less of that market than the rest of the state.
"For us, Southeast Iowa, there was an increase in farms on the market … but we did not see the influx of land hitting the market like some other parts of the state," Heller said. "I don't know if that will change for this upcoming year or necessarily why we saw less farms hitting the market."
Still, the sheer number of factors makes predicting the future of ag land values an imprecise science at best and a guessing game at worst.
All things considered, Heller said a price drop was a question of 'when,' not 'if.'
"The general expectation is that this wave that we're on right now, it can't go on forever, we can't continue to see record-breaking sales forever," Heller said. "At some point there's going to be the checks and balances where things kind of normalize … it's just how drastic that change is going to be and when is it going to happen exactly."
Still, some experts don't expect a return to normal any time soon.
"I don't think there's any indication that they're going to go down any time soon," Iowa Corn Growers Association President Lance Lillibridge said. "That doesn't mean that that couldn't happen, if interest rates go up, there might be less land bought, it could cause a lot of problems."
Lillibridge said while the trend was good news for sellers, it was worrying for the industry writ large.
"Where I own land, I think it's great that my land is that high," he said. "But at the same time, it's very difficult if not impossible to expand my operation through the ownership of land. High land values are going to attract big investors, they're the ones that are going to land some money there."
Another concern is the trend's implications for potential new farmers, an already shrinking group of Iowa's workforce.
"It is going to deter young folks from coming into the agricultural business and farming," Lillibridge said. "The demographic of the farmer is absolutely getting older … that should be concerning."
On the consumer end, Lillibridge said the effects on prices would be minimal.
"What's probably more concerning to the consumer is commodity prices, but even that does not add a lot of cost to the consumer," he said. "The cost of getting (commodities) from the farm to the table has gone up, but I'm not sure that it's gone up equally to the end user, I think it's inflated, largely."
In the long run however, the pattern could become more problematic for corn producers already plagued by growing input costs and a shrinking workforce.
"It's making things very difficult to pencil on the farm level, it absolutely has the possibility to push things over the brink," Lillibridge said. "There's a lot of guys that lived through the '80s and the farm crisis back then and they're thinking this is a repeat of what happened back then, and it scares the daylights out of them. It could be a big problem, but we don't know. Nobody really has that crystal ball."
Comments: Kalen.McCain@southeastiowaunion.com