2021 team learns from 1991 Columbus state tournament softball
Wildcats made state when there was no class system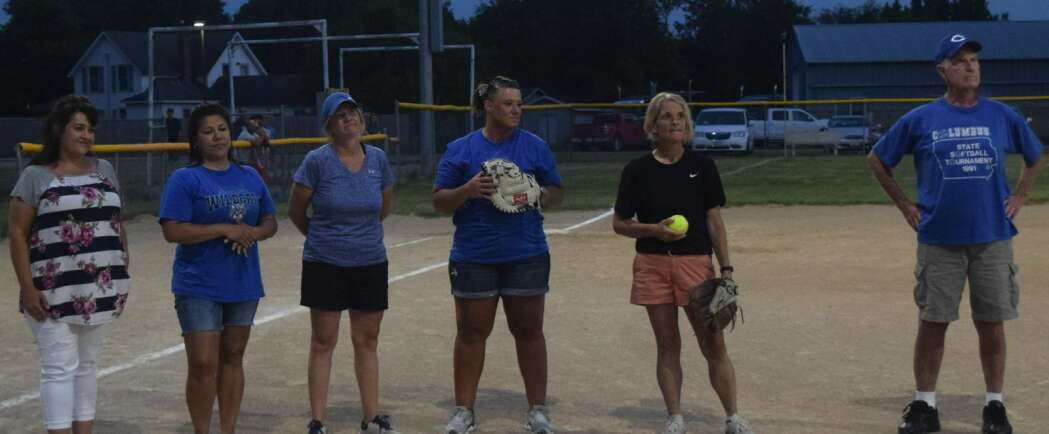 COLUMBUS JUNCTION — Katie Hoback remembers.
It was a special time in life in 1991 when Columbus reached the state softball tournament. Today she is Katie Coil and the head coach of the Columbus Wildcats team, Coil remembers the spirit and the dedication that surrounded that team.
"Other than having kids, the best time of my life," said Wendy Edwards, a sophomore third baseman on the team.
Coil was just a kid of eight years but went to the games to see her cousin Amy Phillips play. Phillips was the catcher on the 1991 team that had a record of 34-4 in the regular season and ended 36-6, going 2-2 at the state tournament.
Coil organized a reunion of the team, and it was honored Thursday between games of a Columbus-Mediapolis doubleheader. Announced like the starting lineup, Tara Pugh, Lety Perez, Wendy Edwards, Amy Phillips, Michelle Martin and coach Bob Curtis took the field Thursday and pitcher Martin threw out the first pitch to catcher Phillips.
Other members of the team were assistant coach Bob Martin, Joanne Woepking, Angie Milder, Angie Simmons, Amy Pugh, Sara Smith, Brittney Mincer, Benji Delzell, Amy Totemeier, Angie Adams, Amy Brown and Donda Johnson.
"It's just a way to show our appreciation for our past players and for our current players to understand what it means to be a 'Wildcat 4 Life,'" Coil said.
Martin, who was a 2006 inductee into the IGHSAU Softball Hall of Fame, threw out the first pitch Thursday to Phillips.
Coil would "dream of being a great ballplayer like Phillips." Phillips went on to play college ball. Coil was an all-state third baseman in 2001 when Columbus lost to Pleasantville 5-0 in the game to go to state.
Coil organized the 30-year reunion celebration to respect past Wildcats.
"I think it is a great opportunity for my girls to hear their stories of success and struggles. It shows my girls that we all make mistakes, but it is how you handle yourself afterward."
The 1991 team's drive to want to win and desire to be the best was evident to the youngster. "Watching them play, I knew I wanted to have a team just like them when I got older," Coil said.
Coil had the same coach as the 1991 team in Curtis, who instilled a strong work ethic and desire to be the best, no matter the sport. "I wanted to come back to Columbus and have the same effect on the players and program that coach Curtis had."
Coil has been a coach at Columbus for the past nine years and the head softball coach for the past three years.
Especially at the middle and high school levels the importance of coaching is impossible to overvalue.
"We had dedicated, caring coaches that taught us the game and put us in the best position to win," Martin said.
Curtis finished with a record that had 529 wins against 200 losses.
A catcher most always has a leadership role on a ball team, and Phillips had the added responsibility of being the only senior.
"We all played well together and were always on the same page and that is because Michelle's dad and coach Curtis were so good at what they did," Phillips said. "We were a family, and we had such great coaches."