A look at Friday's small school games
Sigourney-Keota takes on Cardinal in huge area game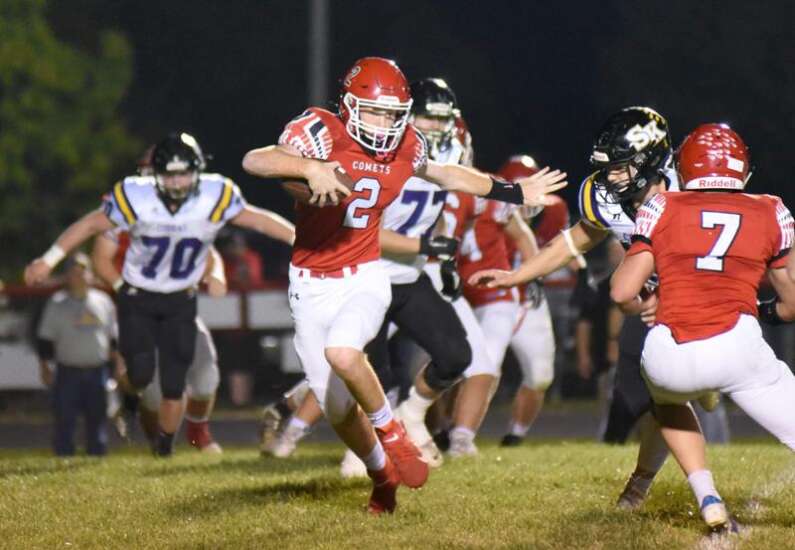 Cardinal (5-0, 2-0) at No. 5 (1A) Sigourney-Keota (5-0, 2-0)
Time, Site: 7 p.m., Sigourney High School
Overview: Two of the Union areas three undefeated teams clash in a matchup that will give the winner a big leg up in the race for the Class 1A playoffs, as well as an outright district lead.
Cardinal will be looking for a little revenge after Sigourney-Keota blasted the Comets twice last year, winning the regular season matchup 68-8 and knocking the Comets out of the playoffs 49-0.
Lone Tree (3-2, 1-2) at No. 10 (8-Man) WACO (6-0, 4-0)
Time, Site: 7 p.m., WACO High School
Overview: The Warriors come in on top of Class 8-Man District 6, and another win will put them ever so close to clinching a playoff spot.
The Warriors have emerged as the district favorites after beating New London last week. WACO, however, has dropped six of the last seven meetings with the Lions.
New London (2-2, 1-2) at Iowa Valley (1-4, 0-3)
Time, Site: 7 p.m. Iowa Valley High School
Overview: New London needs to regain confidence after dropping back-to-back heartbreakers by five and seven points respectively. The Tigers need to buckle down now if they want to make the Class 8-Man playoffs.
New London has won its last two matchups against Iowa Valley, including a playoff win in 2018, the year the Tigers won the state title.
Lisbon (4-1, 4-0) at Pekin (0-5, 0-4)
Time, Site: 7 p.m., Pekin High School
Overview: The Panthers look for a major upset of Lisbon after losing their first five games of the season. Pekin hasn't played Lisbon since 2014, a year in which they blasted the Lions 47-6.
Columbus (2-3, 1-2) at North Mahaska (0-5, 0-4)
Time, Site: 7 p.m., North Mahaska High School
Overview: Columbus could move to .500 on the season with a win over an 0-5 North Mahaska squad. The Wildcats are coming off a 42-14 win over Pekin last week after dropping their previous three contests.
Wapello (3-2, 2-1) at Highland (2-3, 2-1)
Time, Site: 7 p.m., Highland High School
Overview: The Huskies fell by just five points against Alburnett last week on the road. Now they'll return to Riverside for the homecoming game against a familiar foe.
Wapello defeated Highland 42-13 in 2020, so you know the Huskies will be looking for a little payback.
Central Decatur (3-2, 1-1) at Van Buren (2-3, 0-2)
Time, Site: 7 p.m., Van Buren County High School
Overview: Van Buren County will have to shake off a 60-6 loss at Cardinal last week as the Warriors host 3-2 Central Decatur.
The Warriors have scored 113 points in their two wins this season. In their losses, they have netted just 14.
Mid-Prairie (3-2, 2-0) at Williamsburg (2-3, 2-0)
Time, Site: 7:30 p.m., Williamsburg High School
Overview: It's a big one in Williamsburg as Mid-Prairie looks to score a huge win in the division race, but it won't be easy.
The Raiders may be 2-3, but all three losses came against quality foes Regina, Van Meter and Solon. In the last two weeks, Williamsburg has outscored opponents 110-3, racking up two-straight blowout wins.